Real Estate
Guilty as charged? Lithium-ion batteries pose increasing fire threat.
Should multifamily buildings ban e-bikes and e-scooters?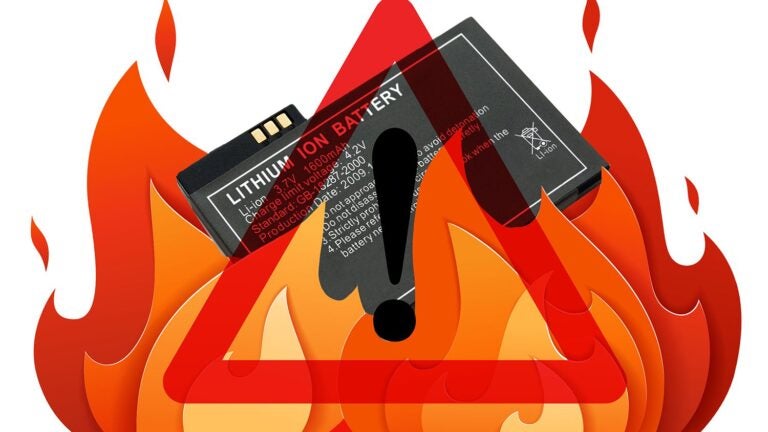 As e-bikes, scooters, and hoverboards powered by lithium-ion batteries become increasingly popular, fires resulting from their improper use, charging, and storage are also on the rise.
The Massachusetts Department of Fire Services does not specifically track fires related to lithium-ion batteries, but spokesman Jake Wark said blazes related to batteries in general are increasing in the state.
Fires related to lithium-ion batteries are also on the rise nationwide, experts interviewed for this story said.
'They burn extremely hot'
What makes these batteries so useful is also what makes them dangerous.
"They store a lot of power in a small package," Wark told the Globe via e-mail. "When they burn, they burn extremely hot, release toxic gases, and can reignite even after the fire has been extinguished."
Lithium-ion batteries come in several sizes and are used in many rechargeable devices: from mobile phones, notebook computers, and wireless headphones to electric cars and e-scooters.
What happens when you have a condo or apartment building with several e-bikes and e-scooters?
Mark S. Einhorn, a condo association lawyer with Marcus, Errico, Emmer & Brooks, said the rules regulating them are very site specific, legally challenging, and difficult to enforce.
"People want these bikes," said Einhorn, who credits his own with "making biking fun again." "I'm hoping the technology catches up soon. Maybe there will be a timer or automatic shutoff on the chargers. I find it difficult to draft rules that would allow their use safely. … It's probably safer and less liability just to do a blanket prohibition on them for now."
He said it's within a condo association's authority to regulate the use of common areas for safety reasons. An association can even pass rules prohibiting the charging of e-mobility devices in individual units, he said, but those rules are essentially impossible to police.
A warning from New York City
Boston would be wise to learn from New York.
There were more than 200 lithium-ion battery fires in New York City in 2022, according to a March 20 press release from Mayor Eric Adams.
"These are convenient transportation options for New Yorkers, but faulty and illegal devices are making their way into our homes and streets, causing fires and putting lives at risk," Adams said. "Through promoting safe devices, expanding education, increasing enforcement on high-risk situations, and pursuing additional regulation, I'm proud that New York City is leading that charge."
Paul Rogers, a retired New York City firefighter and hazardous materials specialist who is CEO and cofounder of Energy Safety Response Group, a firm focused on the safe storage of such devices, said he has large industrial clients with huge lithium-ion battery arrays, but those are heavily regulated with stringent safety regulations and maintained and operated by professionals. The smaller batteries in e-mobility devices are less regulated and operated by consumers, often with little understanding of the risks, he said, and the fires they start when they do fail present unique challenges to firefighters.
"One of the challenges that we see from a firefighting point of view is the speed with which they fail," Rogers said. "They fail rapidly. The energy being released is so much quicker than the other combustible household items."
Nick Petrakis, a consultant with Energy Safety and a retired New York Fire Department Fire prevention specialist, helped write several city codes, including ones on the safe charging and storage of these devices (Section FC 309).
He said a close friend recently bought an e-bike for his daily commute. Petrakis went to his house, inspected his setup, and informed him about the safety concerns, but he said he isn't particularly worried about it.
How to use them safely
The devices can be used safely if you follow a few important rules, including these offered by Wark and the city of New York:
"From an engineering point of view, I believe in mitigating the hazard as much as you possibly can," Petrakis said. "It's very difficult for any hazard to be eliminated to absolute zero, but you do your best to make things as safe as possible."
Jim Morrison can be reached at [email protected]. Follow us on Twitter @GlobeHomes.
Should condo and apartment buildings ban e-bikes and e-scooters with lithium ion batteries?
Address newsletter
Get the latest news on buying, selling, renting, home design, and more.
Due to a reporting error, in a previous version of this story Jake Wark's name was misspelled. The Globe regrets the error.