Real Estate
Everything you need to know about converting to solar power
According to an analysis Zillow released in April 2019, solar-powered homes sold for 4.1% more than comparable properties without it.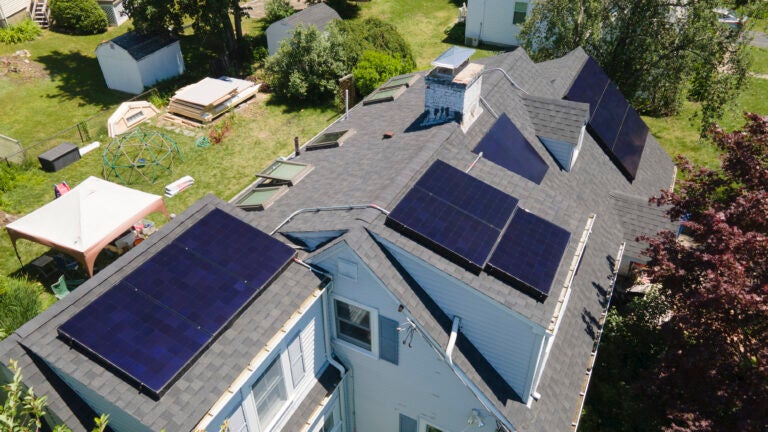 You probably already know that converting your home to solar power can reduce or eliminate your energy bill. But did you know it might add value to your home as well?
According to an analysis Zillow released in April 2019, solar-powered homes sold for 4.1% more than comparable homes without it. For a single-family home selling at the April 2023 median price of $820,000 in Greater Boston, that translates into an additional $33,620.
"For a long time, solar was considered a negative — the transfer process was cumbersome, and many home buyers didn't understand the process of acquiring a home with solar and neither did their agents," said Eric Rollo, managing partner and broker at The Agency in Boston. "They've worked to streamline the process for the transfer, and solar is now often considered a bonus when advertising a property."
According to Daniel Mello Guimaraes, chief executive officer and co-founder of Boston Solar, a Woburn-based solar contractor, most homeowners recoup the cost of a solar conversion — $20,000 to $100,000 or more, depending on the size and complexity of the system — within six to 10 years. Savings come in the form of energy savings and incentives such as tax credits and the Solar Massachusetts Renewable Target (SMART) program, which provides incentive payments to homeowners who purchase systems.
Christina Rice, a law school administrator at Boston University, converted her 1,772-square-foot, Cape-style home in Waltham about four years ago. Previously, she paid about $1,300 a year for electricity. Last year, she paid $18 for the entire year, plus she received $700 in SMART payments from her utility provider.
"We wanted a more eco-friendly energy system and also hoped to save on our energy bill," said Rice, who paid $24,000 for the system, or $15,000 after state and federal tax credits.
Most houses can be converted, although homes with the best "solar access," such as those with wide-open roofs without dormers, do best financially, Mello Guimaraes said. A home in a densely wooded area won't have much exposure to the sun and is less suitable. Homeowners with older roofs will need to replace them.
Panels typically come in two varieties — monocrystalline solar panels, which are more efficient, and polycrystalline, which are less expensive but less efficient. The number of panels is based not only on a roof's square footage, but also on the homeowner's expected consumption and how many kilowatt hours are needed to meet it. A reputable contractor should analyze at least a year's worth of the homeowner's energy bills and ask about potential changes in consumption before designing the system.
Systems can be purchased, for cash or with financing, or leased. Although Boston Solar doesn't lease systems, Mello Guimaraes said leasing is the largest segment of the market. Leasing is preferable for those who don't plan to be in their homes long enough for the system to pay for itself or for homeowners who can't use the tax credits. The installation process, from initial consultation to completion, typically takes between 90 and 120 days, he said.
Alternatives to traditional solar panels are available. Solar shingles, made from thin photovoltaic sheets that replace existing shingles, are often preferred by those who want a more attractive look than the bulkier panels typically used. They are more expensive, and installation is more complicated than for traditional panels.
Community solar is also available in many states, including Massachusetts, and popular with those who either want the benefits of solar without the cost of installing their own system or whose property isn't suitable for solar. It allows homeowners to purchase discounted energy credits for power generated by a solar farm.
If you're interested in converting your home, make sure you find a reputable contractor. Ask friends or neighbors for referrals, check online reviews, and verify that the contractor is licensed and insured.
Be sure not to make a common mistake made by homeowners who harness the sun. "A lot of people look at solar, but don't anticipate their future needs," said Matt Leary, district manager for Sunder Energy, a seller of solar systems. If you have children moving back into your home, that will increase your energy needs. Similarly, buying an electric car will require more capacity. While it's possible to add on to a completed system, it's easier to design it right the first time.
Address newsletter
Get the latest news on buying, selling, renting, home design, and more.