Real Estate
Will the state's new climate and housing policies push people to leave?
Real estate and urban planning experts weigh in on Massachusetts' new housing and climate measures.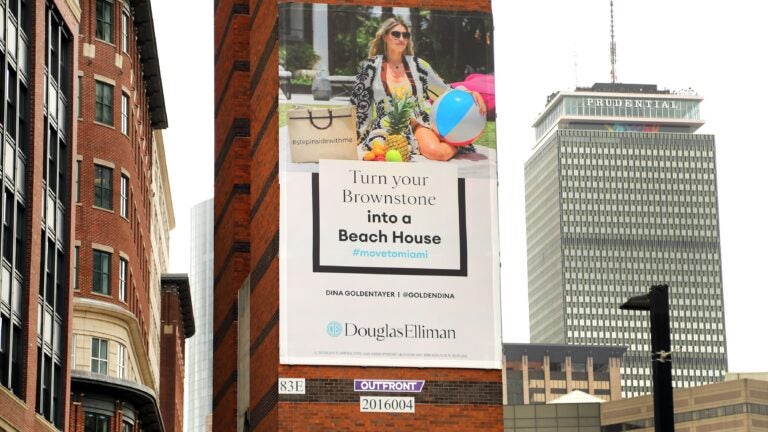 San Francisco — sometimes viewed as Boston's "West Coast cousin" because of its shared economic ties to tech, life sciences, and higher education — is viewed as a cautionary tale.
Residents flocked to states like Texas and Florida during the pandemic amid the boom in remote work and corporate relocations to these historically lower-cost places. Now the pandemic is over, but vacancy rates across the Bay Area office sector remain well above historic averages, and shopping mall and hotel owners have chosen to default on their properties amid expectations that it will take the region years to recover.
Tracy Hadden Loh, a fellow at the Brookings Institution, told the Globe's Janelle Nanos in June that "It's not 100 percent clear to me that Boston has done everything it needs to do to not be the next San Francisco."
Which leads one to wonder whether Boston's pursuit of economic and climate policies, much like those on the West Coast, will fuel post-pandemic out-migration.
Sun Belt comes sniffing around
All this is potential catnip to housing developers, real estate agents, and economic bigwigs in other states.
"If California is any indicator of how upset people get on paying, in essence, a second commission when they sell their home, then I do believe that the Boston buyer is going to be seen more in Miami this winter," Dina Goldentayer, a South Florida realtor with Douglas Elliman, said of mansion taxes and other political maneuvers that may drive buyers to the Sun Belt.
Goldentayer is so optimistic about the New-England-to-South-Florida pipeline that she took out a billboard ad in the Back Bay encouraging buyers to move to Miami.
Much of the talk about the migration during the pandemic has centered on Californians and New Yorkers decamping for Florida, but IRS data the Pioneer Institute examined indicated that Massachusetts soared from ninth to fourth place for out-migration (behind California, New York, and Illinois, respectively) between 2019 and 2021.
"New Yorkers and Californians are just a louder buyer," Goldentayer said before noting that two of the most expensive sales of her career went to Bay Staters. (One of her current listings is on the market for $85 million and down the street from Tom Brady's.)
It's not just some buyers who may flee in the face of increased regulation. The National Multifamily Housing Council reported that 87.5 percent of developers avoid building in a municipality with rent control.
"Even talk of perhaps down the road doing rent control chills investment and housing production before it's even in place," said Tamara Small, CEO of commercial real estate industry group NAIOP Massachusetts. "When we have cities and towns that are talking about it, it's already having an impact."
"We need to focus on policies that make sure we can not only build housing, but also attract companies … because they're part and parcel," Small said. "If you have housing developers who don't want to build in a market where there could potentially be rent control … then the employers are not going to want to come to this region because there's no housing for their employees."
Catherine Rollins, director of the Urban Land Institute's Boston and New England chapter, said the passage of the millionaires' tax is a sign that residents want to improve the region's ailing transit system and rent control is a sign that leaders want more housing stability.
But she also pointed to rent control rollbacks in St. Paul, Minn., after housing starts dropped and developers threatened to leave the city.
"Limited supply really is what is driving all of this," Rollins said.
A more pragmatic approach
But not everyone is ready to ring the alarm bell when it comes to the various taxes and climate change initiatives being discussed and implemented in Massachusetts.
The push to go carbon neutral in Boston by 2050 doesn't require building owners to replace energy-inefficient equipment right away — just at the end of its life cycle.
"It can be expensive if your equipment is not at the end of its life, but that's one reason to phase these things in gradually," said Alex Armlovich, a senior housing policy analyst at Niskanen Center, a Washington-based think tank. "Otherwise, you're not going to be able to find an electrician. It's going to be a case where the entire city is going to be installing heat pumps all at the same time."
There are already signs leaders are pragmatic in their approach to many of these policies, whether it's phased-in climate change initiatives to go carbon neutral or Wu's rent control plan. The latter would tie rent increases to the Consumer Price Index plus 6 percent or a maximum of 10 percent, whichever of the two figures is lower — that's well above San Francisco's rent control measures, which cap annual rent increases to 60 percent of the Consumer Price Index — and exempt new buildings for 15 years.
Even the millionaires' tax may not be as spooky as the headlines suggest.
"The reality is that people have been moving to Florida before the millionaires' tax was put into effect," said Maggie Gold Seelig, founder of the luxury boutique firm MGS Group Real Estate. "If somebody doesn't need to be in a higher tax environment, they're going to find a way to be spending more time in other places, whether that's Florida or New Hampshire or wherever."
Seelig doesn't view the millionaires' tax as a deterrent to her typical buyer. Her firm reported the same level of luxury home sales ($3 million and up) since the passage of the millionaires' tax in November as in the same time frame in the leadup to the vote.
"Nothing is changing about the fact that some of the world's most important companies — from tech, biotech, pharma, and Wall Street — are here in this innovative hub," Seelig said. "An increase in a tax above a million bucks isn't going to force people who live, work, and want to raise families here to leave. I haven't really seen that in my real estate practice. In fact, I've seen people double down that are living a life here."
But living a life here can be difficult when the supply-and-demand problem persists. A study by the Massachusetts Institute of Technology and the Wentworth Institute of Technology suggests that the state's new net-zero energy code will push housing costs higher and price out tens of thousands more aspiring homeowners.
"Growth control is really the problem," Armlovich said. "There's a risk that, if you do all this without zoning and permitting reform, you're sending a message that we're not open for business. But there's a clear remedy to that, which is to fix the supply side of land use regulation."
Massachusetts leaders made some headway here with passage of the Housing Choice law and the MBTA Communities law mandating cities and towns with public transit access to allow more multifamily housing.
"We really view the need for more housing as the biggest potential threat to economic dominance in Massachusetts," Small said. "From our perspective, housing production really is paramount, and we have seen a dramatic decrease since the 1970s."
The way to make city living sustainable and more attainable to many is simply to enact zoning reform and enable more supply to flood the market, Armlovich said.
Boston is still about 150,000 below its peak population of 801,444 (last seen in 1950), after all.
"I always want people to remember that policy makers talk about doom loops and things like that. If there is a noose, [policy makers] are holding it."
Will Mass. climate and economic policies drive residents out of state?
Send comments to [email protected]. Subscribe to the Globe's free real estate newsletter — our weekly digest on buying, selling, and design — at Boston.com/address-newsletter. Follow us on Twitter @globehomes.