Real Estate
Waterfront setting steered massive addition to Wareham mansion with showroom garage
Renovation included a nearly 10,000-square-foot addition. The home also comes with an indoor mineral pool and a deep-water dock.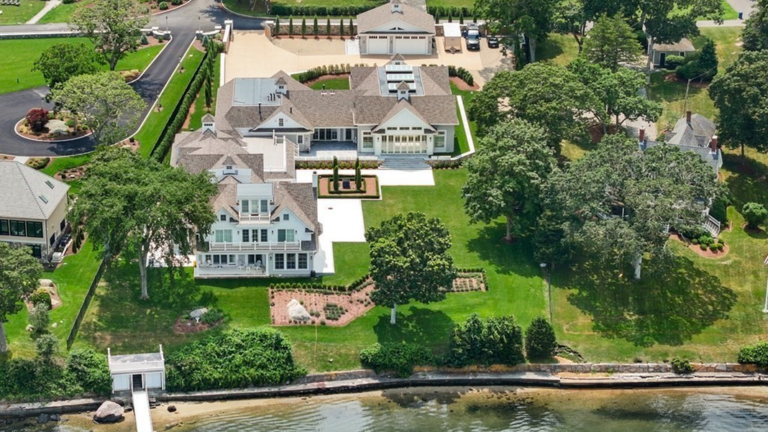 Rich in space and amenities, this waterfront property in Wareham offers the opportunity to enjoy the beach but keep your car collection out of Cape Cod traffic.
Laura Wurster of Compass has listed the luxury property for $11,995,000. The Shingle-style property at 46 Winship Ave. was built in 1900 — well, a third of it was. An overhaul completed last spring included an impressive 9,600-square-foot addition.
"The property as a whole is simply breathtaking," Wurster said.
The now-13,800-square-foot home features seven bedrooms, 5.5 bathrooms, and three floors of living space. The house has an open floor plan and numerous windows with stunning views of Buzzards Bay.
Set in the private Burgess Point neighborhood, Winship Avenue is in a quiet area of waterfront properties and conservation land, including Mass Audubon's Great Neck Wildlife Sanctuary, Wurster said.
The home's location also means the owner can avoid the traffic headed to the Cape — and keep all prized vehicles in pristine condition in the property's 10-car showroom garage.
The garage is more than 1,000 square feet and has custom garage doors to accommodate a recreational vehicle, Wurster said.
"The property is located in historic Wareham, which is the last exit prior to the Bourne Bridge," Wurster said. "Being located where it is, the home skips the Bourne Bridge traffic all while being in great proximity to the Cape and the islands. Being on Buzzards Bay, this home has direct access to the Cape Cod canal."
The home also features an indoor mineral pool with bifold doors that open to the beachfront, allowing for swimming year round. Clerestory windows and a skylight in the natatorium fill it with natural light.
The home underwent an overhaul from 2020 to spring 2023 that added 9,600 square feet of living space.
The scenic location of the home was a significant factor in the reconstruction, Wurster said.
"Taking full advantage of the picturesque surroundings, the renovation incorporated oversized windows to absorb natural light and breathtaking views into the home," Wurster said.
Other features include a gym, a home theater with a 168-inch screen, and a deep-water dock. The home has central air conditioning and forced-hot air heating.
In addition to the bay view from nearly every interior room, there are multiple patios, balconies, and travertine porches for one to take in the ocean breeze.
The property's French-inspired gardens include boxwoods and more 100 lavender plants.
Address newsletter
Get the latest news on buying, selling, renting, home design, and more.