Real Estate
This home style has a pretty, scary past. Ask Scooby-Doo.
From 'Psycho' to 'Stranger Things,' the stunning Second Empire home style plays a sinister on-screen role. Does it deserve it?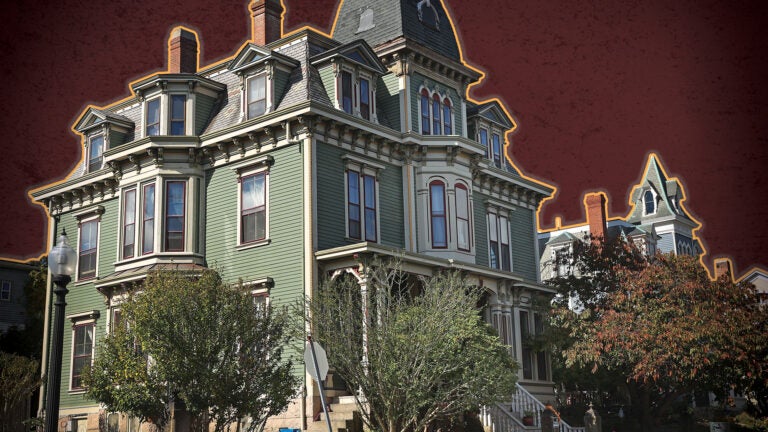 Consider it the "things that go bump in the night" of residential architecture.
The imposing Second Empire is a mainstay in spooky movies and television shows. Have you checked out Creel House in "Stranger Things?" The steep slopes of its mansard roof and other common touches like an imposing tower and large windows can make the Second Empire veer into the intimidating — especially if it comes with a dormer or two.
All the better to hide someone — or something — in the attic.
The architectural style is nearly as synonymous with horror as Wes Craven when it comes to on-screen spookiness. The architectural style appears in "Psycho," "The Addams Family," "The Munsters," and even the opening credits of "Scooby-Doo, Where Are You?"
The timing of each of these hits just happened to follow decades of the building style going out of favor in the United States.
"By the time 'Psycho' and a lot of other scary movies became very popular, the Second Empire style was seen as stodgy and old-fashioned," said Eleni Glekas, director of historic preservation at Boston Architectural College's School of Design Studies. "Buildings can look kind of scary and weird if they haven't been maintained in a while. If you see a home with peeling paint, the shutters might be hanging off to one side, or if it just doesn't look like it's in great shape, that immediately can evoke a feeling of spookiness or that something's not right on the inside."
It's a long way to fall for a housing style with a royal pedigree.
The style got its grandiose, imperial name during the Second French Empire of Emperor Napoleon III. The Second Empire, known for combining several styles, moved across the Atlantic and exploded in popularity in post-Civil War America.
"Toward the end of the 19th century, the Industrial Revolution was booming. A lot of people were making money off that, and a way to showcase that wealth was to build a fancy home," Glekas said. "In order to showcase this new wealth, you wanted to build in the latest European style. Second Empire and Beaux Arts styles were very popular in Europe, particularly in France."
But much like shag carpeting and waterbeds, Second Empire had a design shelf life. It fell out of favor in the 20th century and was seen as stodgy and a sign of the prior century's excess. Many of these Second Empire homes and public buildings fell into disrepair — adding fuel to their haunted house reputation.
"It would be easier for a filmmaker to put a scary thriller movie in a house like that than in some kind of 1950s ranch house or some sleek 1960s design house in Palm Springs," Glekas added.
But the home appeals to more than Norman Bates. There are multiple Facebook groups for Second Empire homeowners (and fans), with thousands of members apiece signing in from across the country to tout the architectural magic of these properties.
Kevin Parker, a Brookfield-based sound engineer, bought his Second Empire in 2013 after owning two Victorians. He views the grandiose, almost formidable style of his Second Empire as a draw, not a spooky deterrent.
"Even among Victorian architecture, it's a visually unique subset," Parker said. "You see a Second Empire, you basically know it."
Of course, some people like the idea of a home with a hint of spookiness.
Todd Parker (no relation to Kevin) lives in a Second Empire in Douglas. He appreciates the architectural significance of the home style, but likes the idea of maintaining a little of its sinister vibe.
"The house was painted not too long ago, but when we do look to repaint it, I'm going to be pushing for a gray," he joked.
Some Second Empires don't give off that vibe at all.
"Maybe it's all the windows or the uniqueness of the way that the roofline looks, but at the time when I bought the house, I didn't consider [the scary connotation] at all," said Laura Parrish, who along with her husband, Tom Lavin, owns an Italianate-Second Empire in New Bedford — the former residence of Herman Melville's sister.
"Maybe I was just blind with love."
Parrish bought the home, named "The Whalehouse," in 2015 and transformed it into a popular vacation rental. The property even served as a backdrop in the AMC thriller "Invitation to a Bonfire."
Neighbors and guests say there's a ghost that climbs the stairs, but there's only one thing the owners of this historic home find spooky: its lack of energy efficiency.
The Whalehouse has 14 heating zones, and Parrish's first heating bill was enough to give even Wednesday Addams nightmares. After coming to terms with that and dealing with burst pipes and even a collapsed basement ceiling, she finally got into the groove of maintaining and renovating her home.
"I felt genuinely so overwhelmed and had the biggest buyer's remorse you could ever feel, but once I got past that and talked with a few people, I started to feel a little bit less overwhelmed," Parrish said. "Everybody feels that way."
Second Empire homes can be labors of architectural love, especially when you are confronted with years of neglect.
"It's kind of like the Brooklyn Bridge where it's always under some sort of state of repair," Kevin Parker, from Brookfield, said with a laugh. "You finish the front half of the house, and now you move on to the back."
Send comments to [email protected].