Real Estate
Fannie Mae keeps a secret condo blacklist. Why?
The organization won't buy loans for these properties and forbids lenders from telling anyone. In October, 37 Massachusetts developments were singled out.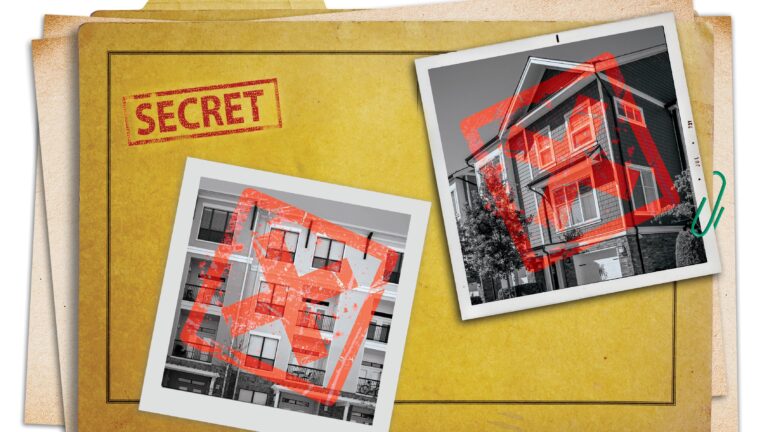 This story was reported by Globe correspondent Jim Morrison and Globe columnist Larry Edelman. It was written by Morrison.
Shortly after Nicholas Perricone bought his condo in the Financial District on June 30, 2022, he joined the building's board of trustees. That's when he began hearing stories of fellow owners who tried to sell their units only to have the deals fall apart at the loan office.
Perricone said he "was one of the last unit owners to obtain financing from a commercial lender," as far as he knew. "Since then, many of the unit sales in our building have fallen through because buyers can't get a loan," he said. "We knew we were on some type of blacklist, but we didn't know that it was a list prepared by Fannie Mae."
The Federal National Mortgage Association, known as Fannie Mae, maintains a secret — and growing — nationwide blacklist of condominium properties where it won't purchase mortgages. It doesn't notify the developments when they've been added to the list, which lenders access via a Fannie Mae tool.
Fannie Mae makes the lenders agree not to tell anyone. A notice at the top, highlighted in yellow, says: "Fannie Mae Confidential and Proprietary — Subject to Non-Disclosure Obligations."
Why are sellers and buyers being left in the dark?
Fannie Mae and its sister organization, the Federal Home Loan Mortgage Corporation, known as Freddie Mac, buy home mortgages, package them, and sell them to investors, making it possible for borrowers in low-income brackets with lower credit scores and little saved for a down payment to get loans. The Federal Housing Finance Agency oversees it all.
Together, Fannie Mae and Freddie Mac support 70 percent of the mortgage market, according to the National Association of Realtors. If people want to buy properties that Fannie Mae won't touch, they have to search elsewhere for a loan, which could ratchet up costs for some of the most vulnerable people in the housing market.
List grows after Surfside tragedy
Fannie Mae's August "Condo Unavailable Projects & Phases Report" said this of Perricone's Lafayette Lofts: "Project identified with significant deferred maintenance. Project identified with water infiltration, which is causing deteriorated mortar joints and cracking."
Cracking in the exterior? The foundation? A non-structural wall? The chimney? The spreadsheet doesn't specify. Perricone said the foundation is old, like many in the Financial District, but no experts have identified actual structural issues with the property.
According to data obtained by the Globe, there were 1,770 developments in the United States on the list in May. By August, there were 2,001. As of October, there were 2,306. Thirty-seven of them were in Massachusetts, 1.6 percent of that list. Florida had the most (34.5 percent), followed by California (10.3 percent) and South Carolina (4.6 percent).
The other New England states had fewer blacklisted properties than Massachusetts:
Orest Tomaselli is president of project review for Condotek, a technology and information firm that streamlines the lending process for condo buyers by reviewing and warranting condo and co-op properties for lenders. After the fatal collapse of Champlain Towers South in Surfside, Fla., in 2021, Tomaselli said, Fannie Mae changed its eligibility requirements and ramped up enforcement. There were 200 to 300 associations on the non-eligibility list a little over a year ago, he said, but the most recent list, released on Oct. 24, had 2,308. Aging infrastructure was prevalent in their decisions to change the guidelines for a while, he added.
Condominium developments present different risks to mortgage lenders than single-family homes. If a development includes a commercial component, not enough of the units are owner-occupied, the development is involved in litigation, or there are a lot of unit owners in arrears on fees, Fannie Mae may add it to the list.
When a prospective buyer applies for a loan intended to be sold to Fannie Mae or Freddie Mac, the underwriter sends a questionnaire to the property manager or condominium board of trustees. How they respond plays a key role in whether or not the property is blacklisted.
How do you get off the list?
If an association discovers it's on the blacklist, a Fannie Mae spokesperson said, there is a way to get off it. "We encourage HOAs and lenders to provide sufficient documentation to Fannie Mae when eligibility issues have been resolved," the spokesperson wrote in an email.
Tomaselli, whose company also works with condo and co-op boards to align their properties with Fannie and Freddie lending guidelines so they can petition to have the property removed from the list, said he doesn't know why Fannie Mae would keep its spreadsheet secret when the Department of Housing and Urban Development makes its denial of participation list public. When Fannie Mae adds a condo development to the list, it should send a notification to the property manager or the association so they're aware of it, Tomaselli said.
But what about the unsuspecting buyers who think they've landed a home at last only to be denied?
The Fannie Mae spokesperson said it's a lender's responsibility to inform buyers about the eligibility of a property: "As a secondary-market participant, we believe that lenders are in the best position to have conversations with their customers about mortgage finance options for their home purchase and property eligibility requirements."
But how can lenders inform anyone when the blacklist contains a warning that the information is confidential?
Lenders have informed associations, Tomaselli said, but it's unrealistic to expect them to.
"The lender doesn't have any incentive to do that," he said. "There's an enormous amount of time and effort that goes into analyzing the building, looking at their legal documents, insurance, budget, operations, and financials. What lender is going to spend their resources and time to do that for an association for no compensation?"
Why keep it a secret?
Edmund Allcock, a lawyer and managing partner of Allcock Marcus in Braintree, said the secrecy hurts consumers.
"To me, if you're going to have an eligibility list, you should tell people about it," Allcock said. "There are many developments on the list that can't get themselves removed because they have too much commercial space or something like that. … We've had people call us from all over the country, email us from all over the country, asking to find out if they're on the list.
"Clearly the federal government is protecting itself," he said. "This is not what I would expect from the current administration. They're supposed to be for the little guy, and this practice is not little guy-friendly. It's inhibiting people — predominantly people with lower incomes — from being able to sell or refinance their homes without explanation."
Susan Evans is president of the condo association at Brook Village in Boxborough, which has 192 units spread over nine buildings. Fannie Mae banned the complex because of "Ground water contaminated with excessive PFAS [per- and polyfluoroalkyl substances]. Potable water cert required to remove unavailable status."
Evans said that until the Globe phoned, she didn't know about Fannie Mae's list or that her complex was on it. The property manager, Brad Page of Reliable Property Management, also found out about the list that way, but told the Globe he had assumed something was going on when lenders weren't approving those loans.
"We've had PFAS in our water for a long time, and we're in the process of doing something about it," Evans said. "What happened is, the state tightened up their acceptable level of PFAS. Our water hasn't changed for years, but now we're in violation.
"Brook Village has committed to connecting to the Littleton water line project to provide residents with clean water."
Jim Morrison can be reached at [email protected]. Larry Edelman can be reached at [email protected]. Follow him @GlobeNewsEd. Follow Address on X @GlobeHomes.
Correction: A previous version of this story reported that the Federal Home Loan Mortgage Corporation also has a blacklist of developments. It does not. The Globe regrets the error. Also, due to incorrect information provided to the Globe, a previous version of this story mischaracterized how lenders receive the list. It is via a Fannie Mae tool.
Address newsletter
Get the latest news on buying, selling, renting, home design, and more.