Renting
Families with young children face 'rampant' discrimination in apartment search
It's hard enough for most people to find a reasonable apartment for rent in Boston, but when you throw a child into the mix, it can be almost impossible.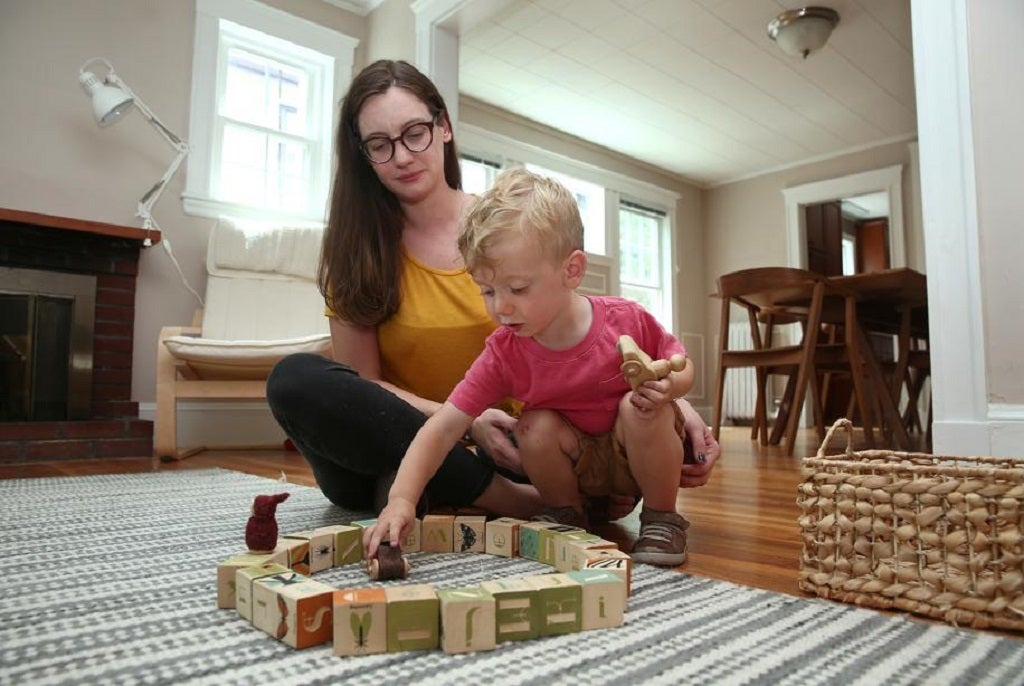 It's hard enough for most people to find a reasonable apartment for rent in Boston, but when you throw a child into the mix, it can be almost impossible.
Kara Olivere, a special education teacher in Arlington, spent nearly a year trying to find an apartment for herself and her 1-year-old. She rarely heard back from rental agents. "When I first started looking, I was very upfront about having a toddler,'' Olivere said. After a while, she stopped mentioning her son, and voila, she got appointments to tour apartments. The agents would be friendly at the showing, she said, "but once I mentioned I had a child, their attitude would drastically change.''
At a showing in Somerville, Olivere told the agent the apartment was rundown and wouldn't be safe for her son. "You never told me you had a son,'' the agent barked, adding that none of the nearby apartments were deleaded either. Olivere asked him what she was supposed to do as a parent trying to rent with a young child. "He said, 'People with kids just buy,' '' she recalled.
While getting the rental application for a nice apartment in Medford, Olivere asked who lived upstairs. The agent "said she wasn't sure, but no one with kids, because the prior applicant was rejected for having a kid,'' Olivere said. "I told her that was illegal and that I have a son.'' Some awkward backpedaling followed, but Olivere didn't get the apartment.
Having rented with roommates for years, Olivere said, it was always tough to find a decent apartment in the city, but renting with a child has put past searches in perspective. "It's not that it was easy,'' she said, "but the realtors were eager to work with you — you'd practically have to beat them off with a stick.'' Renting with a kid, meanwhile, was a nonstarter. "My profession, income, credit, and savings are all better than they've ever been in the past,'' she said, "but I couldn't even get called back, much less see a place.''
The law, meanwhile, is clear: It's illegal not to rent to families with children or to offer them different rental terms — such as requiring families to live in a first-floor unit or charging them a security deposit when other tenants don't pay one, said Jamie Langowski, assistant director of the Housing Discrimination Testing Program at Suffolk University Law School. The program tests for cases of housing bias primarily in Greater Boston, and unfortunately, Olivere's experience isn't unique. "There is rampant illegal discrimination occurring,'' Langowski said.
"The tests are pretty straightforward, much like secret shopping,'' Langowski said. Two testers who are similar in virtually every way except for one key variable — such as familial status, race, or gender identity — inquire about apartments, documenting their interactions with rental agents and landlords. "What we've found is that discrimination against families with children is common,'' Langowski said, and prospective tenants are often told right to their faces that an apartment isn't available to them because of their kids or the presence of lead paint.
In search of something homey with outdoor space, Olivere ruled out big apartment complexes and focused on one- or two-bedroom apartments in multifamily homes. "There's no shortage of those around Medford, Somerville, and Arlington,'' she said. However, the familiar two- and three-decker homes were usually built before 1978, when lead paint was banned. Langowski said many rental agents tell renters with children only about new construction or units that are already deleaded. "This severely limits the options to families with kids, and it's against the law.''
"People should be shown any apartment they want to see,'' said Al Norton, rental manager at Unlimited Sotheby's International Realty in Brookline. "Real estate agents never have the ability to say to someone, 'You can't see this place because you have a kid under 6.' '' Still, Norton added, "there are a lot of landlords and agents out there who do their best to skirt or circumvent the rules.''
There are a few reasons landlords may be reluctant to rent to families, said Skip Schloming, former executive director of the Small Property Owners Association. For example, kids tend to put more wear and tear on a unit, he said, but the threat of paying for lead abatement is the chief deterrent that makes more than a few of them willing to break the law.
Massachusetts lead law requires that landlords make a unit and any common areas lead safe if a child under the age of 6 will live there — and that includes paying for alternative housing while the work is being done. "That's a pretty costly thing to do,'' Schloming said. "I think it ranges from $5,000 to $15,000 per apartment.''
It may be daunting, but it's a reality landlords must accept, Norton said. "No one likes being in situations where you can be forced to do things you don't want to do, but that's part of being a landlord,'' Norton said. "I tell people: 'If you don't want issues, sell your property and put your money in a CD. It will make you a lot less, but there's no risk involved.' ''
But lead abatement isn't always the epic expense landlords fear it to be, Langowski said. "People wrongly assume that if a young child will live there they have to delead the entire property,'' she said. "The actual requirement is to make it lead safe, and abatement might only mean encapsulating window and door areas.''
Lead poisoning can cause serious developmental damage to the brain, kidneys, and nervous system. But lead-based paint in good condition usually isn't harmful, according to the Environmental Protection Agency, so encapsulation — containing intact lead paint with a special liquid coating instead of removing it — is often recommended.
Schloming blames the high cost of abatement on the meticulous labor involved in carefully scraping and removing lead paint instead of encapsulating it. "If they got rid of all the scraping requirements, that would bring the cost way down,'' he said. "And that would end a great deal of the discrimination against families from landlords who feel they can't afford the expense.''
At one point, Olivere thought her problems were solved when she moved into an apartment owned by a co-worker's son. But she soon moved out, forfeiting more than $2,000 in realtor fees and prorated rent, after she discovered chipping lead paint everywhere. "One especially large piece was even held on by Scotch tape,'' she said, and it all tested positive for lead paint.
Olivere was able to stay with family as her apartment search dragged on, she said, "but not everyone has that luxury.'' In fact, studies have shown that low-income and minority children are at much greater risk of lead poisoning, partly because they're more likely to be living in older and rundown housing.
Langowski said renters who experience discrimination should report it right away to the Department of Housing and Urban Development, the Massachusetts Commission Against Discrimination, local fair-housing organizations, or a testing program like the one at Suffolk Law. "Families who have been discriminated against because they have children may be entitled to damages,'' she said. Last year, the Suffolk program won a settlement of more than $22,000 for renters wrongly evicted after one family member got pregnant.
Norton recommends finding an ethical real estate agent you're comfortable with who knows the law and will actively represent your interests. If you're denied a showing because you have kids, a good agent can call out the landlord or listing office. "I send them an e-mail and say, 'This e-mail is to confirm that you're refusing to show me this apartment because my client has children,' '' Norton said. "And wouldn't you know, almost always I suddenly end up with an appointment.'' That doesn't guarantee they'll get (or want) the apartment, but it clears the biggest hurdle, Norton said. "They are just trying to literally and figuratively get through the front door.'' After that, he said, it's much harder for an owner to turn down a qualified applicant without demonstrating discrimination.
Norton doesn't understand why so many landlords still drag their feet on lead abatement and treat families unfairly. "My attitude at this point, 40 years in, is that even if you don't like the law, if you think it's ridiculous and too stringent, you knew what it was when you got into the landlord business,'' he said. Massachusetts does offer some financial help to landlords who make their units lead compliant, including tax credits and zero- to low-interest loans.
As for Olivere, she finally found an apartment in East Arlington through a local Facebook group. The landlords, a young couple who live upstairs, told her they deleaded the entire property for their own piece of mind, which she considers something of a miracle. "I've never heard of this in my nine months looking,'' Olivere said. "I am so grateful.''
Jon Gorey is a freelance writer in Quincy. Send comments to [email protected] Follow him on Twitter at @jongorey. Subscribe to The Boston Globe's free real estate newsletter at pages.email.bostonglobe.com/AddressSignUp.