Renting
10 things you should do before signing a lease
From researching your landlord on these databases to reviewing guarantor clauses, experts offer tips to protect your rights.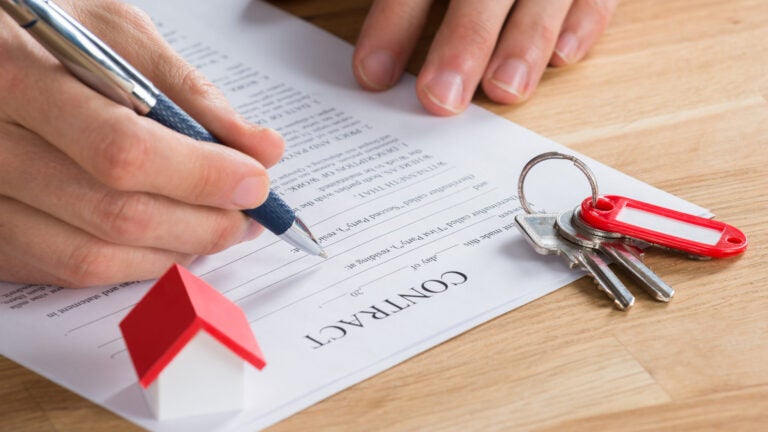 After finding an apartment you like and can afford, you might be tempted to sign a lease quickly before someone else beats you to it, but lawyers say you should know your rights and ensure they're protected before signing on the dotted line.
Beware of homemade leases
Richard D. Vetstein of Vetstein Law Group said tenants should make sure the lease is one of the standard forms from the Massachusetts Association of Realtors, the Rental Housing Association, or the Greater Boston Real Estate Board. These leases are fully compliant with the state's complicated real estate laws.
"If you see anything off the Internet or homemade, or if doesn't look like a standard form, that's a red flag," Vetstein said.
Get it in writing
Typically, there will be a customized rider attached to the form that spells out the specific rules for the apartment, such as where the trash is kept, tenants can park, etc. Vetstein said tenants should insist on getting everything in writing in case a dispute arises later.
Know what you're paying for
Vetstein said it should also be clearly stated who pays for which utilities. Tenants should be especially wary of landlords who charge for water; to do that legally, landlords have to comply with strict regulations, and Vetstein said few do.
Beware of upfront payments
The most a landlord can charge a tenant upfront is the first month's rent, last month's rent, a security deposit, and the cost of replacing the key(s) to the apartment. Anything in addition to that — such as pool or pet fees — would be illegal.
"The landlord is required to put the security deposit in a special account, give the tenant a receipt, pay interest to the tenant, and provide a statement of condition to the tenant," Vetstein said. "If a landlord fouls any of that up, it could cost them three months' rent, plus attorneys fees and possibly triple damages."
Do a background check
Vetstein advises tenants to research a landlord's name on www.masscourts.org to see whether he or she has been involved in any disputes. Rentsmart, a City of Boston website, also allows users to check out a particular address for the owner's name, a brief description, and any housing complaints or violations.
Do your homework
Peter G. Calabrese of Calabrese Law Associates has a page on his firm's website dedicated to college housing issues. He said the first thing a tenant should do is make sure the unit is legal. If it's just a bedroom, if it's mostly below grade, or if there aren't two ways in and out, it might be illegal. Calabrese suggested looking the address up on the city assessor's database to ensure it is legal.
Review the guest policy carefully
Many leases will contain a policy on long-term guests, Calabrese said. Tenants should make sure the policy is something they can live with.
"That's an area rife for dispute," Calabrese said. "Usually there's a guest provision which might not allow long-term guests. If the tenant plans to have a boyfriend or girlfriend stay over for a week or two, make sure the lease accounts for that."
Do a walk-through
"Walk through the apartment with the landlord and record the condition of the apartment before you move in," Calabrese said, so you won't be held liable for preexisting conditions.
Review the guarantor clause
Every student-housing lease has a guarantor clause in which the parents guarantee the rent payment. That's something parents should scrutinize closely, because the burden could fall on them to pay if one or more students default.
Hire an attorney to review the lease
It might sound obvious and even a little self-serving, but Calabrese recommends that tenants — especially students coming from other countries — hire an attorney to review their lease before signing it.
It "would cost a thousand dollars or less and can save them a lot of trouble."
Subscribe to the Globe's free real estate newsletter — our weekly digest on buying, selling, and design — at pages.email.bostonglobe.com/AddressSignUp. Follow us on Facebook and Twitter @globehomes.