Renting
Those rent hikes the Boston area is seeing could slow down in 2020
Average rents in Greater Boston rose 4.2 percent over the course of the past year, compared with nearly 5 percent growth in 2018.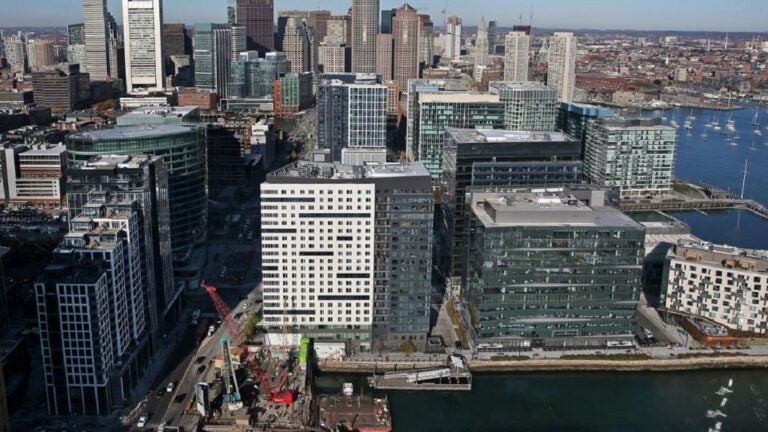 Years of rising rents in the Boston area have reached a point that even $4,000 a month is barely enough to secure a unit in the high-end market closest to the city core.
High-end market units close to Boston, with many more expected to come online this year, currently command monthly rents ranging from $5,000 to just over $10,000, said Carlina Nabatoff, co-owner of Abundant Real Estate Group in Cambridge.
As area tenants are painfully aware, rent hikes haven't just been reserved for the luxury market. The average rent in Greater Boston for the last quarter of 2019 was $2,349 in all apartment categories — that's up from $2,223 the prior year and $2,117 in 2017, according to data from Reis Inc., a real estate research firm.
(The cost to rent a one-bedroom in every Boston neighborhood.)
It's the fourth-highest average rent nationwide, behind New York ($3,599), San Francisco ($3,153), and San Jose ($2,630), among the 79 major metro markets Reis tracked.
Market observers forecast that Boston-area rents will continue to rise in 2020. But there is some good news: The influx of new units set to come online this year is expected to ease the crunch and help slow down the rate of rise.
"It's very often the case that newly constructed rentals are marketed for the higher end of the income distribution among renters," said Jeff Tucker, an economist
with real estate website Zillow. "It's more likely to help slow rent increases in the older units."
Average rents in Greater Boston rose 4.2 percent over the course of the past year, compared with nearly 5 percent growth in 2018, according to Reis figures. Zillow anticipates a "slow, but steady increase" of 1.3 percent this year, Tucker said.
"For renters, that's better news than hearing that it's going to climb by 5 percent," he said.
Another encouraging sign for renters is that there are more apartment listings than there were at this time last year, and it's taking longer to rent them, Nabatoff said.
"Because there is more inventory, [landlords] have to make [their] place attractive to rent," said Nabatoff, whose firm serves the Cambridge/Somerville area,
including Malden, Medford, Everett and Revere.
This is a change from recent years, when the rental inventory, especially for midrange units, has been tight and highly competitive. Greater Boston ended the year with an average rental vacancy rate of 5 percent, slightly higher than the national average of 4.7 percent, according to Reis.
A low inventory of homes for sale has been throwing a wrench into the rental market for years, said Tim Warren, chief executive of The Warren Group, a real estate analytics firm and publisher of Banker & Tradesman.
"The number of homes on the market and listings have been consistently declining for a long time, which cuts down on the choice people have," Warren said.
"And combined with rising [home] prices, it's going to naturally push people into apartments if they can't find homes."
Nabatoff found 664 apartments for rent in Cambridge and Somerville on the Multiple Listing Service database, more than what she typically sees this time of
year — and some have been on the market for a few months.
"Cambridge and Somerville have a ton of these new apartment and condo buildings," she said. "More inventory means that prices for older stock have evened
out; they're sitting longer and prices are dropping."
Though this may change in the busy April-to-September rental season, the market is not supporting steep rent increases, particularly for older units,
Nabatoff said.
"I wouldn't say people are hesitant to lower prices, but their tolerance for paying a little more for getting a nicer place is higher," she said.
Depending on the area, Nabatoff said, some listings drop the asking rent by up to $200 to compete with newly built apartments — a move many landlords haven't had to employ for years. Nabatoff was recently able to broker leases for several new condo units in Somerville's Union Square that were listed for rents higher than the market rate. They all rented quickly for almost the full asking price, but, she said, had it been during the warmer months, the tenants wouldn't have had much room to negotiate.
Whatever gradual course correction the region's rental market may be taking, it still won't be fast enough for many low- to moderate-income renters, some of whom
have been displaced by the rise of high-end apartment construction, said Helen Matthews, communications coordinator for the tenant advocacy group City Life/Vida
Urbana, which has been urging state lawmakers to reinstate rent control.
At a State House hearing last week on the issue, some tenants testified that their new corporate landlords had raised their rents by $250 to $700 a month, Matthews
said.
"It became a landlords' market around 2011-2012, [with] large-scale investment, the capitalization of real estate, and luring large investors," she said. "People are working two or three jobs, people who work overnight, just to pay the rent. There's just a very profit-driven real estate industry that's seeking every opportunity to squeeze money out of this moment."
Subscribe to the Globe's free real estate newsletter — our weekly digest on buying, selling, and design — at pages.email.bostonglobe.com/AddressSignUp. Follow us on Facebook, Instagram, and Twitter @globehomes.