Renting
As virtual listings become popular during the pandemic, how to avoid rental scams
In a survey, 71% of prospective renters said they would rent an apartment site unseen if there is a 3-D tour.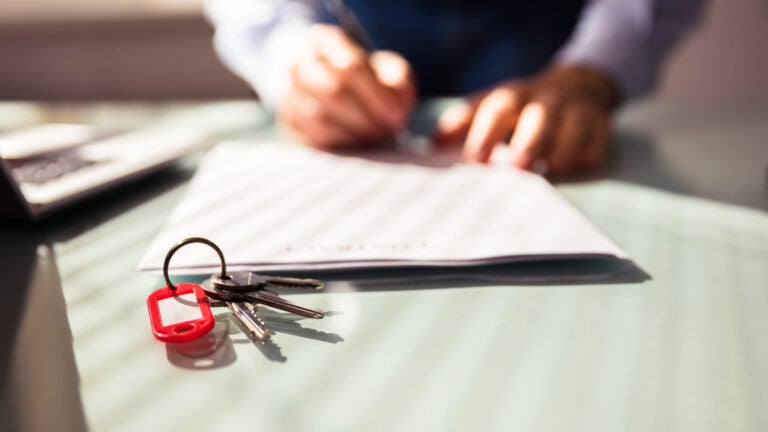 Chances are you've spotted the occasional real estate scam online.
There are the listings featuring photos of a luxury apartment with an unrealistically low price, or the real estate agents who claim they'll send you the keys as soon as you send them a lump sum. But as the apartment rental process becomes increasingly virtual during the coronavirus pandemic, experts say, renters could be exposed to even more scams.
It can be a real pain to trudge around the city viewing apartments only to discover when you arrive that they are a disaster. Add the desire to stay socially distant amid the pandemic, and virtual leasing looks better than ever. Rental marketplace Zumper recently partnered with Matterport, a 3-D-capture technology company, to provide virtual tours, reportedly allowing viewers to measure the size of each room with 99 percent accuracy. In a survey of 2,000 US renters and property owners, the companies determined that 71 percent of prospective renters said they would now rent an apartment sight unseen if there was a 3-D tour. Apartment owners are seeing results, too: Eight-two percent of property owners that have advertised with a 3-D walk-through said they were able to rent their properties without renters seeing them.
Sites like Zumper have worked to integrate safety protocols into their platforms, ranging from sending messages in their e-mails to warn people about common scammer practices to instituting internal alarms and machine-learning tools to identify malicious accounts. When notified of a potential scam, the listing is removed from the site within 24 hours if deemed to be fraudulent.
But some experts say this "new normal" could still subject prospective renters into scams.
"I don't think anyone should rent without seeing the unit," said Nadine Cohen, managing attorney in the Consumer Rights Unit at Greater Boston Legal Services. "And also seeing some proof that the person showing it to them is either the owner or is a legitimate rental agent."
Services like MySmartRenter, which provides renters with information about prospective landlords, are often used by real estate companies, universities, and individuals who are looking to find out from who they are renting. They can confirm everything from owner verification and civil court actions to criminal records and concealed weapons permits.
"The only way to protect against the scam is to prevent it," said George Genel, CEO of the Concord-based company. "Our system can do that in two minutes. In addition to verifying the owner and its legitimacy, we're looking to see if there's any liens, judgments, foreclosures, and bankruptcies."
In Boston, Genel said, scammers are often targeting college students looking for off-campus housing, particularly those from other countries.
"The bottom line is as a renter, you really need to know who you're going to rent from," he said. "I don't want my son or daughter to rent an apartment and find out that the property owner has been arrested for assault or [is a] peeping Tom."
Like many situations during the pandemic, the people most often exposed to danger are those with the least resources. This will most likely be the case when the eviction moratorium is lifted.
"They're going to be so desperate for housing they're going to want to rent very quickly," Cohen said. "On so many levels it's going to be awful. That's when people are most vulnerable to scams of all sorts. I just caution people to be careful."
To protect yourself against rental scams, look for communications that seem a bit off. If the price is too good to be true or if they're rushing you and just want your money as soon as possible, those are red flags. Experts are in agreement: Never send any money without doing your research.
"Some of them are pretty good," Genel said. "They're pretty bright. Some of them will actually have the owner's name, but the e-mail won't be the owner's e-mail. They'll tell you to go walk around it and get back to them if you like it, then send a deposit. 'We'll send the keys with the move-in dates!' 'I'm managing it for my sister, or I'm out of town.' "
If you get caught up in a scam, Cohen suggests filing a police report and a complaint with the Federal Trade Commission, as well as contacting whatever listing site you used. But it's safe to say that the best way to keep from getting caught up in a scam is preventing it from happening in the first place.
"Make sure you see the unit, meet with the person, and have a sense that they're legitimate," Cohen said. "Don't give money. Don't wire it. Don't do it until you see the lease. If there are red flags, don't go forward."
Subscribe to the Globe's free real estate newsletter — our weekly digest on buying, selling, and design — at pages.email.bostonglobe.com/AddressSignUp. Follow us on Facebook, Instagram, and Twitter @globehomes.