Renting
Organizations to host free event on how to avoid eviction
The virtual program, slated for Monday, Feb. 15, will talk about navigating the housing crisis and how to stave off eviction.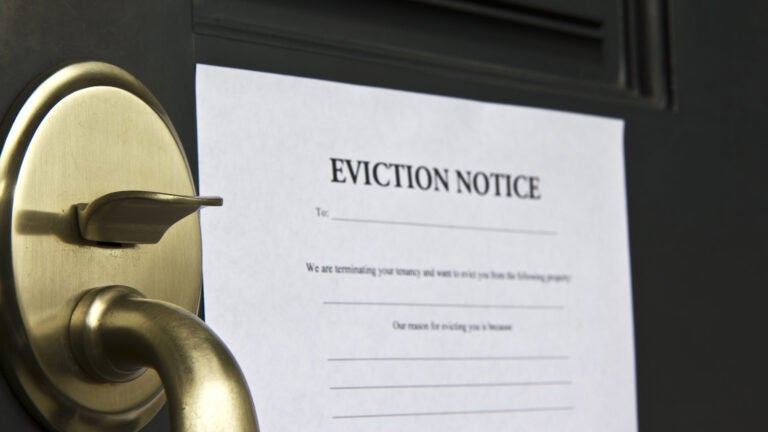 The coronavirus pandemic threw fuel on the fire that is the Boston housing crisis, and even so-called eviction moratoriums aren't completely preventing people from losing their residences.
Massachusetts ended its state-level eviction moratorium in October, and now the main statute keeping some renters from eviction is a federal ban by the US Centers for Disease Control and Prevention. Housing advocacy groups say the CDC ban isn't effective, as landlords can still take their tenants to court and possibly evict them.
The organizations Cancel the Rents Boston and Afrimerican Culture Initiative Inc. are hosting the free virtual event "Coping With COVID-19: Navigating the Housing Crisis" on Monday, Feb. 15, from 7 to 8:30 p.m. The program will discuss how to avoid getting evicted. Click here to register.
Members of both sides of the landlord-tenant relationship say it is important to work together to navigate through matters of eviction and housing instability.
"The way I would describe the state of evictions right now in Boston is it's good and bad," Katie Forde, acting deputy director of the City of Boston's Office of Housing Stability, said before later adding, "The protections that are in place on paper are great but, operationalized, are not working very well."
There are a variety of state- and city-level options for renters. The statewide Rental Assistance for Families in Transition, or RAFT, program provides up to $10,000 per household to help renters stay in their home or move to another. The state's Emergency Rental and Mortgage Assistance Program may be an option for low-income households who aren't eligible for RAFT. Boston also has its own rental relief fund, monitors every eviction case that gets filed to let people know their options for further assistance, and offers weekly legal clinics.
While the programs offer solutions to tenants, they aren't perfect. RAFT is a lengthy process, and approval can take months.
"A lot of the applications we're filing and getting a response about were filed at the end of the fall last year," said Yesenia Mejia, a program and care coordinator for people experiencing homelessness and organizer of the Cancel the Rents Boston movement. "It's a really long wait."
Organizers at Cancel the Rents Boston said moratoriums only delay another housing crisis — when the back-rent comes due. They want the federal government to cancel these debts for tenants, as well as deferred mortgage payments for small landlords, small businesses, and homeowners.
"We know [small landlords and small-business owners] are still working-class people," Mejia said. "It would be ideal to build [this movement] with small landlords, because the [cancel the rents] claim is inclusive of small landlords."
Many landlords are willing to help their tenants, said Douglas Quattrochi, executive director of the MassLandlords trade organization. Landlords can assist with RAFT applications then tenants give written consent.
"A lot of renters who can't pay the rent have so much other calamity going on. Health and illness are certainly one, but also work and trying to manage the kids with remote school going on," said Quattrochi, who has filled out a RAFT application for one of his own tenants. "It's very difficult for a lot of people, and the last thing they can think of doing is taking a shot at state assistance, which is by no means guaranteed and involves filling out a thirteen-page application asking every detail of your life."
Better marketing to landlords is another missing piece in the various housing economic relief measures, all of those interviewed for this story said. Landlord protections such as a six-month mortgage deferral were included in the Massachusetts state eviction ban last year, Forde said, but those options weren't advertised as much as the tenant protections.
Even Mejia recognizes "Cancel the Rents" might be off-putting language to property owners despite the group's appeal to small landlords and business owners.
Quattrochi just wants better education and counseling for landlords, so they know that selling their property isn't the only option during an economic downturn. Such counseling could ultimately benefit renters in the end, he said.
"If a landlord has no money or capital, then they'll sell out and the new owners can evict [the tenant] or raise the rent," Quattrochi said. "It's important to focus on the landlord piece [before], so mom-and-pop landlords know their options."
Subscribe to the Globe's free real estate newsletter — our weekly digest on buying, selling, and design — at pages.email.bostonglobe.com/AddressSignUp. Follow us on Facebook, Instagram, and Twitter @globehomes.