Renting
A running list of the cost to rent in Greater Boston (December edition)
Where are prices climbing? Where can renters find the most inexpensive apartments? Search the latest rental listings at realestate.boston.com.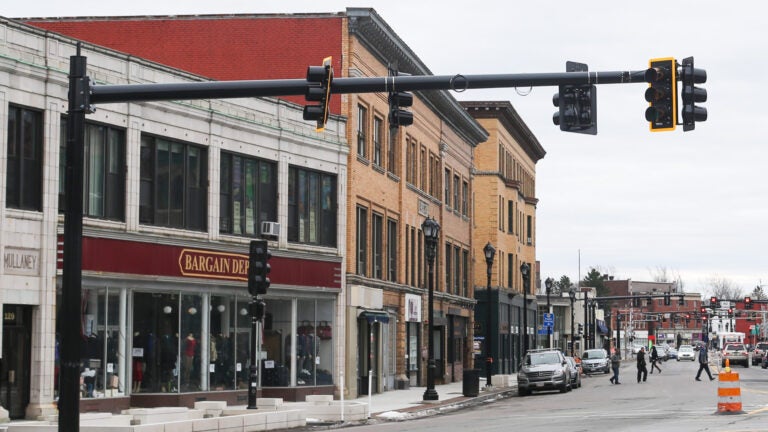 The Eastern Massachusetts city that saw the biggest year-over-year increase in rent in November was Framingham, which experienced a whopping 23.7 percent jump for a one-bedroom apartment, according to a new report by Zumper.
Based on prices found on the real estate website, Malden and Melrose weren't far behind, with significant increases of 23.6 percent and 21.7 percent, respectively.
Renters looking for deals could search in Brockton, where prices were down 15 percent compared with November 2020. Costs were also down in Beverly (-10.2 percent) and Medford (-8.9 percent).
Month-over-month, Brockton saw the biggest jump (5.9 percent), followed by Haverhill (5 percent) and Framingham and Melrose (both 4.9 percent). Cambridge and Boston saw prices drop the most, 4.8 and 2.4 percent respectively.
The most expensive cities for renters remained Cambridge, Boston, and Brookline (in that order), while the least expensive were Brockton, Worcester, and Haverhill.
The median rent for a one-bedroom unit in Massachusetts was $2,018 in November.
Here's how several communities stacked up for the cost of renting a one-bedroom apartment and the percentage change month-over-month and year-over-year:
November 2021
RANK
CITY
RENT
MOM
YOY
1
Cambridge
$2,580
-4.8%
15.2%
2
Boston
$2,470
-2.4%
14.9%
3
Brookline
$2,300
3.1%
5.5%
4
Waltham
$2,170
4.8%
21.2%
5
Malden
$2,150
0.9%
23.6%
6
Framingham
$2,140
4.9%
23.7%
7
Melrose
$2,130
4.9%
21.7%
8
Quincy
$2,050
0%
9.6%
9 (tie)
Newton
$2,000
0%
3.1%
9
Somerville
$2,000
0.5%
5.3%
11
Beverly
$1,770
4.7%
-10.2%
12
Lawrence
$1,750
3.6%
11.5%
13
Medford
$1,730
0%
-8.9%
14
Lowell
$1,650
0%
8%
15
Haverhill
$1,470
5%
-7%
16
Worcester
$1,350
0.7%
3.1%
17
Brockton
$1,250
5.9%
-15%
October 2021
RANK
CITY
RENT
MOM
YOY
1
Cambridge
$2,710
5%
19.9%
2
Boston
$2,530
5%
14.5%
3
Brookline
$2,230
1.4%
-0.9%
4
Waltham
$2,070
5.1%
10.1%
5
Quincy
$2,050
-1.9%
5.1%
6
Framingham
$2,040
5.2%
12.1%
7
Melrose
$2,030
5.2%
20.1%
8
Newton
$2,000
5.3%
0%
9
Somerville
$1,990
-0.5%
1%
10
Medford
$1,730
0%
-10.4%
11 (tie)
Beverly
$1,690
-2.3%
-15.1%
11 (tie)
Lawrence
$1,690
-5.1%
12.7%
13
Lowell
$1,650
1.9%
0%
14
Haverhill
$1,400
-1.4%
-0.7%
15
Worcester
$1,340
0%
3.9%
September 2021
RANK
CITY
RENT
MOM
YOY
1
Cambridge
$2,580
3.2%
9.3%
2
Boston
$2,410
4.8%
4.8%
3
Brookline
$2,200
0%
-3.9%
4
Quincy
$2,090
-0.5%
4.5%
5
Somerville
$2,000
0%
0.5%
6
Waltham
$1,970
4.8%
-0.5%
7
Framingham
$1,940
4.9%
2.6%
8
Melrose
$1,930
4.9%
12.2%
9
Newton
$1,900
-0.5%
-5%
10
Lawrence
$1,780
-3.3%
18.7%
11 (tie)
Beverly
$1,730
-4.9%
-10.4%
11
Medford
$1,730
-3.9%
-12.2%
13 (tie)
Malden
$1,670
1.2%
-7.2%
13
Salem
$1,670
-5.1%
24.8%
15
Lowell
$1,625
2%
11%
16
Brockton
$1,500
-1%
3%
17
Haverhill
$1,420
1.4%
0%
18
Worcester
$1,328
2%
4%
August 2021
RANK
CITY
RENT
MOM
YOY
1
Cambridge
$2,500
4.2%
6.4%
2
Boston
$2,300
0%
0%
3
Woburn
$2,240
-5.1%
14.9%
4
Brookline
$2,200
0.5%
-6%
5
Revere
$2,150
4.9%
7.5%
6
Quincy
$2,100
5%
5%
7
Everett
$2,010
5.2%
-10.7%
8
Somerville
$2,000
0%
-0%
9
Newton
$1,910
0%
-4.5%
10
Waltham
$1,880
5%
-9.6%
11
Framingham
$1,850
1.1%
0%
12 (tie)
Lawrence
$1,840
5.1%
15.7%
12
Melrose
$1,840
5.1%
2.8%
14
Beverly
$1,820
-3.2%
-3.2%
15
Medford
$1,800
-2.7%
-13%
16
Malden
$1,650
0%
-9.8%
17
Lowell
$1,620
-2.4%
1.9%
18
Brockton
$1,410
5.2%
1.4%
19
Haverhill
$1,400
-0.7%
-2.8%
July 2021
RANK
CITY
RENT
MOM
YOY
1
Cambridge
$2,400
4.3%
-0.8%
2
Boston
$2,300
4.5%
-2.1%
3
Brookline
$2,190
1.9%
-8.4%
4
Revere
$2,050
5.1%
2%
5
Quincy
$2,000
2.6%
0%
6 (tie)
Somerville
$2,000
0%
-4.8%
6
Everett
$1,910
4.9%
-11.2%
8
Newton
$1,910
0.5%
-4.5%
9
Beverly
$1,880
2.7%
-3.6%
10
Medford
$1,850
-5.1%
-10.6%
11
Framingham
$1,830
-1.1%
1.1%
12
Salem
$1,820
-4.7%
15.2%
13
Waltham
$1,790
2.3%
-9.6%
14 (tie)
Lawrence
$1,750
-0.6%
15.1%
14
Melrose
$1,750
4.2%
-1.1%
16
Lowell
$1,660
3.8%
8.5%
17
Malden
$1,650
-1.2%
-7.3%
18
Haverhill
$1,410
5.2%
-1.4%
19
Brockton
$1,340
4.7%
-1.5%
20
Worcester
$1,300
-1.5%
-3.7%
June 2021
RANK
CITY
RENT
MOM
YOY
1
Cambridge
$2,300
0.4%
-8%
2
Boston
$2,200
0.9%
-8.7%
3
Brookline
$2,150
1.9%
-10%
4
Somerville
$2,000
0%
-4.8%
5 (tie)
Medford
$1,950
4.8%
-8.5%
5
Quincy
$1,950
3.7%
-3%
5
Revere
$1,950
4.8%
-2.5%
8
Salem
$1,910
4.9%
24.8%
9
Newton
$1,900
0%
-5%
10
Framingham
$1,850
1.1%
5.7%
11
Beverly
$1,830
5.2%
-3.2%
12
Everett
$1,820
5.2%
-17.3%
13
Lawrence
$1,760
4.8%
15%
14
Waltham
$1,750
2.9%
-10.3%
15
Chelsea
$1,700
1.8%
-0.6%
16
Melrose
$1,680
5%
0%
17
Malden
$1,670
0.6%
-4.6%
18
Lowell
$1,600
3.9%
7.4%
19
Haverhill
$1,350
-0.7%
-5.6%
20
Worcester
$1,320
-2.2%
-0.8%
21
Brockton
$1,280
-5.2%
-9.2%
May 2021
RANK
CITY
RENT
MOM
YOY
1
Cambridge
$2,290
4.1%
-8.4%
3
Boston
$2,180
3.8%
-11%
2
Brookline
$2,110
-0.9%
-12.1%
4
Somerville
$2,000
1%
-6.1%
5
Newton
$1,900
0%
-5%
6
Quincy
$1,880
0%
-6%
7 (tie)
Medford
$1,860
3.3%
-16.2%
7
Revere
$1,860
-1.1%
-7%
8
Framingham
$1,830
1.7%
1.7%
9
Salem
$1,820
-3.2%
13%
10
Beverly
$1,740
4.8%
-7.4%
11
Everett
$1,730
3%
-20.3%
12
Waltham
$1,700
1.8%
-17.1%
13
Lawrence
$1,680
-0.6%
15.1%
14
Chelsea
$1,670
1.2%
-1.8%
15
Malden
$1,660
-2.4%
-5.7%
16
Melrose
$1,600
0%
-2.4%
17
Lowell
$1,540
1.3%
8.5%
18 (tie)
Brockton
$1,350
4.7%
-1.5%
18
Haverhill
$1,350
0%
0%
18
Worcester
$1,350
3.8%
5.5%
April 2021
RANK
CITY
RENT
MOM
YOY
1
Cambridge
$2,200
0.9%
-12.7%
2
Brookline
$2,130
0%
-12.7%
3
Boston
$2,100
0.5%
-16%
4
Somerville
$1,980
3.1%
-7.5%
5
Newton
$1,900
1.1%
-7.3%
6 (tie)
Quincy
$1,880
-2.1%
-6.9%
6
Revere
$1,880
2.2%
-10.5%
6
Salem
$1,880
2.2%
11.2%
9 (tie)
Framingham
$1,800
2.3%
-1.6%
9
Medford
$1,800
-1.6%
-20.4%
11
Malden
$1,700
0.6%
-2.9%
12
Lawrence
$1,690
-1.2%
15%
13
Everett
$1,680
0%
-26.3%
14
Waltham
$1,670
1.2%
-22.7%
15
Beverly
$1,660
-3.5%
-12.6%
16
Chelsea
$1,650
0%
-7.3%
17
Melrose
$1,600
1.9%
-7.5%
18
Lowell
$1,520
4.8%
8.6%
19
Haverhill
$1,350
-2.9%
-2.2%
20
Worcester
$1,330
0%
1.6%
21
Brockton
$1,290
4.9%
-5.8%
March 2021
RANK
CITY
RENT
MOM
YOY
1
Cambridge
$2,180
3.8%
-15.2%
2
Brookline
$2,130
2.4%
-14.8%
3
Boston
$2,090
2%
-16.4%
4 (tie)
Quincy
$1,920
-0.5%
-4%
4
Somerville
$1,920
3.2%
-14.3%
6
Newton
$1,880
2.2%
-6%
7(tie)
Lynn
$1,840
0%
15%
7
Revere
$1,840
0.5%
-13.2%
7
Salem
$1,840
5.1%
8.9%
10
Medford
$1,830
0%
-14.9%
11
Framingham
$1,760
-1.1%
-4.9%
12
Beverly
$1,720
-3.9%
-10.4%
13
Lawrence
$1,710
4.9%
9.6%
14 (tie)
Malden
$1,690
-0.6%
-4.5%
14
Woburn
$1,690
1.2%
-6.1%
16
Everett
$1,680
5%
-28.8%
17 (tie)
Chelsea
$1,650
-2.4%
-11.8%
17
Waltham
$1,650
-5.2%
-27.3%
19
Marlborough
$1,590
0%
-5.9%
20
Melrose
$1,570
-4.8%
-11.3%
21
Lowell
$1,450
1.4%
-1.4%
22
Haverhill
$1,390
0%
0%
23
Worcester
$1,300
-1.5%
0%
24
Brockton
$1,230
0%
-8.2%
February 2021
RANK
CITY
RENT
MOM
YOY
1
Cambridge
$2,100
-6.7%
-19.8%
2
Brookline
$2,080
-2.3%
-16.8%
3
Boston
$2,050
1.5%
-18%
4
Quincy
$1,930
3.2%
-4.9%
5
Somerville
$1,860
1.1%
-13.5%
6 (tie)
Lynn
$1,840
0.5%
12.9%
6
Newton
$1,840
2.2%
-10.2%
8 (tie)
Medford
$1,830
-3.7%
-12.9%
8
Revere
$1,830
2.2%
-14.5%
10
Beverly
$1,790
0%
-6.3%
11
Framingham
$1,780
0%
-7.3%
12
Salem
$1,750
4.8%
8.7%
13
Waltham
$1,740
-4.9%
-20.9%
14
Malden
$1,700
-5%
-8.6%
15
Chelsea
$1,690
0%
-5.6%
16
Woburn
$1,670
1.8%
-9.7%
17
Melrose
$1,650
1.9%
-2.4%
18
Lawrence
$1,630
5.2%
-1.2%
19
Everett
$1,600
-4.8%
-29.2%
20
Marlborough
$1,550
0%
-12.9%
21
Lowell
$1,430
-2.1%
-2.7%
22
Haverhill
$1,390
0%
3%
23
Worcester
$1,320
1.5%
3.1%
24
Brockton
$1,230
-4.7%
-3.9%
January 2021
RANK
CITY
RENT
MOM
YOY
1
Cambridge
$2,250
2.3%
-15.1%
2
Brookline
$2,130
4.4%
-14.8%
3
Boston
$2,020
-6%
-19.2%
4 (tie)
Beverly
$1,900
-2.6%
-1%
4
Medford
$1,900
-1%
-14%
6
Quincy
$1,870
0.5%
-6%
7
Somerville
$1,840
-0.5%
-12.4%
8 (tie)
Lynn
$1,830
-4.2%
15.1%
8
Waltham
$1,830
4.6%
-14.9%
10
Newton
$1,800
-3.7%
-12.2%
11 (tie)
Malden
$1,790
5.3%
-8.7%
11
Revere
$1,790
2.3%
-14.8%
13
Dover
$1,780
N/A
26.2%
14
Chelsea
$1,690
-1.2%
-8.6%
15
Everett
$1,680
-5.1%
-22.6%
16 (tie)
Framingham
$1,670
0%
-9.2%
16
Salem
$1,670
1.2%
7.1%
18
Woburn
$1,640
N/A
-11.4%
19
Melrose
$1,620
0%
1.3%
20
Haverhill
$1,560
-4.9%
4%
21
Lawrence
$1,550
0%
-4.3%
22
Marlborough
$1,480
0%
-10.8%
23
Lowell
$1,460
4.3%
3.5%
24
Worcester
$1,300
0.8%
1.6%
25
Brockton
$1,290
0%
2.4%
December 2020
RANK
CITY
RENT
MOM
YOY
1
Brookline
$2,200
0.9%
-12%
1
Cambridge
$2,200
-0.5%
-20%
3
Boston
$2,150
0%
-17%
4
Beverly
$1,950
-1%
1.6%
5
Medford
$1,920
1.1%
-14.3%
6
Lynn
$1,910
-0.5%
15.1%
7
Newton
$1,870
-4.1%
-9.7%
8
Quincy
$1,860
-1.1%
-6.5%
9
Somerville
$1,850
-2.1%
-11.9%
10
Everett
$1,770
-3.8%
-18.4%
11 (tie)
Revere
$1,750
-4.9%
-14.2%
11
Waltham
$1,750
0.6%
-17.5%
13
Chelsea
$1,710
-4.5%
-9.5%
14 (tie)
Malden
$1,700
0%
-15%
14
Marlborough
$1,700
-2.3%
-4%
16
Framingham
$1,670
-2.9%
-9.7%
17
Salem
$1,650
-5.2%
3.1%
18
Haverhill
$1,640
2.5%
5.8%
19
Melrose
$1,620
1.2%
-3%
20
Lawrence
$1,580
0%
-4.2%
21
Lowell
$1,400
-1.4%
-0.7%
22
Brockton
$1,370
-4.9%
19.1%
23
Worcester
$1,290
-0.8%
0.8%
November 2020
RANK
CITY
RENT
MOM
YOY
1
Cambridge
$2,240
-0.9%
-15.2%
2
Brookline
$2,180
0%
-12.8%
3
Boston
$2,150
-2.7%
-14%
4
Everett
$2,030
-5.1%
-10.6%
5
Beverly
$1,970
0%
2.6%
6
Newton
$1,940
-3%
-5.4%
7
Lynn
$1,930
0%
19.9%
8 (tie)
Medford
$1,900
-1.6%
-13.6%
8
Somerville
$1,900
-3.6%
-11.6%
10 (tie)
Quincy
$1,870
-4.1%
-5.1%
10
Revere
$1,870
0.5%
-15%
12 (tie)
Chelsea
$1,790
-2.2%
-8.7%
12
Waltham
$1,790
-4.8%
-17.9%
14 (tie)
Salem
$1,740
1.8%
4.8%
14
Woburn
$1,740
0%
-4.9%
16
Framingham
$1,730
-4.9%
-3.9%
17
Malden
$1,700
-4.5%
-11%
18
Melrose
$1,640
2.5%
-15%
19
Haverhill
$1,580
0%
1.3%
20
Lawrence
$1,570
0%
15.4%
21
Brockton
$1,440
0%
16.1%
22
Lowell
$1,420
-0.7%
-2.7%
23
Worcester
$1,310
2.3%
4.8%