Renting
Interactive map: Here's where you can apply for rental aid in Eastern Mass.
"Our [eviction] case numbers shouldn't just be lower, they should be almost nothing." Continue reading at realestate.boston.com.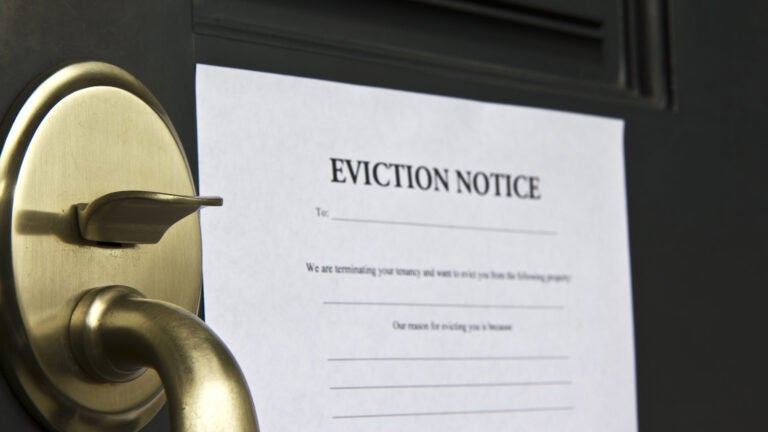 After the federal eviction moratorium expired at the end of July, lawmakers, housing advocates, and renters started to scramble to extend it, fearing the worst as the nearly yearlong pause on evictions came to an end. In Boston, then-acting Mayor Kim Janey imposed a local eviction ban at the end of August, which was set to extend indefinitely. On Monday, a state housing court judge overturned the moratorium, saying it extended beyond the city's public health emergency powers.
Despite this ruling and the end of the federal moratorium, eviction case filings are still down significantly from 2019, according to Massachusetts Trial Court data. In November, there were 1,882 new filings, compared with 3,108 in 2019. The decline can be attributed in part to the roughly $900 million in funding the state received this year for rental assistance, said Doug Quattrochi, executive director of MassLandlords.
However, some housing advocates like Andrea M. Park, a housing and homelessness staff attorney at the Massachusetts Law Reform Institute, say the 2021 numbers are not comparable to pre-pandemic years, when there was substantially less aid available.
"There's been over 15,000 cases I think for non-payment of rent since October [2020], since the [state] moratorium lifted. That was when we put $100 million into RAFT, and then we now have $7 or $8 million from the federal government," Park said. "So if we have the money to pay, maybe every dollar of arrears that's owed— it's an unprecedented amount of money— our case numbers shouldn't just be lower, they should be almost nothing."
In October 2020, Governor Charlie Baker announced a plan that would allocate $171 million to assist landlords and tenants. According to state officials, the federal government awarded the state $437 million via the Consolidated Appropriation Act in December and $331 million from the American Rescue Plan Act— though Massachusetts had received only 40 percent of the latter funding as of early October, an official from the Department of Housing and Community Development said.
According to data from the Department of Housing and Community Development, the state had doled out $363 million to 50,661 households as of October.
The state has slimmed down the application process to help facilitate aid distribution, Quattrochi said. "The main lesson from the last year is a lot of folks were discouraged from applying by a lot of these fields [on the application], so the state has really chopped out a lot of these fields." For example, renters no longer have to fill out an essay portion stating their reason for applying.
After people submit their documents, however, it often takes a while to hear about the status of their applications, Park said.
"Every day we hear from advocates and attorneys who, they can get the application submitted, they help people with that, but then on the back end, there's a lot of delay there," she said. "I think that is where it's less clear to us sort of what's causing the issues. Why is the back end taking so long? You know, is it too complicated? Are there too many steps?"
Park said the front-end of the application process has improved but the government still needs to minimize application barriers and the amount of documentation required and start distributing the funds like "true disaster relief money."
The state has a number of different rental assistance programs: Residential Assistance for Families in Transition (RAFT), Emergency Rental and Mortgage Assistance (ERMA), and the Emergency Rental Assistance Program (ERAP), which was created in response to the pandemic. All three have the same application process, making it less complicated for renters, or for landlords applying on renters' behalf.
"All of the programs you apply through the same application process, whether it's state funding or the federal funding. You just submit an application, and they figure out which funding source to apply," Quattrochi said.
Applications for rental aid go through Regional Administering Agencies. Each community is connected to at least one of these agencies, and each has specific income level requirements. You can find your community requirements here or on the map below:
Source: Massachusetts Department of Housing and Community Development
In October, some Regional Administering Agencies were testing out a new, simpler version of the application, Quattrochi said.
Though there is no direct aid sent to landlords, when renters get aid, so do the landlords they owe.
For anyone on the verge of eviction, Quattrochi had two important reminders:
"If you get taken to court by your landlord, all you have to do to pause your eviction case is apply for rental assistance," he said. According to Chapter 257 of the Acts of 2020, applying for rental assistance pauses the eviction for at least 40 days, though Park warned that even tenants who qualify for aid in these cases will still have an eviction record, which can cause problems when looking for housing down the line.
Quattrochi's second reminder for renters was that landlords are legally obligated to accept rental aid under Massachusetts General Law Chapter 151B Section 4.
"If any renter has a landlord that doesn't want rental assistance, all they have to do is contact legal services or the court and say: 'I need help. This landlord is breaking the law,' " Quattrochi said.
Subscribe to our newsletter at pages.email.bostonglobe.com/AddressSignUp. Follow us on Facebook, LinkedIn, Instagram, and Twitter @globehomes.