Renting
A running list of rents in more than a dozen Mass. cities (February edition)
Prices just keep climbing, but there are a handful of cities where they are not. Where can you get the best deals?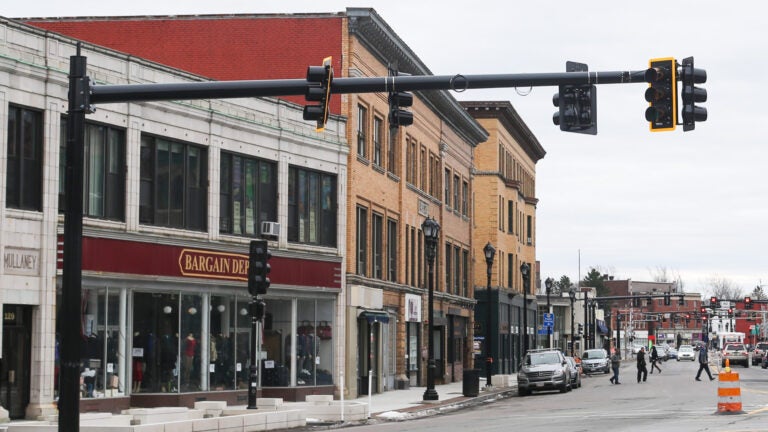 The median rents for a one-bedroom in Framingham and Waltham have skyrocketed roughly 28% since January 2021, according to a new report by Zumper. It's the latest sign that the pandemic-fueled drop in what renters shell out for an apartment may be over.
The report, which is based on listings on the real estate website, found significant rent increases in Cambridge and Boston of about 26% percent.
"The data suggests our Boston apartment market has not only corrected itself, but it's possibly even stronger than it was before the pandemic," Boston Pads, a data analytics and listings search engine, noted in its 2022 rental market report. The report cites the drop in vacancy and availability rates in the past year — by a staggering 67.20% and 86.88% — to pre-pandemic levels.
---
Related: Is the sharp rise in Boston rents just a pandemic correction?
---
According to the Zumper report, however, renters looking for deals could search in Beverly, where prices were down 3.7% percent compared with January 2021, but there are fewer rentals in that city compared with places like Worcester, Boston, and Cambridge, so the results can be skewed. Prospective renters should keep that in mind when they see Brockton's costs are down, too (0.8%). Those were the only two cities on Zumper's tally that saw the median rent decrease year over year.
Month-over-month, Cambridge and Worcester experienced rent increases of 5.2%, with Brookline and Boston not far behind at 5.1% and 5%, respectively. The median rents actually dropped in Melrose and Newton by nearly 5% and by 2% in Lowell.
The most expensive cities for renters remained Cambridge, Boston, and Brookline, in that order, while the least expensive were Brockton, Worcester, and Haverhill.
The median rent for a one-bedroom in Massachusetts was $2,049 — $19 higher than it was in January.
Here's how several communities stacked up for the cost of renting a one-bedroom apartment and the percentage change month-over-month and year-over-year:
January 2022
RANK
CITY
RENT
MOM
YOY
1
Cambridge
$2,850
5.2%
26.7%
2
Boston
$2,720
5.0%
26.5%
3
Brookline
$2,460
5.1%
15.5%
4
Waltham
$2,300
5%
27.8%
5
Quincy
$2,190
4.8%
17.1%
6
Framingham
$2,140
4.9%
28.1%
7
Melrose
$2,130
-4.9%
25.3%
8
Somerville
$2,100
5%
14.1%
9
Newton
$2,000
-4.8%
11.1%
10
Medford
$1,910
4.9%
0.5%
11
Beverly
$1,830
4.6%
-3.7%
12
Lawrence
$1,750
0%
12.9%
13 (tie)
Lowell
$1,600
+0.6%
11.9%
13
Haverhill
$1,600
3.9%
2.6%
15
Worcester
$1,420
5.2%
9.2%
16
Brockton
$1,280
0%
-0.8%
December 2021
RANK
CITY
RENT
MOM
YOY
1
Cambridge
$2,710
5%
23.2%
2
Boston
$2,590
4.9%
20.5%
3
Brookline
$2,340
1.7%
6.4%
4
Melrose
$2,240
5.2%
24.4%
5
Malden
$2,230
3.7%
23.9%
6
Newton
$2,100
5%
12.3%
7
Quincy
$2,090
2%
12.4%
8
Salem
$2,050
-0.5%
24.2%
9
Framingham
$2,040
-4.7%
22.2%
10
Somerville
$2,000
0%
8.1%
11
Medford
$1,820
5.2%
-5.2%
12 (tie)
Beverly
$1,750
-1.1%
-10.3%
12
Lawrence
$1,750
0%
10.8%
14
Lowell
$1,590
-3.6%
12%
15
Haverhill
$1,540
4.8%
-6.1%
16
Worcester
$1,350
0%
4.7%
17
Brockton
$1,280
2.4%
-6.6%
November 2021
RANK
CITY
RENT
MOM
YOY
1
Cambridge
$2,580
-4.8%
15.2%
2
Boston
$2,470
-2.4%
14.9%
3
Brookline
$2,300
3.1%
5.5%
4
Waltham
$2,170
4.8%
21.2%
5
Malden
$2,150
0.9%
23.6%
6
Framingham
$2,140
4.9%
23.7%
7
Melrose
$2,130
4.9%
21.7%
8
Quincy
$2,050
0%
9.6%
9 (tie)
Newton
$2,000
0%
3.1%
9
Somerville
$2,000
0.5%
5.3%
11
Beverly
$1,770
4.7%
-10.2%
12
Lawrence
$1,750
3.6%
11.5%
13
Medford
$1,730
0%
-8.9%
14
Lowell
$1,650
0%
8%
15
Haverhill
$1,470
5%
-7%
16
Worcester
$1,350
0.7%
3.1%
17
Brockton
$1,250
5.9%
-15%
October 2021
RANK
CITY
RENT
MOM
YOY
1
Cambridge
$2,710
5%
19.9%
2
Boston
$2,530
5%
14.5%
3
Brookline
$2,230
1.4%
-0.9%
4
Waltham
$2,070
5.1%
10.1%
5
Quincy
$2,050
-1.9%
5.1%
6
Framingham
$2,040
5.2%
12.1%
7
Melrose
$2,030
5.2%
20.1%
8
Newton
$2,000
5.3%
0%
9
Somerville
$1,990
-0.5%
1%
10
Medford
$1,730
0%
-10.4%
11 (tie)
Beverly
$1,690
-2.3%
-15.1%
11 (tie)
Lawrence
$1,690
-5.1%
12.7%
13
Lowell
$1,650
1.9%
0%
14
Haverhill
$1,400
-1.4%
-0.7%
15
Worcester
$1,340
0%
3.9%
September 2021
RANK
CITY
RENT
MOM
YOY
1
Cambridge
$2,580
3.2%
9.3%
2
Boston
$2,410
4.8%
4.8%
3
Brookline
$2,200
0%
-3.9%
4
Quincy
$2,090
-0.5%
4.5%
5
Somerville
$2,000
0%
0.5%
6
Waltham
$1,970
4.8%
-0.5%
7
Framingham
$1,940
4.9%
2.6%
8
Melrose
$1,930
4.9%
12.2%
9
Newton
$1,900
-0.5%
-5%
10
Lawrence
$1,780
-3.3%
18.7%
11 (tie)
Beverly
$1,730
-4.9%
-10.4%
11
Medford
$1,730
-3.9%
-12.2%
13 (tie)
Malden
$1,670
1.2%
-7.2%
13
Salem
$1,670
-5.1%
24.8%
15
Lowell
$1,625
2%
11%
16
Brockton
$1,500
-1%
3%
17
Haverhill
$1,420
1.4%
0%
18
Worcester
$1,328
2%
4%
August 2021
RANK
CITY
RENT
MOM
YOY
1
Cambridge
$2,500
4.2%
6.4%
2
Boston
$2,300
0%
0%
3
Woburn
$2,240
-5.1%
14.9%
4
Brookline
$2,200
0.5%
-6%
5
Revere
$2,150
4.9%
7.5%
6
Quincy
$2,100
5%
5%
7
Everett
$2,010
5.2%
-10.7%
8
Somerville
$2,000
0%
-0%
9
Newton
$1,910
0%
-4.5%
10
Waltham
$1,880
5%
-9.6%
11
Framingham
$1,850
1.1%
0%
12 (tie)
Lawrence
$1,840
5.1%
15.7%
12
Melrose
$1,840
5.1%
2.8%
14
Beverly
$1,820
-3.2%
-3.2%
15
Medford
$1,800
-2.7%
-13%
16
Malden
$1,650
0%
-9.8%
17
Lowell
$1,620
-2.4%
1.9%
18
Brockton
$1,410
5.2%
1.4%
19
Haverhill
$1,400
-0.7%
-2.8%
July 2021
RANK
CITY
RENT
MOM
YOY
1
Cambridge
$2,400
4.3%
-0.8%
2
Boston
$2,300
4.5%
-2.1%
3
Brookline
$2,190
1.9%
-8.4%
4
Revere
$2,050
5.1%
2%
5
Quincy
$2,000
2.6%
0%
6 (tie)
Somerville
$2,000
0%
-4.8%
6
Everett
$1,910
4.9%
-11.2%
8
Newton
$1,910
0.5%
-4.5%
9
Beverly
$1,880
2.7%
-3.6%
10
Medford
$1,850
-5.1%
-10.6%
11
Framingham
$1,830
-1.1%
1.1%
12
Salem
$1,820
-4.7%
15.2%
13
Waltham
$1,790
2.3%
-9.6%
14 (tie)
Lawrence
$1,750
-0.6%
15.1%
14
Melrose
$1,750
4.2%
-1.1%
16
Lowell
$1,660
3.8%
8.5%
17
Malden
$1,650
-1.2%
-7.3%
18
Haverhill
$1,410
5.2%
-1.4%
19
Brockton
$1,340
4.7%
-1.5%
20
Worcester
$1,300
-1.5%
-3.7%
June 2021
RANK
CITY
RENT
MOM
YOY
1
Cambridge
$2,300
0.4%
-8%
2
Boston
$2,200
0.9%
-8.7%
3
Brookline
$2,150
1.9%
-10%
4
Somerville
$2,000
0%
-4.8%
5 (tie)
Medford
$1,950
4.8%
-8.5%
5
Quincy
$1,950
3.7%
-3%
5
Revere
$1,950
4.8%
-2.5%
8
Salem
$1,910
4.9%
24.8%
9
Newton
$1,900
0%
-5%
10
Framingham
$1,850
1.1%
5.7%
11
Beverly
$1,830
5.2%
-3.2%
12
Everett
$1,820
5.2%
-17.3%
13
Lawrence
$1,760
4.8%
15%
14
Waltham
$1,750
2.9%
-10.3%
15
Chelsea
$1,700
1.8%
-0.6%
16
Melrose
$1,680
5%
0%
17
Malden
$1,670
0.6%
-4.6%
18
Lowell
$1,600
3.9%
7.4%
19
Haverhill
$1,350
-0.7%
-5.6%
20
Worcester
$1,320
-2.2%
-0.8%
21
Brockton
$1,280
-5.2%
-9.2%
May 2021
RANK
CITY
RENT
MOM
YOY
1
Cambridge
$2,290
4.1%
-8.4%
3
Boston
$2,180
3.8%
-11%
2
Brookline
$2,110
-0.9%
-12.1%
4
Somerville
$2,000
1%
-6.1%
5
Newton
$1,900
0%
-5%
6
Quincy
$1,880
0%
-6%
7 (tie)
Medford
$1,860
3.3%
-16.2%
7
Revere
$1,860
-1.1%
-7%
8
Framingham
$1,830
1.7%
1.7%
9
Salem
$1,820
-3.2%
13%
10
Beverly
$1,740
4.8%
-7.4%
11
Everett
$1,730
3%
-20.3%
12
Waltham
$1,700
1.8%
-17.1%
13
Lawrence
$1,680
-0.6%
15.1%
14
Chelsea
$1,670
1.2%
-1.8%
15
Malden
$1,660
-2.4%
-5.7%
16
Melrose
$1,600
0%
-2.4%
17
Lowell
$1,540
1.3%
8.5%
18 (tie)
Brockton
$1,350
4.7%
-1.5%
18
Haverhill
$1,350
0%
0%
18
Worcester
$1,350
3.8%
5.5%
April 2021
RANK
CITY
RENT
MOM
YOY
1
Cambridge
$2,200
0.9%
-12.7%
2
Brookline
$2,130
0%
-12.7%
3
Boston
$2,100
0.5%
-16%
4
Somerville
$1,980
3.1%
-7.5%
5
Newton
$1,900
1.1%
-7.3%
6 (tie)
Quincy
$1,880
-2.1%
-6.9%
6
Revere
$1,880
2.2%
-10.5%
6
Salem
$1,880
2.2%
11.2%
9 (tie)
Framingham
$1,800
2.3%
-1.6%
9
Medford
$1,800
-1.6%
-20.4%
11
Malden
$1,700
0.6%
-2.9%
12
Lawrence
$1,690
-1.2%
15%
13
Everett
$1,680
0%
-26.3%
14
Waltham
$1,670
1.2%
-22.7%
15
Beverly
$1,660
-3.5%
-12.6%
16
Chelsea
$1,650
0%
-7.3%
17
Melrose
$1,600
1.9%
-7.5%
18
Lowell
$1,520
4.8%
8.6%
19
Haverhill
$1,350
-2.9%
-2.2%
20
Worcester
$1,330
0%
1.6%
21
Brockton
$1,290
4.9%
-5.8%
March 2021
RANK
CITY
RENT
MOM
YOY
1
Cambridge
$2,180
3.8%
-15.2%
2
Brookline
$2,130
2.4%
-14.8%
3
Boston
$2,090
2%
-16.4%
4 (tie)
Quincy
$1,920
-0.5%
-4%
4
Somerville
$1,920
3.2%
-14.3%
6
Newton
$1,880
2.2%
-6%
7(tie)
Lynn
$1,840
0%
15%
7
Revere
$1,840
0.5%
-13.2%
7
Salem
$1,840
5.1%
8.9%
10
Medford
$1,830
0%
-14.9%
11
Framingham
$1,760
-1.1%
-4.9%
12
Beverly
$1,720
-3.9%
-10.4%
13
Lawrence
$1,710
4.9%
9.6%
14 (tie)
Malden
$1,690
-0.6%
-4.5%
14
Woburn
$1,690
1.2%
-6.1%
16
Everett
$1,680
5%
-28.8%
17 (tie)
Chelsea
$1,650
-2.4%
-11.8%
17
Waltham
$1,650
-5.2%
-27.3%
19
Marlborough
$1,590
0%
-5.9%
20
Melrose
$1,570
-4.8%
-11.3%
21
Lowell
$1,450
1.4%
-1.4%
22
Haverhill
$1,390
0%
0%
23
Worcester
$1,300
-1.5%
0%
24
Brockton
$1,230
0%
-8.2%
February 2021
RANK
CITY
RENT
MOM
YOY
1
Cambridge
$2,100
-6.7%
-19.8%
2
Brookline
$2,080
-2.3%
-16.8%
3
Boston
$2,050
1.5%
-18%
4
Quincy
$1,930
3.2%
-4.9%
5
Somerville
$1,860
1.1%
-13.5%
6 (tie)
Lynn
$1,840
0.5%
12.9%
6
Newton
$1,840
2.2%
-10.2%
8 (tie)
Medford
$1,830
-3.7%
-12.9%
8
Revere
$1,830
2.2%
-14.5%
10
Beverly
$1,790
0%
-6.3%
11
Framingham
$1,780
0%
-7.3%
12
Salem
$1,750
4.8%
8.7%
13
Waltham
$1,740
-4.9%
-20.9%
14
Malden
$1,700
-5%
-8.6%
15
Chelsea
$1,690
0%
-5.6%
16
Woburn
$1,670
1.8%
-9.7%
17
Melrose
$1,650
1.9%
-2.4%
18
Lawrence
$1,630
5.2%
-1.2%
19
Everett
$1,600
-4.8%
-29.2%
20
Marlborough
$1,550
0%
-12.9%
21
Lowell
$1,430
-2.1%
-2.7%
22
Haverhill
$1,390
0%
3%
23
Worcester
$1,320
1.5%
3.1%
24
Brockton
$1,230
-4.7%
-3.9%
January 2021
RANK
CITY
RENT
MOM
YOY
1
Cambridge
$2,250
2.3%
-15.1%
2
Brookline
$2,130
4.4%
-14.8%
3
Boston
$2,020
-6%
-19.2%
4 (tie)
Beverly
$1,900
-2.6%
-1%
4
Medford
$1,900
-1%
-14%
6
Quincy
$1,870
0.5%
-6%
7
Somerville
$1,840
-0.5%
-12.4%
8 (tie)
Lynn
$1,830
-4.2%
15.1%
8
Waltham
$1,830
4.6%
-14.9%
10
Newton
$1,800
-3.7%
-12.2%
11 (tie)
Malden
$1,790
5.3%
-8.7%
11
Revere
$1,790
2.3%
-14.8%
13
Dover
$1,780
N/A
26.2%
14
Chelsea
$1,690
-1.2%
-8.6%
15
Everett
$1,680
-5.1%
-22.6%
16 (tie)
Framingham
$1,670
0%
-9.2%
16
Salem
$1,670
1.2%
7.1%
18
Woburn
$1,640
N/A
-11.4%
19
Melrose
$1,620
0%
1.3%
20
Haverhill
$1,560
-4.9%
4%
21
Lawrence
$1,550
0%
-4.3%
22
Marlborough
$1,480
0%
-10.8%
23
Lowell
$1,460
4.3%
3.5%
24
Worcester
$1,300
0.8%
1.6%
25
Brockton
$1,290
0%
2.4%