Renting
Is your apartment too hot? Too cold? Tips to keep your place comfortable even on a budget.
Goldilocks wasn't wrong for wanting it just right.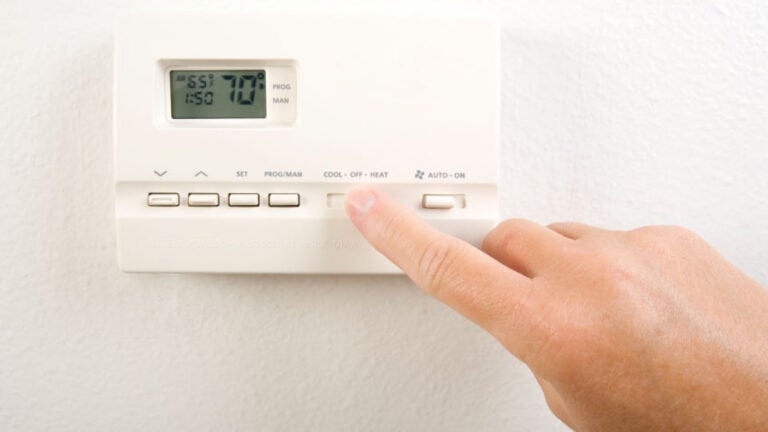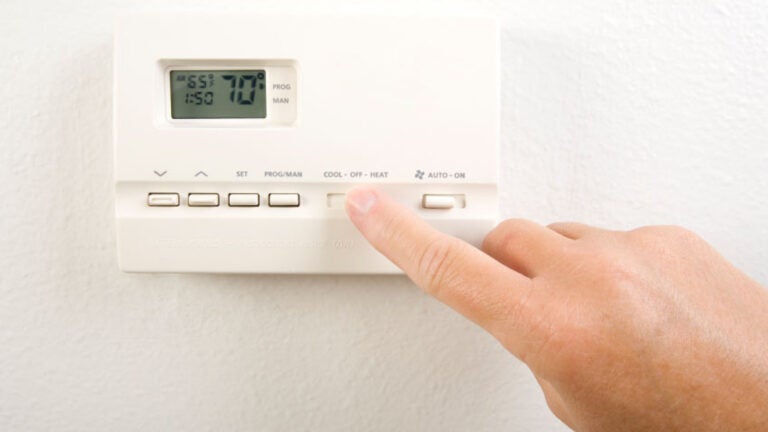 Managing the temperature of your home is crucial to staying comfortable and healthy. But is it possible to do that without getting in a fight with your landlord?
Carlos Martín, project director of the Remodeling Futures program at the Joint Center for Housing Studies of Harvard University, said the two major dilemmas with heating and cooling are that people either aren't in control of their energy or can't afford it. Martín said 10 percent of renters in the United States and 7 percent of them in Massachusetts and Boston live in spaces without air conditioning.
"It's a real concern right now," Martín said. "As we're approaching summer, there will very likely be extreme heat days. We've had them every summer in this country for the past decade, and they're increasing because of climate change."
The EPA estimates that 1,300 people die of extreme heat each year and an additional 600 die due to its "underlying and contributing causes."
Sarah Redmore, the director of undergraduate interior architecture at Boston Architectural College, said that there are strategies to adjust to living without heat or air conditioning and that taking seasonal measures can be particularly helpful.
"Little strategies make a big difference," Redmore said. "It's about being aware of your environment and where you feel good, understanding the building system, and the physics of heating and cooling."
Redmore also said "psychology of space" — understanding how surroundings affect people physically and emotionally — is an important consideration. Knowing how you prefer your space to feel is essential in creating a comfortable environment and adapting as the seasons change.
Too hot
For those without air conditioning, Redmore suggested minimizing sunlight. Drapes, blinds, and curtains all serve double duty by keeping heat inside during the winter.
"Before you leave your apartment to go to class or work for the day, open up your drapery and let in some of this natural heat that doesn't cost anything," Redmore suggested for the wintertime. "In the summertime, if those windows are where a lot of heat is coming in … close up those draperies."
Another way to stay cool is cross-ventilation, Redmore said. If you have windows on both sides of your apartment, open them up to allow air to flow throughout the space. If your windows are located on just one side — as is the case in many studios — she suggested opening the windows and placing a fan on the other side of the apartment to circulate air.
Ceiling fans are another double-duty system, and can be used to circulate warm air in the winter, as well as cool air in the summer, Redmore said. In the winter, use your ceiling fan to push hot air from the ceiling down the walls and toward the floor. In the summer, use it to suck warm air up and out instead.
Redmore also suggested opting for lighter-weight bed linens and moisture-wicking sheets in the summer.
Both Redmore and Martín encouraged talking with your landlord, as there are legal requirements for apartment temperatures. In Boston, apartments must be heated to at least 64 degrees at night and 68 degrees during the day from September 15 to June 15, according to the city's website.
Martín said to consider splitting the cost of a window unit air conditioner with your landlord.
He also recommended understanding your ventilation system, which will help you decide whether to open windows or invest in fans or other cooling systems. Redmore said it is crucial to understand the airflow of your space — and not to block it with furniture.
"Truly understanding the placement of your furniture is another part of this," she said. "Make sure your furniture isn't against an outside wall … that it's not covering up your heating or air-conditioning sources … that you're not covering the air vents or the baseboard heaters or the radiators. That's huge."
If heating options aren't accessible — or, in the dead of summer, just not enough — the city of Boston has resources and cooling shelters, Martín said.
Too cold
While many Boston residents live without air conditioning, Martín said just 0.5 percent around the country — and an even lower percentage in New England — live without heat.
Both Redmore and Martín said residents should use space heaters. The state Department of Fire Services offers the following tips for using them safely:
➡Keep space heaters 3 feet away from drapes, furniture, or other things that can burn.
➡Plug space heaters directly into wall outlets. Do not use an extension cord, even a heavy-duty one with a power rating at least as high as that of the heater itself.
➡Turn off a space heater when you leave the room or when you go to bed.
➡Never leave a space heater unattended or running while you sleep.
➡Put heaters on a level surface away from places where someone might bump into it and knock it over.
➡Supervise children and pets near space heaters.
➡Buy heaters that are tested and labeled by a nationally recognized testing company, such as Underwriter's Laboratories Inc. (UL).
➡Keep electric heaters away from water. Never use them near a sink or in the bathroom.
➡Never use an unvented kerosene heater. It is illegal to sell or use them in Massachusetts.
Martín added that Massachusetts residents without heating may qualify for programs like the Low-Income Home Energy Assistance Program (LIHEAP ) that cover the installation of heating appliances.
To keep your space warm, Redmore also suggested area rugs, which can prevent cold air from leaking from level to level. She also said to avoid leather furniture, adding that "modular" furniture that can be moved throughout the year helps you adjust your space seasonally.
Another strategy is to eliminate areas where drafts come in — electrical outlets, baseboards, and windows — with draft stoppers, door sweeps, and towels. Redmore said she used foam insulation pads under her outlet covers to keep drafts out of an old house.
Finally, she mentioned aesthetic changes like Hygge — a Scandinavian design style that creates a sense of comfort, warmth, and coziness — which can help a space feel warmer, even if the thermostat doesn't reflect a change in temperature.
Address Newsletter
Get the latest news on renting, buying, selling, home design, and more.