Renting
Boston renters looking to move away want to go here
Nationwide migration patterns indicate that skyrocketing housing costs are driving people to less expensive cities.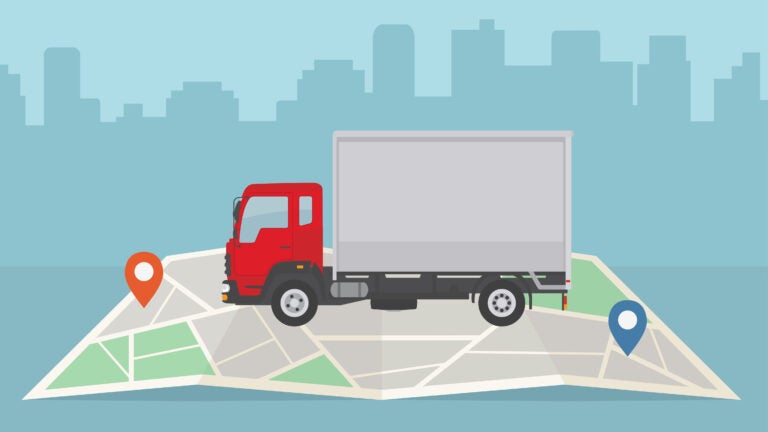 Boston renters seem to be fed up with sky-high prices.
According to the 2023 Apartment List Renter Migration report, 37% of apartment hunters in metro Boston are looking to leave the city and 9.4% searched for places in Providence. Worcester and New York City are also popular destinations for outbound Bostonians, tallying 6.3% and 5.6%, respectively.
Rob Warnock, a senior research associate at Apartment List, said nationwide "affordability-driven migration" is common due to a higher cost of living, increased moving costs, and inflation.
"This data exists amidst a backdrop of worsening affordability prices," he said of the report. "2021 was pretty catastrophic for rental affordability across the country."
Nationwide migration patterns suggest that renters are looking to move from more expensive places to less expensive ones, Warnock said. California and New York — the two states with the largest population declines between 2020 and 2022, according to Apartment List — are indicative of this trend, with Boston being one of the top locations for people moving out of New York.
"Movements — especially for expensive, dense coastal markets like Boston — indicate that in this backdrop of worsened affordability and this housing crisis we're dealing with, a lot of people are motivated by where they can take their dollar further," he said.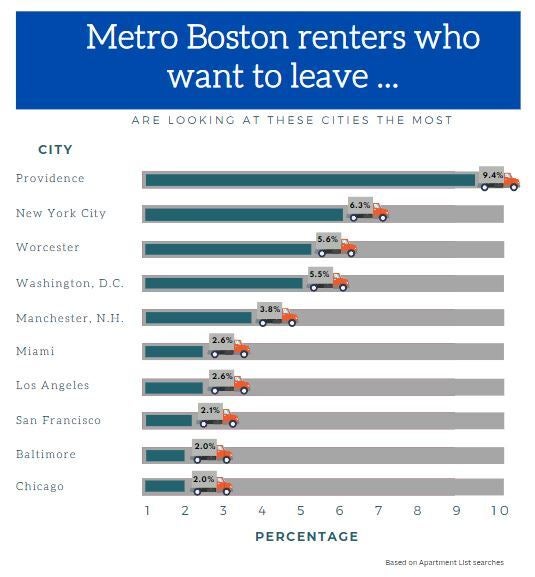 For many Bostonians, Providence is one such location. People moving from Boston made up 2.88% of home sales in Providence last year, and 3.11%in 2021, according to Agueda Del Borgo, 2022 president of the Rhode Island Association of Realtors and principal at Places and Spaces Realty.
"Even though it's a small city compared to Boston, [Providence] has many amenities … and it's very manageable," Del Borgo said. "The affordability factor is key."
This "affordability factor" is reflected in the budgets of people looking to move within Boston versus away from the city, Warnock said. Renters hunting within the city average a $2,312 budget, while renters seeking to move away average a budget of $2,012, he said. This $300 difference proves that those leaving the city want more bang for their buck.
This also explains why New York accounts for the plurality (11.2%) of renters looking for apartments in Boston. New York City is one of a handful of cities that are more expensive to live in than Boston, tallying a cost of living that exceeds the Hub's by 34%, according to Forbes.
Like Bostonians, many New Yorkers are looking for apartments in less expensive but commutable cities. Six percent are seeking places in Philadelphia, 5% are looking in Boston, and 5% are checking out Washington, D.C.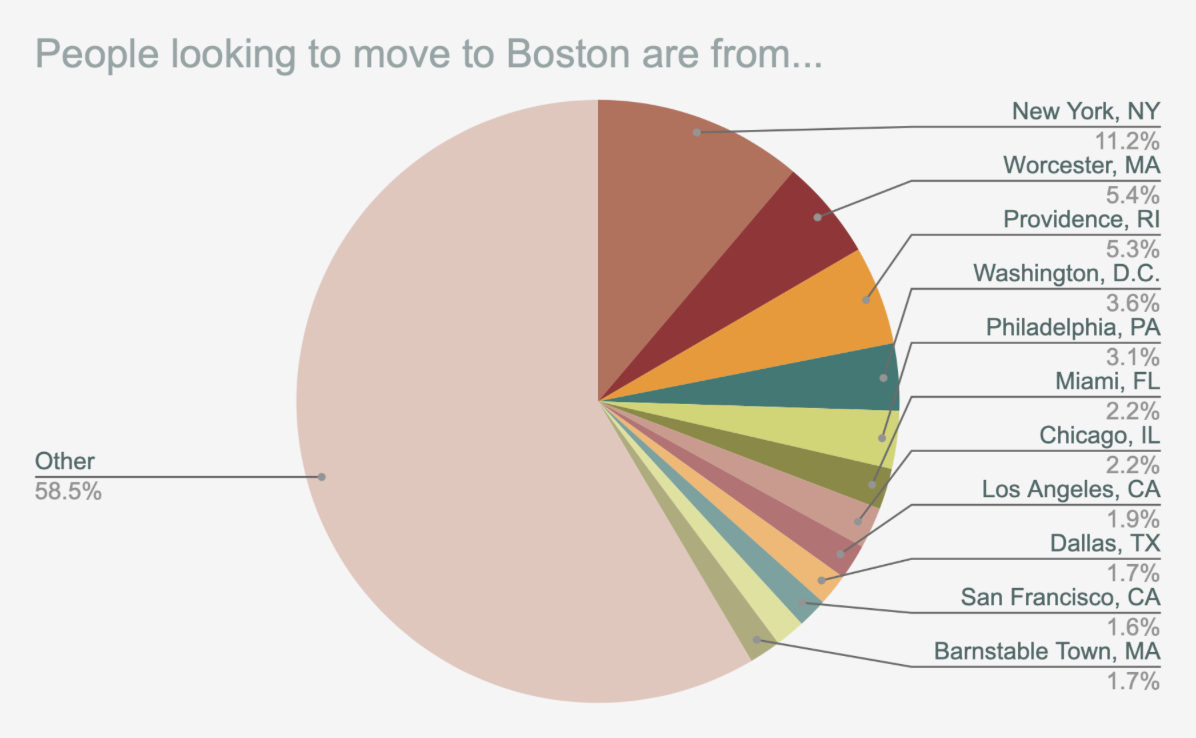 Del Borgo said the post-pandemic opportunity to work remotely has changed the game for renters. Just as Philadelphia and Boston are short train rides from New York, Providence is on the commuter rail to Boston.
"I've seen an increase in Boston people looking to rent in Providence," Del Borgo said. "People are willing to travel, and with the train being so convenient, [commuting] is not a hardship."
Address newsletter
Get the latest news on renting, buying, selling, home design, and more.