Renting
Want to rent in Boston? Pay $8,000 (or more) first.
The wave of higher rents in recent years means prospective tenants must pay even more in upfront costs before they get the keys. And city councilors want to know: What can be done?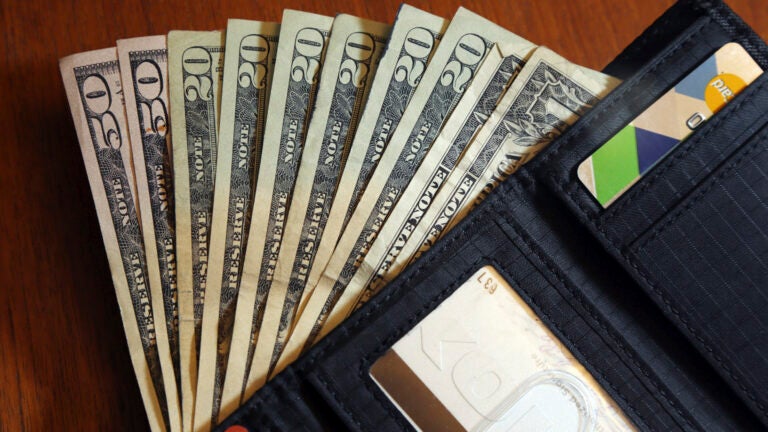 When Patrick Voorheis and his now fiancée moved into their one-bedroom Brighton apartment in the summer of 2018, the two upstate New York natives got a sample of a sticker shock near-unique to Boston: The broker fee.
The surcharge is typically the equivalent to one month's rent. And in a highly competitive rental market, it's part of the price of admission to get a name on a lease.
But Voorheis learned this on his own. Efforts to land an apartment without the help of a rental agent proved fruitless, and when the couple acquiesced to the system, they did a lot of the legwork anyway to find their future home.
"[The broker] opened the door up. They had the keys to the place, and that was pretty much it," Voorheis, now 28 and a renter in Cambridge, told Boston.com recently. "Especially now, this apartment we're in now, I've never met our landlord … If he walked into the building, I'd have no idea who he was."
The anecdote is likely one every Boston renter can relate to: The practice of passing a broker's fee onto the tenant — rather than, say, the landlord — is longstanding in the Hub, and only one of the myriad of costs renters must pay upfront just to enter a lease agreement.
Though not stipulated by law, the vast majority of renters make several payments before moving in, including the first month's rent, the last month's rent, and a security deposit. Common practice is tenants are charged the price of one month's rent for each, on top of any broker fee they may be required to pay.
Add it all up and a tenant signing a lease for a one-bedroom apartment at $2,700 a month — the city average for a unit of that size in Boston, according to Apartment Advisor — can likely expect to pay a total of $10,800 before they even put pen to paper.
'A lot of our residents can't afford to live in this city'
"If your rent is $2,000, you're often asked to pay upwards of $8,000 just as an upfront cost, and at that point, a lot of our residents can't afford to live in this city," City Councilor Ruthzee Louijeune said at a council meeting last week.
Louijeune is among a trio of councilors who are looking at ways City Hall could potentially restrict what costs tenants are subjected to during the lease-signing process. (An all-out ban on costs such as the broker fee would likely require changing state law, not city ordinance.)
Councilors Tania Fernandes Anderson, Kendra Lara, and Louijeune filed a hearing order Wednesday, arguing that with the rent hikes Boston has experienced in the last few years, renters searching the market are being pinched more and more with the barrier of these upfront fees.
That's also particularly true, they say, for Black and brown tenants, who disproportionately lack the wealth held by white residents in the city.
White residents have an average liquid asset value of $25,000, while non-white residents have a value of $1,668, according to the Federal Reserve Bank of Boston.
Black tenants also face more discrimination when navigating the real estate market: A 2020 study from Suffolk University Law School found housing providers, primarily brokers, showed Black renters roughly half the number of apartments they showed white tenants, who were also offered more incentives, among other perks.
The same study also found wide-ranging discrimination against people with Section 8 housing vouchers, regardless of race, with 90 percent of study testers using a voucher facing some form of discriminatory behavior from a rental agent.
"We have lost about 10,000 Black residents in the last two decades because of the increasing inaccessibility of housing in our city," Fernandes Anderson said.
Councilor Kenzie Bok contended these rental costs can equate to a form of income discrimination.
"The reality is that these upfront costs are often one of the ways in which people informally discriminate against voucher holders," she said. "It's actually something that the Boston Housing Authority spent quite a lot of energy on and has sort of tried to create some programs so that it can kind of help get its renters into these situations. But it's a real barrier."
For renters, one of these oft-debated costs is typically the broker fee, especially because Boston is only one of two major cities in the United States where renters are typically left to handle the cost themselves.
(In New York, state officials briefly ended the practice in New York City, the other major outlier, though a lawsuit ultimately overturned the measure in 2021.)
And even renters who can afford to pay a broker fee may feel left shortchanged.
Councilor Liz Breadon, who represents the particularly rental-saturated district of Allston-Brighton, recalled a recent conversation with a constituent moving back to Boston from Washington, D.C., who encountered a no-show broker who still required a fee.
"She had a friend go to look at the apartment. The broker never appeared. She never got to see the apartment ahead of time, and then at the end of it, she was charged a month's rent for this broker's services that never happened," Breadon said.
"There's some excellent brokers. There's some good practice," she added. "But there are also some practices that are blatantly predatory and take advantage of a situation, and I think it's long past time that we try and mend it."
'Dictated by the market'
According to Daphna Fields, vice president of brokerage development at Gibson Sotheby's International Realty in Boston, tenants can technically negotiate whether to pay the fee or not.
However, in such a competitive market, with low inventory and high demand, where apartment listings can be scooped up in minutes, renters typically lack the negotiating power to effectively put the cost onto landlords.
"That's the challenge, and that's why it's dictated by the market," Fields said in an interview. "It's not something that we the Realtors decide, 'Oh, on this one, we're going to charge the landlord, and on this one, we're going to charge the tenant.' It's really the marketplace and what is expected and what is going to get the deal done for all parties involved."
Fields said in Boston, there are usually two real estate agents involved in a single rental transaction, who often split the fee.
Unlike a security deposit, which is capped at the equivalent of one month's rent under state law, there is no hard-and-fast rule or law around what agents can or should charge when it comes to broker's fees.
Greg Vasil, CEO and president of the Greater Boston Real Estate Board, said the GBREB cannot advise its 12,000 residential real estate members on what fees to charge because of anti-trust laws.
As to why Boston is an outlier when it comes to tenants paying broker fees, Vasil said it's just been a traditional practice in the region. He did not know when it became the common approach.
"It's sort of been like that for years, and there are people here that rely on it to survive," he said. "You know, everyone has this view of people in the real estate industry, especially on the residential brokerage side, of being really flush with cash. And there's some really big top producers, but there's a whole lot of people that are making somewhere in that, you know, the $30 to $40 to $50,000 range and using it to supplement their income to get by for their families."
In February 2020, then-Mayor Marty Walsh announced the launch of a working group to study broker fees in Boston and how they impact renters.
In a statement at the time, he called the move "another tool we are putting forward to tackle the underlying challenges of housing affordability."
That effort quickly evaporated though, as City Hall was swamped with attempts to fend off the then-still unraveling COVID-19 pandemic just weeks later.
But the crisis also brought about dramatic changes to the city's rental market.
At least for a time, landlords and real estate agents were left having to attract tenants, many of whom either left the city amid the transition to work-from-anywhere employment and education or lacked the financial resources to contemplate a move.
In early 2021, as renters across Greater Boston searched for apartments with a Sept. 1 turnover, tenants saw historic incentives for signing a lease, including, in some cases, where a broker's fee payment was delayed, if not completely waived.
Fields and Vasil said those shifts illustrate how fees are set by market demands.
"All of a sudden landlords were not only willing to pay that fee, they were giving incentives. They were giving a free month's rent and this and that," Fields said. They "needed to incentivize tenants, and that's because that was what the market was dictating at that point. And then of course, everything has changed in the last couple of years."
Although rents in major metropolitan areas fell a bit in the latter half of 2022, as Boston renters search now for leases beginning this fall, competition is expected to be as fierce as ever.
Voorheis, however, will not be among those ponying up this time around.
He is wrapping up a graduate program in urban planning and community development at UMass Boston this summer, with plans to move back to the Syracuse area afterward, where he and his fiancée can find more affordable housing, he said.
"We always knew we wanted to end up there, but 100 percent another reason is we know we can actually afford to buy a house and maybe have a chance of paying it off there," he said. "The housing prices out here are just pretty crazy."
---
Sorry. This form is no longer available.
Newsletter Signup
Stay up to date on all the latest news from Boston.com