Renting
Tips to help you find the perfect pet-friendly rental
You may even want to create a pet résumé to let your prospective landlord know how great your furry or feathered friend is.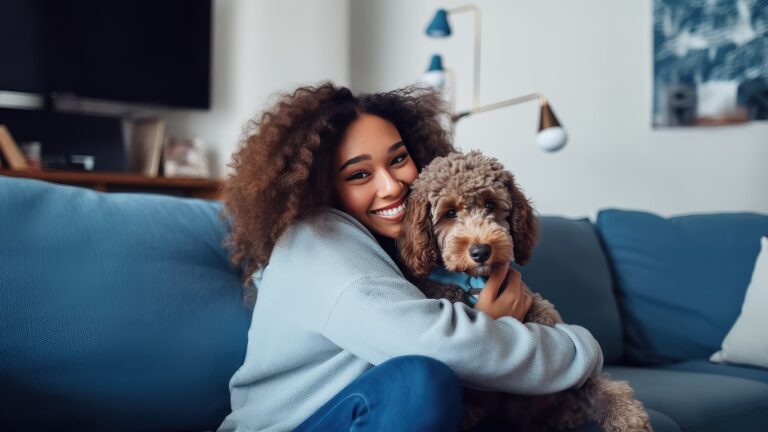 For many pet owners, their furry friend is an extension of their family and a deal-breaker when it comes to apartment hunting.
But finding a rental that allows pets can be a hassle to navigate, with breed restrictions, weight limits, and extra fees.
Joyce Lebedew, owner of Joyce Lebedew Real Estate in South Boston, said many landlords are overlooking the benefits of having pet owners for tenants.
"I find that pet owners are better tenants because they are committed to taking care of something other than themselves," Lebedew said. "They make good tenants, they make quiet tenants, and they are working to provide for their pets."
Check for restrictions
While being pet-friendly is important, Lebedew emphasized that this does not mean "kennel-friendly": Rentals often can accommodate only one or two pets. This is to ensure the safety of and comfortable living environments for both the pets, their owners, and the neighbors.
There may also be breed restrictions. "We have to make sure that it is a good fit for the tenant and the landlord, but also a good fit for the dog as well," Lebedew said.
Another obstacle may be the fees landlords request:
Many larger landlords may try to charge a pet fee or a pet deposit in addition to the monthly rent. These fees are illegal under Massachusetts state law, said Doug Quattrochi, executive director at MassLandlords.
Pet fees ➡ A non-refundable one-time charge for the associated costs of having a pet on the premises.
Pet deposits ➡ A one-time refundable charge that acts like a traditional security deposit. The only deposit landlords can charge a tenant is the security deposit.
Pet rent ➡ A landlord can negotiate a raised rent that is directly related to owners having a pet in the unit. It's legal because it's a repeated fee.
"There is no circumstance where anyone should be charging a one-time pet fee or pet deposit," Quattrochi said.
The bigger and newer the building, the better
Anastasia Estes, rental manager for Joyce Lebedew Real Estate, has noticed that larger, newer apartment buildings tend to be more pet-friendly. Perhaps this reflects the dramatic increase in pet adoptions during the COVID pandemic. The American Society for the Prevention of Cruelty to Animals reported that 1 in 5 households (roughly 23 million) adopted a dog or cat from the onset of the pandemic to May 2021.
"Believe it or not, it seems like the newer buildings are more apt to be pet-friendly just because people are adapting to the times more," Estes said.
Look online for pet-friendly rentals
One of the easiest ways to find pet-friendly apartments is to do a simple Google search. With this comes the risk of missing the fine print, including additional pet fees. Lebedew and Estes recommend that renters read the listings very carefully for these hidden costs. Lebedew suggested working with a real estate agent to assist with the apartment search, as well as to make sure the tenant fully understands the rental agreement. The rental agent can also help negotiate pet charges.
Call and ask about pet policies
Renters can ask a landlord about the building's pet policies even if the apartment is not advertised as pet-friendly. Let the landlord know what kind of pet you have, how old it is, and how friendly it is.
Be transparent
When it comes to emotional-support animals and other service dogs, it is important to provide proper documentation. If you call your pet an emotional support animal without presenting the proper documentation, Lebedew said, it can come across as deceitful.
Transparency is especially key when you have a dog that likes to bark. Moving can be a stressful experience for any pet, so behaviors may change. If the lease explicitly says that a pet cannot be loud, and the landlord determines that the tenant is violating this provision, the landlord can file a case with the Housing Court. However, in Massachusetts, the Housing Court considers law and equity when hearing cases, Quattrochi said. This means that unless the judge finds the disturbance severe enough for eviction, the court will likely rule in favor of the tenant. Instead, a landlord can request that a pet is put in a daycare service while the tenant is away.
Sell the landlord on your pet
Show landlords exactly what they would be getting. Pet owners can send photos of their pets or even create a "pet résumé." Include a short description of the animal, including trainings the pet may have completed. Obedience class completion shows the landlord that the pet is well-trained enough to live in the apartment. Estes also encouraged setting up a meet-and-greet with your pet.
If Fluffy and Fido make the cut, congratulations. Just remember, being a considerate tenant means cleaning up after your pets, following policies, and being conscious of noise.
Address Newsletter
-Get the latest news on buying, selling, renting, home design, and more.