Spring House Hunt
As filing deadline looms, a look at how taxes have shaped our architecture
It's not just architects and developers who have defined our built environment over the past few hundred years.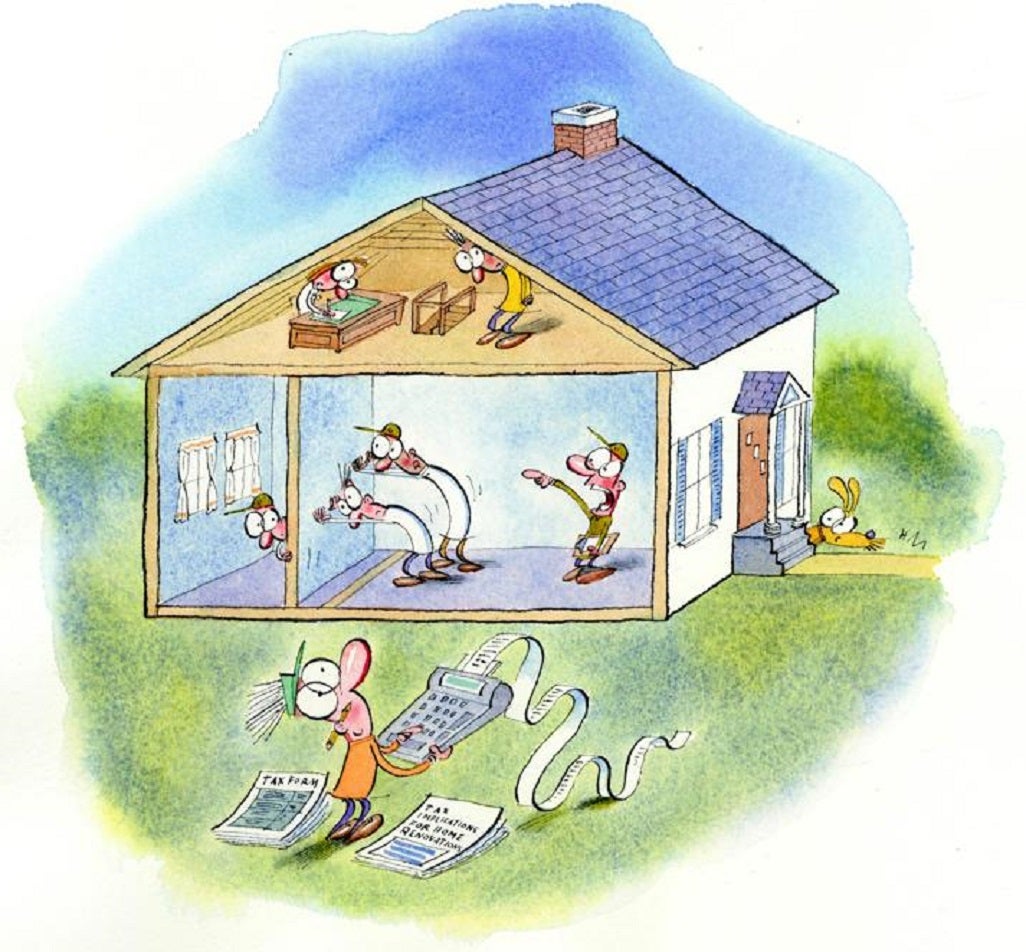 It's not just architects and developers who have defined our built environment over the past few hundred years. The hidden hand of the tax collector has also helped to shape our homes, skylines, and cityscapes — though maybe not in ways you'd expect.
If you've ever visited a historic house, you may have heard a tour guide describe how tax laws of yore influenced the architecture of the day, as builders and homeowners sought to skirt fees on everything from windows to doors to closets. They're great stories, but unfortunately, there's not much evidence such taxes existed in early America.
For example, some say that narrow "shotgun houses'' gained popularity in New Orleans because homes there were taxed by their street frontage or that those beautiful oversized windows that reach the floors in the city's Garden District were a response to a per-door tax. But if such taxes existed, historians haven't been able to find any records of them.
Daniel Bluestone, director of preservation studies and a professor of architectural history at Boston University, says the shotgun house was more likely a reaction to the climate than to any local levy. Instead of building row houses that shared a wall — a typical approach on dense city lots — it would have been important to have windows that could open on all sides. "Those houses are designed so they'll reach out and grab every passing breeze in the context of an incredibly hot, muggy climate, so they tend to be one room deep,'' he said.
But even if tax law didn't determine your home's original look, it might inform your remodeling decisions, said Duo Dickinson, a Connecticut architect and coauthor of the book "A Home Called New England.'' Any new construction or addition is bound to increase the value of your home, Dickinson said, thereby increasing your tax bill. And with a new law capping local property tax deductions at $10,000, he said, homeowners are being more careful than ever.
But because appraisers generally use standardized methods to assess a home's value, Dickinson said, there are ways to renovate without adding new taxable rooms or square footage — such as by keeping the ceiling in a finished attic high enough so it doesn't hit your head, but low enough that it doesn't hit your tax assessment.
"In many zoning codes, they use ceiling height when they define habitable square footage,'' Dickinson said — and if a ceiling is under 7 feet, it's not viewed as livable space. "Well, the majority of people using attics use that space as a play room or bedroom or study, and a 6-foot, 11.5-inch ceiling in those places — it may be pretty tight, but it's OK if you're sleeping or on a sofa watching TV or doing homework at a desk.''
Likewise, many clients prefer a den to an extra bedroom, which would increase the home's value more substantially.
"The definition of a bedroom in most places is a room with a closeable door, plus a closet and natural light,'' Dickinson said. "So a lot of people, they'll have a room with a 5-foot opening with no door or closet, and it'll be a den or a family room — but with a pullout sofa so it can become a spare bedroom. And the house is no bigger or smaller, but it has a lower tax bill and smaller septic requirement.''
Now, there really was a window tax back in the day — in England, from 1696 to 1851. Thought to be the inspiration for the term "daylight robbery,'' the per-window penalty was a crude proxy for taxing property and wealth: Glass was expensive, and the bigger your home, the more windows you'd have.
The fee schedule for the window tax varied over its 155 years, according to a study by Wallace E. Oates and Robert M. Schwab of the University of Maryland College Park. But builders did respond to it by reducing window counts, and many occupants bricked or boarded up windows — especially after Prime Minister William Pitt tripled the tax in 1797.
Public pressure, including a stinging rebuke by Charles Dickens himself, helped force the repeal of what amounted to a tax on sunlight and air, but its legacy is still on display in some bricked-up windows in England and Scotland.
The British also imposed a per-brick tax from 1794 to 1850, which led to the use of larger bricks — a subtle but visible difference in some early 19th-century homes there. And from 1712 to 1836, there was a tax on printed wallpaper, which savvy designers would dodge by hand-stenciling.
In 19th-century Paris, it may have been a height restriction, not a tax, that led builders to embrace the mansard roofs now visible all over the city. Steep slopes and dormered windows allowed them to squeeze in one more floor of living space above the official roof line, the theory goes. Either way, the chic Second Empire look became popular in its own right, landing atop the brownstones of Boston's new Back Bay and in places with no such restrictions in place.
"The mansard roofs in Paris come to represent a sort of urban order and cosmopolitanism that does get appropriated in settings where the building codes are quite different,'' Bluestone said.
Another item in the tax code that shaped America's 20th-century urban skyline was a deduction for obsolescence — when a still-useful building would suddenly lose its value because a new and better one sprang up nearby.
"When the federal income tax was introduced about a hundred years ago, there was an allowance that people could deduct for obsolescence, including in office buildings,'' said Daniel M. Abramson, director of architectural studies at Boston University and author of "Obsolescence: An Architectural History.''
If you could convincingly calculate a shorter lifespan for your building, you could get a bigger tax break. As a result, the idea that buildings had a kind of expiration date — that after 30 years, any given school or office building might be demolished to make way for a new and improved one — worked its way first into architectural and then into even mainstream thinking. "The tax code worked its way inside people's heads,'' Abramson said.
"In the 1930s, '40s, and '50s, people liked the idea of new things. That was a knee-jerk reaction for a while: If something wasn't working, tear it down to get something new,'' Abramson said. But as demolition grew commonplace, people grew more wary — especially as fairly new structures, like New York's original Pennsylvania Station, got hit by the wrecking ball. "It's disturbing to see a building torn down that was built in your lifetime,'' Abramson said.
The public backlash eventually found its way into yet another tax policy — one that still affects our cityscapes: a 20 percent investment tax credit for renovating historic buildings, which aimed to level the playing field between new construction and restoration. It didn't influence architecture at the time of construction, but has enormous sway on what's still standing. "The tax credits for historic rehabilitation have absolutely fueled the modern preservation movement,'' Bluestone said.
As much as new construction defines a skyline, keeping what's already been built is "equally important for the way a place like Boston looks,'' Bluestone said. "We have this storied landscape that people value now, and we've worked really hard in parts of the city to hold on to the historic character of the buildings.''
The National Park Service says the historic tax credit has leveraged about $90 billion in private investment to restore more than 43,000buildings in all 50 states since 1976, and plenty of that money has been spent saving buildings around Boston. Old schools and mills that were converted into condos, the former Charles Street Jail,which is now the Liberty Hotel, even Fenway Park — all have received tax incentives to encourage their restoration.
The tax code has helped change the look of my own house in several ways, too. My wife and I replaced dozens of windows to claim a $1,500 tax credit about eight years ago (though I now wish we had restored the originals instead), and installed rooftop solar panels last year, taking advantage of a 30 percent credit that's still available (which I don't regret at all).
"Tax credits for all residential renewable energy products like solar panels, solar water heaters, and geothermal pumps installed in your home have been extended through Dec. 31, 2021, and allow you to deduct 30 percent of your expenses through 2019,'' said Lisa Greene-Lewis, a CPA at TurboTax.
And because I work from home, I could deduct a larger portion of our utilities and mortgage interest if I had a bigger, dedicated home office. "If you want to deduct your home office space, make sure it meets the requirement — it's a space that is exclusively and regularly used for your business,'' Greene-Lewis said.
But despite the hidden role of taxes in determining how we design, build, and renovate homes, a desire to dodge them "shouldn't be a motivator to suppress improvement of an existing space,'' Dickinson said. Our homes should reflect and project who we are, he added.
"Homes are these exquisitely unique things — unique to humans and unique to each human.''
In a way, I suppose, so are taxes.
Jon Gorey blogs about homes at HouseandHammer.com. Send comments to [email protected]. Follow him on Twitter at @jongorey. Subscribe to our free real estate newsletter — our weekly digest on buying, selling, and design — at pages.email.bostonglobe.com/AddressSignUp.