Spring House Hunt
How to hire a home inspector
How do you find one? What should you ask? What should be in the report?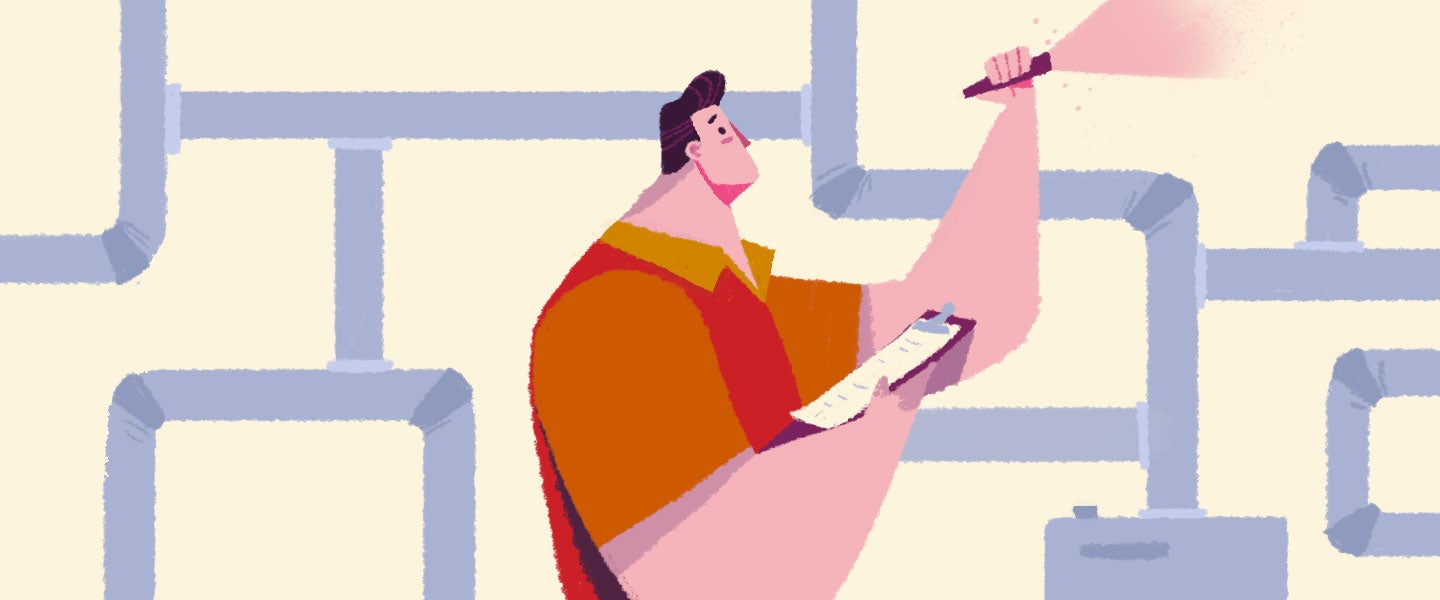 A collaboration with The Boston Globe's Help Desk:
Many buyers hire a professional home inspector to evaluate a property immediately after their offer — which may be contingent upon a satisfactory inspection — is accepted. Buyers want to know the physical condition of their prospective home before they buy it, but how do you find a good inspector among the hundreds available?
The state requires home inspectors to be licensed, but what does that mean? The state also licenses drivers, and that clearly doesn't ensure high-quality results.
Referrals
One way to find the right inspector is to ask friends, family, and coworkers who recently bought a home for recommendations. Your lawyer, mortgage broker, and real estate agent also may be willing to recommend an inspector or two. You should contact at least three inspection firms and interview them over the phone.
Many inspectors have a website, and you should check those out — but be skeptical of client testimonials. Google the inspector and see what pops up. You could also check the Better Business Bureau.
You can go online to verify whether they have a valid license with the Massachusetts Division of Professional Licensure.
Qualifications
Your first concern should be competence. You should feel comfortable that the inspector you hire knows what he or she is doing. Many inspectors come to the profession from another field. What is their educational and professional background? What construction-related licenses or certifications do they hold? It is important to find the right match for you. For example, the home you are interested in may have a complicated heating system, so an inspector with a strong background in that area would be a plus.
Michael Atwell owns J. May Home Inspections in Newton and has been a member of the American Society of Home Inspectors, or ASHI, for 22 years. He said membership in that organization is indicative of a good inspector.
"Generally, ASHI attracts people who aren't just interested in doing the minimum,'' Atwell said. "They have to pay for membership. They're required to attend more seminars. We've had people from all kinds of backgrounds. Experience is also very important. I'd say five years would be a nice minimum.''
In addition, you should take into account how much time the inspector spends with you on the telephone as you call around.
"I would think you'd also want to get a sense of how easy it is to talk to the inspector,'' Atwell said. "Will they be explaining things as they go along? Will they be available after the inspection? How approachable are they? Do they welcome client participation/questions? I suggest that people ask friends/attorneys for home inspector referrals.''
John Romano of Romano Home Inspection Co. in Amesbury has been inspecting homes for more than 30 years, and says experience counts for a lot. "What credentials do they have?'' Romano said. "How many inspections do they do each year? Are there any additional services like infrared camera work, water testing, drone inspections, or lead testing?''
Romano said he tells his clients to wear clothing they don't mind getting a bit dirty because he likes them to go through the inspection with him shoulder to shoulder. He said consumers should ask prospective inspectors for a sample report.
"We take photos and put them in every report,'' Romano said. "We show buyers where the defects are and where things like the water and electrical disconnects are. We want them to have a detailed record of everything we talked about during the inspection.''
On the job
You should have each inspector walk you through the typical inspection over the telephone. What is their policy on crawl spaces and attics? Will the inspector climb on the roof, look at it through binoculars, or use a drone-mounted camera? And what is expected of you? Does the inspector mind if you follow them around and take notes?
Some inspectors, like Paul Rogoshewski of Harmony Home Inspection in Hudson limit themselves to one inspection per day.
"I'm very careful about not being out there tired and exhausted,'' Rogoshewski said. "Last week I inspected a 3,700-square-foot home, and it took six hours [not including travel or report-writing time]. If someone is doing multiple inspections, they have a timeline. I don't want to be there forever, either, but I don't want to have a cutoff time.''
If inspectors spend less than three hours on an average-sized home, Rogoshewski said, they aren't doing a good job.
The inspection itself should be an invaluable learning experience, so make sure you are there and ask questions. Ensure you understand everything the inspector points out and writes in the report. Many home buyers also take notes and photographs during the inspection.
Fees
A good inspection is more than just an expense; it's an investment.
The median sale price of a home in Greater Boston was $577,500 in February, according to data from the Greater Boston Association of Realtors. Inspectors say the average inspection fee in the area is around $600. Getting a professional evaluation of the condition of the systems in your next home for less than the cost of a water heater is a bargain.
While the cost of the inspection is a concern for everyone, price alone should not dictate your decision. In every field, you get what you pay for, and no one can afford a cheap inspection.
Unless the inspector's fee is much higher than at other firms you've checked, Atwell said, the price should not be a big consideration when choosing a home inspector.
"If your friends are saying they're great and the reviews are great, that's more important,'' he said. "People often negotiate far more than the cost of the report after the inspection, and that extra hundred dollars doesn't mean anything.''
Reports
You inspector's report is an important document that you and your lawyer should review. If an important defect is uncovered during the inspection, the report will be the tool your lawyer uses to renegotiate with the seller or get you out of the deal. The report often serves as a "to-do'' list for years after the inspection. Study the inspector's sample report. Is it filled with boilerplate language and disclaimers? Does it describe problems clearly?
Morgan Cohen of MKC Associates Home Inspection and Building Consultation in Arlington said home inspectors are essentially in the communication business and that the report is the crucial part of that function.
"The client has to come away from the inspection with the same information that is in the report,'' Cohen said. The report "has to be something that gives the client a clear understanding of what the most important issues are.'' (For a story on what inspectors can and cannot tell you, go to realestate.boston.com.)
Cohen said there are a couple of phrases he sees in other inspectors' reports that make him question the document's value.
Some inspectors overuse phrases like "may require further investigation by a licensed professional'' and "recommend qualified contractor to inspect or repair as needed'' when they aren't sure what to make of an issue. Cohen said inspectors should be able to diagnose most problems.
And beware of the quick turnaround.
"We deliver our reports within 48 hours,'' Cohen said. "There's a lot of pressure in this market to get them out as fast as possible. We encourage clients to resist that pressure. It takes time to write an accurate report. Sometimes we need to consult reference materials and other experts. I would be suspect of inspectors who deliver reports on site, especially with the very old housing stock we have in Boston.''
Do a little homework before hiring a home inspector. Understanding the process and being an informed consumer are the best paths to your dream home and away from a money pit.
Jim Morrison can be reached at [email protected]. Subscribe to the Globe's free real estate newsletter — our weekly digest on buying, selling, and design — at pages.email.bostonglobe.com/AddressSignUp. Follow us on Facebook, Instagram, and Twitter @globehomes.