Spring House Hunt
An East Boston complex big on community amenities starts preleasing
The development, which sits right on the water, will have 284 apartments and 194 condos.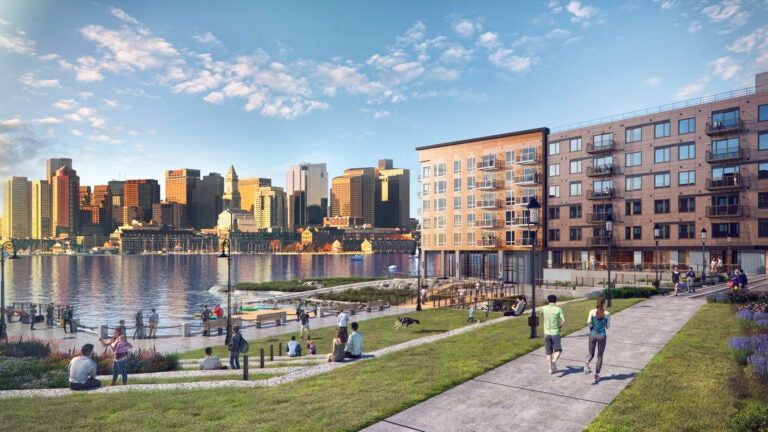 You won't see many signs around Clippership Wharf that note: "Private Property."
The new four-building complex, set to open in June, wants you to reimagine the East Boston waterfront — even if you don't live on the property.
The development process
The East Boston site at 63 Lewis St. had been vacant for years, walled off to the community around it, despite the fact it has "one of the best views of the Boston skyline," according to the general manager of development at Lendlease, Nick Iselin. Development was originally planned on the vacant site in the early 2000s, but the recession hit. It remained vacant until Lendlease bought it and Iselin's team kicked off development in 2014.
"It is one of the great opportunities to deliver that stretch of Harborwalk and space back to the community," Iselin said.
Iselin said he and his team changed many of the original development plans, eventually landing on a four-building property. There will be 284 apartments and 194 condo units.
Lendlease has already sold 80 condos in the first phase of sales — the remaining 114 will hit the market in June. Preleasing has begun for the apartments; tenants can move in June 1.
There will be two apartment buildings (with studios starting at 508 square feet through three-bedroom units maxing out at 1,331 square feet) and two condo buildings (with one- and two-bedroom units). Apartments are set to lease for about $4 per square foot.
During the first phase of sales, Iselin said, the condos sold for between $700 and $1,200 per square foot.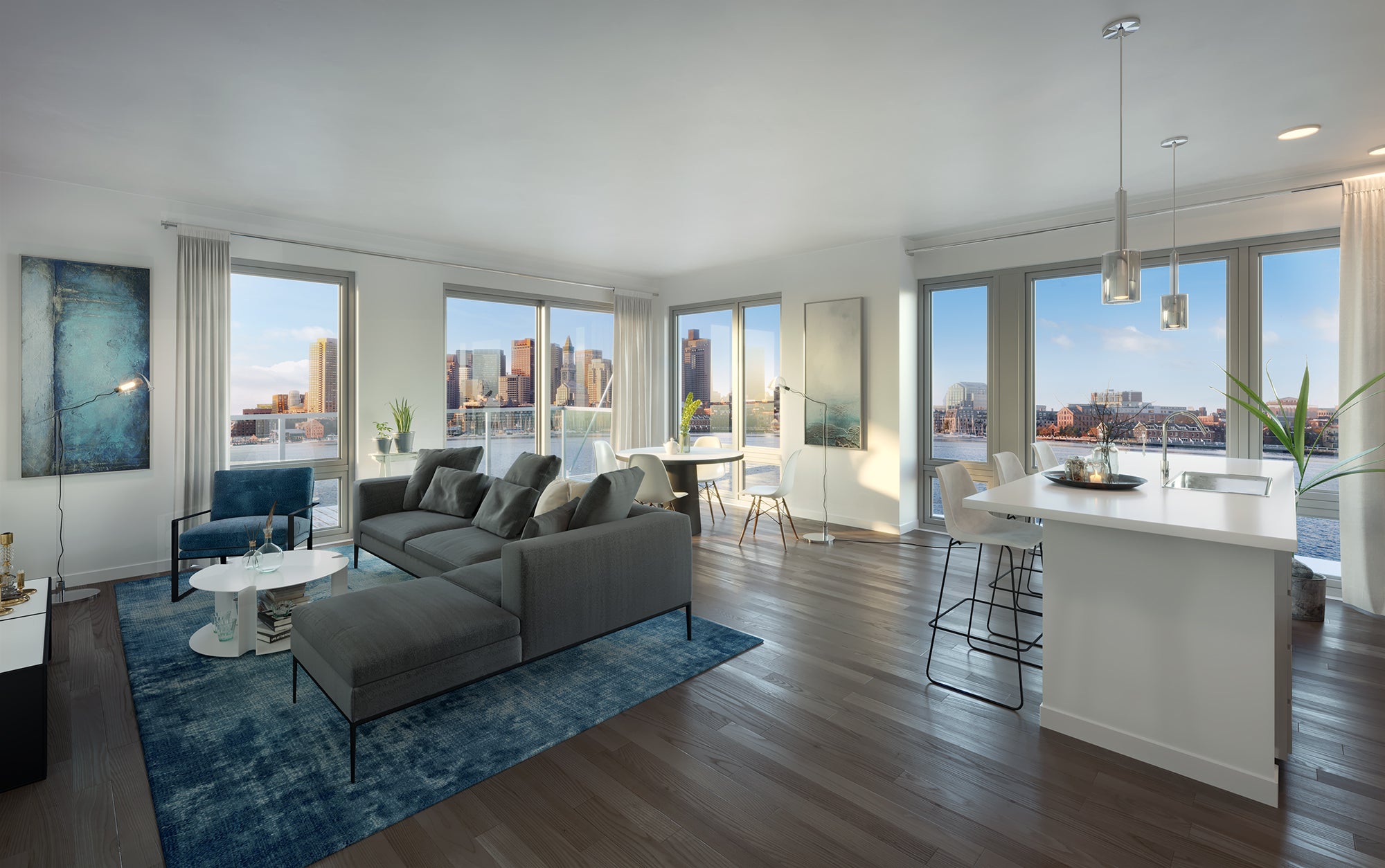 Massachusetts General Law Chapter 91
Much of the development process revolved around that fact that this land falls under Massachusetts General Law Chapter 91, which is the "Commonwealth's primary tool for the protection and promotion of public use of its tidelands and other waterways" — a program that has been in effect since the Colonial Ordinances of 1641-1647.
Why?
Well, the Colonists believed that the sea and the shore belong to the public. The rules in the doctrine include preserving pedestrian access along the water's edge and protecting tidelands. Though each waterfront project is different in what it provides the community, some public benefits that should be obtained include strolling rights, dinghy docks, public restrooms, public meeting rooms, fishing piers, public sailing programs, and more.
Environmental concerns
There were two specific concerns, according to Iselin: The complex was built on contaminated soil and it is right on the water. To address both of these problems, the four buildings were built at a higher ground level.
"With 24-hours notice we can deploy barriers that will keep water out during a high tide event," he said. The team has also created a living shoreline by planting a salt marsh, therefore creating a new habitat for marine life.
Too much construction?
According to a recent article in The Boston Globe, East Boston's population grew 17 percent from 2000 to 2015, outpacing the 10 percent growth seen citywide. And some residents are concerned that the on-rush of development will be bad for the historic neighborhood.
"We're at the point of over-saturation," City Councilor Michael Flaherty, a longtime public official from South Boston, told residents last summer at a council hearing in East Boston, the Globe reported. "There's only so much you can stuff into one neighborhood."
Iselin said many of the property's amenities, including some inside the buildings, will be open to the public.
"We really tried to create a destination on the waterfront," Iselin said. "We will see how successful we are, but I think it will be a magnet of sorts for people in East Boston."
So what can you use, even if you don't live there?
Outside, residents and nonresidents will have access to the newly built portion of the Harborwalk, a canoe and kayak rental center, a dog park, a public boating dock, and other outdoor seating areas.
Nonresidents will also be able to use the gathering spaces and the to-be-built retail shops and restaurants, as well as become members of the gym. There will also be an art gallery curated by Atlantic Works and bike storage.
Subscribe to the Globe's free real estate newsletter — our weekly digest on buying, selling, and design — at pages.email.bostonglobe.com/AddressSignUp. Follow us on Facebook, Instagram, and Twitter @globehomes.