Spring House Hunt
Airbnb is working to increase the diversity of its hosts
ATLANTA -- When Justin and Charalaina Heard agreed that they would lease their Edgewood bungalow on the Airbnb site, they faced one last decision.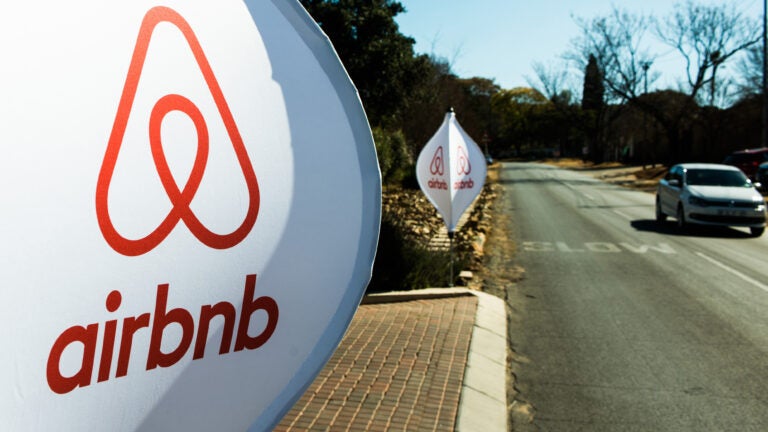 ATLANTA — When Justin and Charalaina Heard agreed that they would lease their Edgewood bungalow on the Airbnb site, they faced one last decision.
Whether to put a photo of themselves on the listing.
"We thought, they are going to see that we are black and not want to rent from us?'' Justin Heard said.
"But,'' his wife chimed in, "we decided to go ahead and do it, because people need to see that representation.''
Less than a year and more than $40,000 later, it didn't really seem to matter. Business is booming for the Heards.
And that's just what the short-term home rental company and the country's oldest civil rights organization want to hear.
Two years ago, Airbnb partnered with the NAACP to create a program aimed at diversifying the short-term rental company's pool of hosts and its customer base. The recruiting program, which touts Airbnb as an economic opportunity for communities of color, rolled out in Miami and Los Angeles first. This spring, it expanded to Atlanta.
Airbnb wanted to better reflect communities it serves, said company officials. But first, it had to convince minority homeowners that they, too, could be successful hosts. Also, a more diverse pool of hosts could cut down on the discrimination reported by people of color who've tried to book lodging through the site, some of whom told their stories on social media using the hashtag airbnbwhileblack.
A Harvard Business School study three years ago showed that Airbnb hosts were 16 percent less likely to accept people with "black'' sounding names as guests. And several suits have been filed against Airbnb — which says it does not collect data on the race of its hosts — by people who said they were denied lodging because of their ethnicity.
Airbnb's director of national partnerships, Janaye Ingram, developed the company's program after coming to work there following a stint as national executive director of Al Sharpton's National Action Network.
Ingram said Atlanta is a prime market for diversity with its prominence in attracting large-scale events and its history as a black mecca.
"Atlanta is a top-tier city with the world's busiest airport, so the amount of traffic coming to and from Atlanta is unrivaled,'' Ingram said. "Atlanta draws a lot of attention, not just from the United States, but globally.''
That presents an opportunity for those who own homes. Hosts keep 97 percent of their earnings, with the company taking the remainder.
"That is a lot of money that is being driven into the community,'' said Ingram, a 2000 graduate of Clark Atlanta University. "This is a way that you can monetize your assets. It is a way for you to become an entrepreneur. It really is this notion of economic justice.''
The move comes at a time when several cities are attempting to crack down on short-term rentals, also known as homesharing services, as a way to protect traditional renters and affordable long-term housing.
Cities like Washington, D.C., New York, and San Francisco are responding to complaints and studies that suggest short-term rentals harm affordable housing efforts. While it can be lucrative for homeowners, the sites like Airbnb decrease options for long-term renters and push up rental prices, critics say.
But local NAACP chapters see a plus side to short-term rentals. Ingram said they are working with Airbnb to launch community campaigns to educate minorities on the economic benefits of hosting and bringing travelers to their neighborhoods. In exchange, Airbnb has committed to sharing 20 percent of its earnings from the NAACP outreach.
"This partnership with Airbnb in Atlanta will help ensure that African-Americans and communities of color have opportunities to earn valuable extra income,'' said Marvin Owens Jr., the NAACP's senior director of economic programs.
The Heards recently attended a conference of about 500 hosts. They were one of only four black attendees there.
"White people, they been doing this for years, but we've never heard of it before,'' Justin Heard said. "Most of us just go to a hotel. Traveling, as African-Americans, we are a couple of generations removed from freely being able to travel, much less staying in someone's house.''
Ingram calls it a "knowledge gap.'' When she joined Airbnb, most of her black friends had no idea what it was.
During the Jim Crow era, African-Americans somewhat pioneered homesharing with travelers, she said. But these days, many are distrustful of listing their residences on sites like Airbnb, HomeAway, FlipKey, or even black sites like Innclusive and Noirbnb.
"Today, we say, 'We don't just let anybody into our home,' '' Ingram said.
Peri Frances jumped into the Airbnb game early, in 2012, long enough to earn the coveted "Super Host'' status. Suddenly divorced, Frances was looking for a steady stream of income — but not a roommate — to help her keep her southwest Atlanta home.
She said the room in her house can generate up to $900 a month, which is more than what she would charge a roommate.
"Initially, I had some trepidation, because my neighborhood is in transition,'' said Frances. "But for African-Americans, [Airbnb] could be an investment vehicle, a wealth-building vehicle, and a way to maintain homeownership in historical black neighborhoods.''
In her listing on the site, Frances' home is decidedly black. Romare Bearden paintings and African masks decorate the walls and shelves. The dining room chairs are fitted with zebra print cushions, and black dolls sit atop the desk in the bedroom she rents out.
"I live in the home and all of my stuff is there,'' Frances said. "When you see the pictures, you get it.''
Despite that, only a small percentage of her guests are African-Americans, which may be part of a larger issue about who feels comfortable using Airbnb.
"I have been saddened by people who will approach me as a host and say something like: 'We are an LGBT couple. If you have a problem with that, let me know,' '' Frances said. "It makes me feel sad that we still live in a world where people feel they have to put out disclaimers.''
Raycelle LaBlanc rents two rooms out of her Stone Mountain home, with each earning between $800 and $1,200 a month.
"I was looking for stuff to do from home while I was building up my business,'' LeBlanc said. "My cousin manages 17 Airbnb's across the country and suggested it. So, I tried it. And I love it.''
LeBlanc used to have a town house in Atlanta that was booked every day with people coming into the city to work. It has slowed down a bit since she moved to Stone Mountain. Most of her renters are locals who may be in the process of moving or who want to be near Stone Mountain Park. Or they are locals who are looking for a spot to "hook up.''
"So, I had to raise my prices and make it a two-night minimum,'' said LeBlanc, who also lists her place as a creative wellness space for reading and meditation. "When I first started, I had very few African-Americans. Most of my bookings were white, Indian, and Asian. But I have had some great experiences.''
On Thursday, the Heards found themselves preparing their Edgewood home for a Saturday check-in. Located within walking distance of the Edgewood MARTA station and several restaurants and retail stores, the tidy brick house is fully equipped with smart devices. Modern paintings adore the walls, and a tray full of snacks and beverages sit atop a counter in the fully stocked kitchen.
The couple estimate that they spent about $15,000 getting the home ready to rent.
"It was money well spent,'' Justin Heard said. "Those amenities help sell the experience.''
The Heard's three-bedroom, three-bathroom home, built in 1926, sleeps about eight people and is full pretty much every night. April is already 75 percent booked, 21 days in May are booked, and dates as far off as August are already filling up.
This wasn't the plan.
Recent transplants to Atlanta, the couple owned two condos in Detroit that they rented out. When they moved to Atlanta, they were going to buy a couple of properties and do the same until a real estate agent asked them whether they ever considered the short-term rental route.
"I looked at calendars and what they were charging,'' Justin Heard said. "They were booked up and making way more money than I was charging in traditional rent. We were shocked at how lucrative this has been for us.''
They were charging a combine $3,300 a month for their two Detroit properties. In Atlanta, between the time they started last May and December 31, their one home, listed on Airbnb and HomeAway, made more than $43,000.
"One of the things that make us successful is excellence in service,'' Charalaina Heard said walking through the home. "That is what attracts people to the property. We wanted to make sure that what we did was going to be excellent.''
Subscribe to the Globe's free real estate newsletter — our weekly digest on buying, selling, and design — at pages.email.bostonglobe.com/AddressSignUp. Follow us on Facebook, Instagram, and Twitter @globehomes.