Spring House Hunt
In Boston area, more single women are snapping up homes than single men
More single women nationwide have been chipping away at the idea that home buying is more feasible for couples.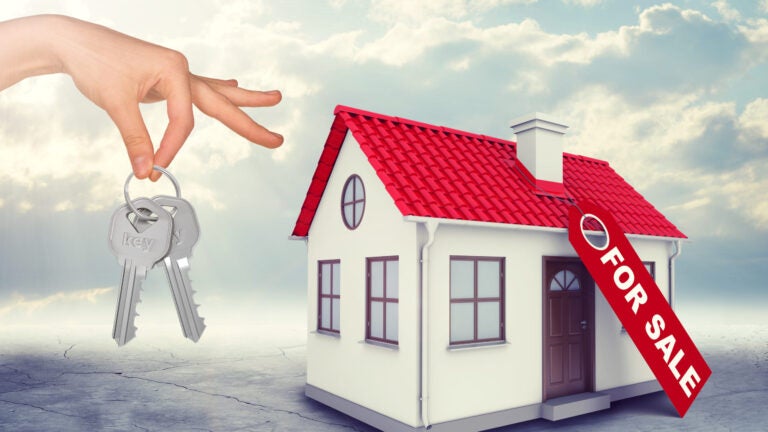 When it started getting cramped in the $2,400-a-month, one-bedroom Brookline apartment Marina Melnikova shared with her pre-school-aged son last year, she had to make a decision — pay an extra $500 a month for a two-bedroom unit or take the plunge into homeownership.
For the amount she was going to pay in rent, Melnikova, a 33-year-old single mother and small-business owner, decided it was time to buy. The prospect of buying as a single woman in what so far has been an extremely competitive housing market in Greater Boston, seemed daunting at first.
"It felt like a mountain to climb," said Melnikova, who eventually purchased a two-bedroom town house in Andover. "I don't know if I would've done it if I hadn't had my son. The misconception out there is that you can't get anything affordable and you have to wait for a partner" in order to afford it.
More single women nationwide have been chipping away at the idea that home buying is more feasible for couples. A recent analysis by online lending marketplace LendingTree found that single women in the United States own 1.5 million-plus more homes than single men in the 50 largest metro areas. Single men do not own more homes than single women in any of the 50 metros, including Boston.
In Boston, 12.3 percent of single women own homes, while just under 8 percent of single men do.
Kevin Byrne, a senior loan officer at Bridgewater Savings Bank, said he overwhelmingly sees more single women buy homes than single men, and started noticing the trend after the last recession.
"Somehow, someway they're more prepared," Byrne said. "You see divorced women coming back buying in their 40s and 50s. A lot of early 30s single women have decided to go it alone."
His female clients are also more likely to buy condominiums and to purchase near public transportation, such as at Union Point in Weymouth near the South Weymouth commuter rail station.
Michael Kemple, senior vice president and senior retail lending officer at Bridgewater Savings, said one reason more women have been able to jump into the highly competitive Greater Boston housing market alone can be traced to the region's job and economic growth over the past five years. Whether that will continue post-pandemic remains to be seen.
"Everything kind of centers on what happens in Greater Boston and radiates out from there," Kemple said. "There's also the idea that home prices have been rising very, very consistently over the past 10 years, and there may be a little bit of urgency of, 'I got to get on this now before prices rise even further.' "
For most buyers, however, the biggest challenge is saving enough for a down payment. Bridgewater Savings, along with MassHousing, offers a number of mortgage programs for low- to moderate-income first-time buyers that help with down payment and closing costs. The majority of applicants for these programs who managed to close on their first-time purchases over the past year were single women, Kemple said.
"Whether that's because women are doing more research than males, I don't know," he said.
Women "are very good planners," said Marie Presti, broker/owner of The Presti Group in Newton. Presti said she has consistently worked with three times as many single-female buyers as male ones. Many take the time to attend her first-time home buyer classes.
"My clients who are single females, the majority of them are educated, definitely have college degrees, many have graduate degrees, and are financially independent," Presti said. "In prior generations, females would wait until they were married to get a home, but this generation says, 'I have my own goals, and I don't want to wait to move on with my financial goals.' Sometimes they're dating somebody but buy on their own."
The spread of the novel coronavirus has slowed down real estate activity, but Katya Malakhova, a realtor with Coldwell Banker Residential Brokerage in Cambridge, said she would still encourage buyers, especially single women, to approach this as a window of opportunity. Buyers who anticipate job and financial stability throughout the outbreak should continue their search because they will probably encounter the least amount of competition the local market has seen in years, Malakhova said.
New research from real estate website Zillow on the effects past pandemics had on home sales activity appear to support Malakhova's take. During the 2003 SARS outbreak, transaction volume in Hong Kong fell as people avoided human contact, but prices were barely affected. After the epidemic was over, real estate transactions returned to normal, Zillow found. Early reports out of China indicate that because of COVID-19, transactions have nearly ceased, but home prices have not fallen so far, according to the research.
Malakhova, who helped Melnikova find the two-bedroom Andover home with her son, said she has a female client who was going to wait until summer to buy a property, but was so enticed by the record-low mortgage rates that she decided to go ahead now. On the flip side, she said she has a client who was ready to buy, but who had to take a step back because the bulk of his money was tied up in stocks, which have taken a beating amid the outbreak.
"For people who feel comfortable financially and their jobs are not on the line, it's a good time to buy," Malakhova said. "It won't be 25 offers … Now we can have five offers, and people will feel they can compete."
For Melnikova, buying a home as a single woman has taken on a deeper significance.
"I always wanted to own; for me, it was inevitable and just a matter of time," she said. "We're coming into a time where women are making the same amount of money [as men], and we're not afraid to make decisions for ourselves and not follow the patterns of our mothers."
Subscribe to the Globe's free real estate newsletter — our weekly digest on buying, selling, and design — at pages.email.bostonglobe.com/AddressSignUp. Follow us on Facebook and Twitter @globehomes.