Spring House Hunt
How long can home prices keep climbing even as mortgage rates rise?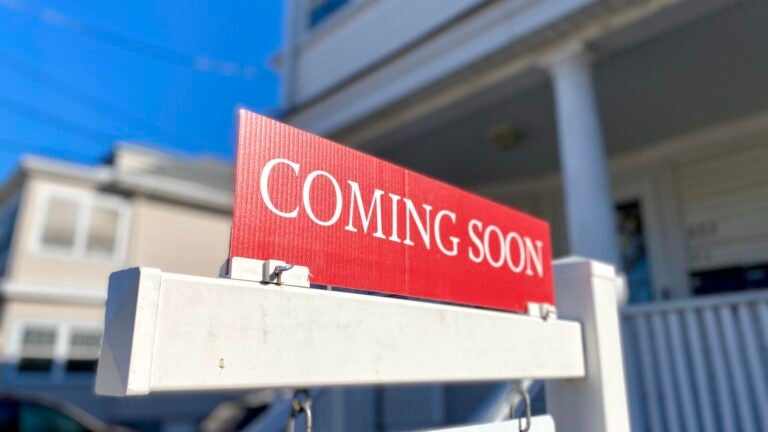 Home prices keep climbing, and climbing — and buyers keep competing for the chance to pay them, even as mortgage rates have risen two full percentage points in the last six months.
At $515,000, the median price of a Massachusetts single-family home sold last month was up 12 percent from the prior year, according to real estate analytics firm The Warren Group, and 28.1 percent above the March 2020 median of $402,000.
Rising interest rates, in theory, should help put a lid on that kind of price growth, since they make the same-priced house more expensive to finance. With the average interest rate on a 30-year mortgage hitting 5.1 percent at the end of April, according to Freddie Mac, a $500,000 mortgage now costs almost $600 more per month than it did in December, when rates averaged 3.1 percent. It's enough to drop a homebuyer's purchasing power by $100,000 or more.
And yet?
"The market is more competitive and more tense than I've ever seen," said Melony Swasey, leader of the Good Boston Living team at Unlimited Sotheby's in Jamaica Plain. "Even with interest rates rising, the demand hasn't let up."
Some buyers have seen their purchasing power cut back, she added, but there are still enough buyers with enough cash on hand — sometimes it's equity from a home sale, but other times it's money from family members — to keep the competition fierce.
"We're seeing fewer offers, but the intensity, the competition, the price jumps are still there," Swasey said. "And that's across the city, across all different kinds of neighborhoods, and surrounding communities," including Newton, Brookline, Needham, and Melrose.
"We don't know how long that will persist," Swasey added. "But so far this spring? I don't think that we're seeing a contraction."
The crushing competition and lack of homes for sale, particularly in the "sweet spot" around $500,00 to $600,000, has been punishing for first-time homebuyers, said Debbie Aminzadeh, vice president at J. Barrett & Company in Beverly.
"We're thousands of listings down from where we were — that's a major issue, and that isn't changing," she said. "When I look at the listings each day, I'm shocked at how few there are."
Between rising mortgage rates and heavy competition, many buyers have had to lower both their price targets and their expectations to get an offer accepted. "You have to factor in going $50,000 to $100,000 over asking," Aminzadeh said. "Let's say they can afford $600,000 — they have to look at only $500,000 houses max, if they're smart, so they can have that buffer zone to outbid. Otherwise, they're just spinning their wheels."
The sharp rise in mortgage rates has forced some buyers out of the market entirely. But many others either have enough cash to be flexible, or are finding other ways to make it work.
"Some of them are buying points to bring the rate down," said Nick Marlin, a loan officer with CrossCountry Mortgage. The practice involves paying more upfront for a lower long-term interest rate. One mortgage point generally costs 1 percent of the loan amount, and knocks about a quarter percentage point off the interest rate.
Other buyers are turning to adjustable-rate mortgages, Marlin said, locking in a lower initial interest rate for the first five or seven years, and hoping they'll be able to refinance it before the rate turns variable later on. The average initial rate on a 5/1 ARM (that means the rate is fixed for the first five years, then resets annually thereafter) was still 3.78 percent at the end of April.
Rates on jumbo loans have also been slower to rise, Swasey added.
"If you're getting a loan that's larger than $770,000, those interest rates are not creeping up as fast," she said. "They are rising, but not as quickly as the conforming rate."
Warren Group chief executive Tim Warren said the intense price gains of the past two years are a little concerning, and certainly brutal for homebuyers. But he doesn't think we're in a housing bubble or headed toward an impending collapse.
"From 2000 to 2005, median prices went up by 10 percent or more, by double digits, every year for six straight years, and then the market crashed," Warren said. If we're headed for a similar housing meltdown now, he said, it would still be very far down the road at this point.
"We're now two and a quarter years in," he said. "If it gets to four years, I might start losing sleep over it, and if it gets to six years, I'll be really worried. But right now, my worry-meter is still under control — I'm not predicting any disaster."
Jon Gorey blogs about homes at HouseandHammer.com. Send comments to [email protected]. Follow him on Twitter at @jongorey. Subscribe to our free real estate newsletter at pages.email.bostonglobe.com/AddressSignUp. Follow us on Twitter @GlobeHomes and Boston.com on Facebook.