Spring House Hunt
Mass. home prices set records in April
The median price of a Bay State condo surpassed half a million dollars for the first time last month. Continue reading at realestate.boston.com.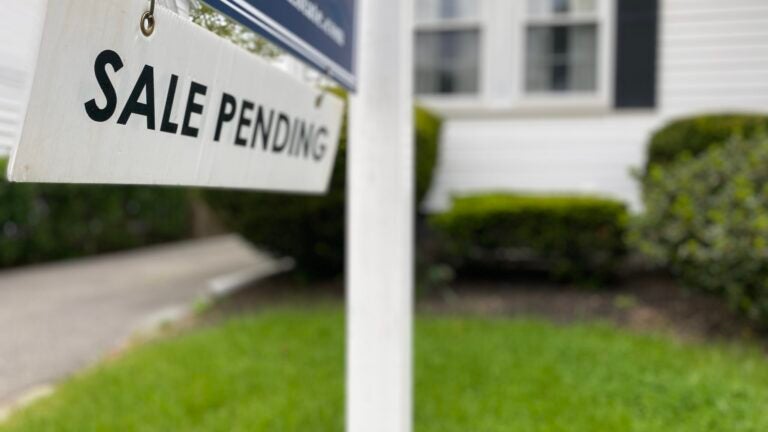 Home prices and mortgage rates keep rising — as if in a race to see which can put the dream of homeownership more out of reach.
The median sale price of a Massachusetts single-family home reached a record $560,000 in April, according to real estate analytics firm The Warren Group. That marked a 9.8 increase over April 2021 and a 30.2 percent jump from two years ago, in the early days of the pandemic.
There were 3,862 single-family home sales statewide in April, a 14.8 percent drop over the prior year. That's the largest decline so far this year, said Warren Group chief executive Tim Warren. "We have to go back to October to find a sales decline as steep as this."
The lower sales volume and record prices can both be chalked up to a shortage of homes for sale; there was less than a month's supply of single-family housing inventory on the market in April, according to the Massachusetts Association of Realtors. "New listings were down in April as well, and that's where the relief might have come from," Warren added.
Buyers hoping to secure a summer home on Cape Cod faced daunting odds. The median price of a single-family home in Barnstable County was $681,500 in April, up 22.8 percent from a year ago and an astonishing 59 percent from April 2020, when the typical house on the Cape fetched $429,000. "There just isn't very much for sale on the Cape, so the supply is extremely limited, and that's probably pushing up the prices," Warren said. With few properties available, sales are down more than 21 percent year to date. (See county-by-county data here.)
For buyers unable to compete in the single-family marketplace, condominiums didn't necessarily offer an affordable alternative in April. The median price of a Bay State condo surpassed half a million dollars for the first time last month, surging 11.6 percent from a year ago to a record $530,000. Sales were slower than last year, with 2,149 recorded condo sales statewide — a 15.2 percent drop from April 2021.
The price of a typical condo sold in Cambridge in April spiked 20.4 percent year over year, from $810,000 to $975,000. The median price of a Haverhill condo rose 12.3 percent, to $335,000. (See town-by-town data here.)
Meanwhile, the average interest rate on a 30-year mortgage reached 5.3 percent last week, according to Freddie Mac, nearly 1½ percentage points higher than in early March. Higher mortgage rates make it more expensive for buyers to finance the same-priced home (like, hundreds-of-dollars-a-month more expensive).
Many sales that closed in April could have been put under agreement in March at lower interest rates, Warren said. He expects rising mortgage rates will start to affect demand and slow price growth in the second half of the year, or perhaps as soon as next month. "You would think that the number of people who had rate locks, or the ones that still have rate locks in May, must be getting pretty slim," he said.
"Especially with consumer confidence being shaken a little bit by inflation and recessionary concerns," he added, "with the paper profits on their retirement accounts and everything else sort of going up in smoke, I think that that's going to make people more cautious about jumping into something."
Jon Gorey blogs about homes at HouseandHammer.com. Send comments to [email protected]. Follow him on Twitter at @jongorey. Subscribe to our free real estate newsletter at pages.email.bostonglobe.com/AddressSignUp. Follow us on Twitter @GlobeHomes and Boston.com on Facebook.