Spring House Hunt
More Mass. home buyers are taking out adjustable-rate mortgages. Here's why.
"More borrowers continue to utilize ARMs to combat higher rates." Continue reading, and search the latest listings to buy or rent, at realestate.boston.com.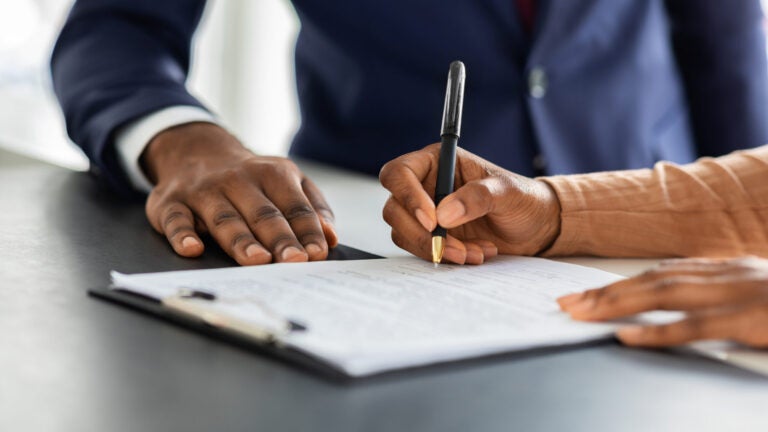 In April, Massachusetts saw a 23% year-over-year increase in the number of home buyers who took out adjustable rate mortgages, data from The Warren Group indicate.
ARMs have been surging in popularity nationwide since interest rates began increasing signficantly in March, according to the Mortgage Bankers Association.
"More borrowers continue to utilize ARMs to combat higher rates," Joel Kan, the association's associate vice president of economic and industry forecasting, said in a news release. "The share of ARMs increased to eleven percent of overall loans and to nineteen percent by dollar volume [nationwide]."
That's the largest share of total loans since 2008, during the mortgage crisis. ARMs became unpopular after the mortgage crisis because many of the loans that fueled it were adjustable. Also, ARMs simply weren't as attractive when interest rates were so low.
Shant Banosian, a loan originator for Guaranteed Rate, said he's never discussed ARMs with his clients as much as he has these days, though many buyers remain wary of them.
"ARMs are still paying for the bad market that occurred from about 2006 to 2008," he said. "And that's unfair. The products that are out there now are not the same products that caused the housing collapse 15 years ago. Today, the underwriting is much stricter and credit scores have to be higher."
---
Related
Long-term U.S. mortgage rates have slipped a little bit (May 19)
How to finance your vacation property purchase
Mass. home prices set records in April
---
For the week ending May 13, the average for a 30-year fixed rate mortgage was 5.49%, according to the Mortgage Bankers Association. For a jumbo loan (any loan over $647,200) it's 5.03%. For an 5/1 ARM (in which the interest rate is fixed for five years and then adjusts every year for the remainder of the term), it's 4.42%.
The median sale price of a single-family home in Greater Boston was $845,000 in April, according to the Greater Boston Association of Realtors. A buyer with a 10 percent down payment on that home would have a monthly payment of $4,094 with a 30-year, fixed-rate mortgage because it would be a jumbo loan. With a 5/1 ARM, the monthly payment drops to $3,815, a savings of $279 every month for the first five years. That's $16,740 in savings.
If buyers think they will own the property for less than five years, an ARM may make sense. If the buyers end up staying longer, they can refinance at the end of the fixed-rate period, if they choose.
Kwang "Chris" Hong of Hopkinton and his wife are purchasing a home in Westerly, R.I., and got an ARM from Fairway Independent Mortgage. Hong has a traditional fixed-rate mortgage on his primary residence, but when the loan officer compared the costs for a fixed-rate mortgage with a 10-year ARM, the decision to get an adjustable was easy.
"In 10 years, we're going to be empty-nesters, and we'll probably sell our home in Hopkinton," he said. "The house in Westerly will be a summer residence for now, but we could move down there when our kids are grown. We'll assess the market at that point and see what makes sense. The seven-year ARM had a slightly lower interest rate, but I wanted to build in that flexibility, so we went with the ten-year ARM."
Craig William Barber, Fairway Independent Mortgage's Boston branch manager, said he often suggests 5, 7, or 10-year ARMs, but it all depends on the client's circumstances and goals.
He stressed that today's ARMs don't adjust as drastically as they did before the crash.
"Most consumers probably aren't going to jump from a 30-year fixed to a 10-year ARM if there's only three-eighths of a percent difference between the interest rates," Barber said. "But when it's a half or maybe three-quarters of a percent difference, and you show them the monthly payments, more and more people are open to it. I mean, I have a client where it's a full percentage point difference. That's a big deal over 10 years."
Subscribe to our newsletter at pages.email.bostonglobe.com/AddressSignUp. Follow us on Twitter @globehomes.