The Boston Globe
A housing development at South Shore Plaza seemed like a home run. Not so fast, residents say.
A plan to put 495 apartments in mall's vast parking lot meets fierce opposition.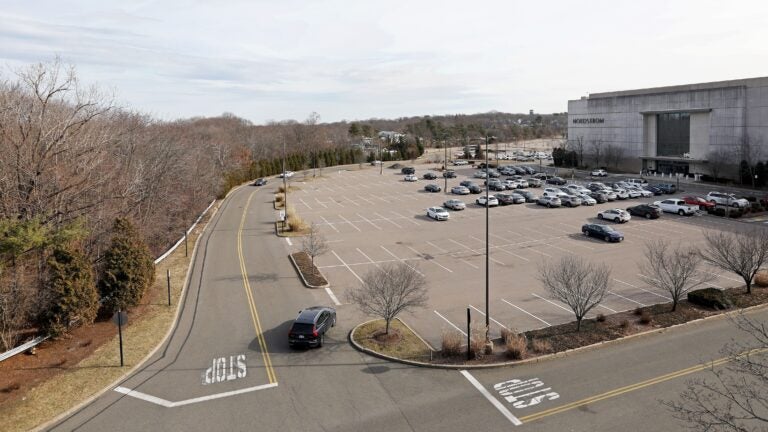 BRAINTREE — The parking lots surrounding the South Shore Plaza seem to stretch on endlessly. There are more than 7,000 spots, most unfilled on even the busiest shopping days.
So when ZOM Living proposed building 495 apartments on a portion of the parking lots, the developer made what seemed like a sensible argument: New residents could help turn New England's largest mall into a modern mixed-use development, and provide the town an infusion of desperately needed tax revenue.
Braintree residents do not see it that way.
ZOM's proposal would be the South Shore suburb's largest housing development in decades, and it has sparked an outrage that has spread like wildfire. Residents have labeled the project "a monster." They have said it will overload the streets with traffic, overcrowd the struggling school system, and serve as an eyesore for all who live within viewing distance.
That anger bubbled over last week when a public meeting devolved into shouting in a matter of minutes.
The development — in some ways emblematic of the kind of housing the state says it wants to see, especially in communities close to Boston — still has a long way to go before construction. But it has already become a clear example of the challenges state and local leaders face as they seek to dig out of the housing shortage. While many in Massachusetts agree broadly that the state needs more multifamily housing, pushback against specific proposals is often swift, and harsh.

"We're a part of Greater Boston — we're in the center of the region and we're a stop on the Red Line — and the town is showing signs of suffering from the fact that we're not growing the way we should be," said Joseph Reynolds, a city councilor who supports a smaller version of the proposed development. "The state is saying that we need to build more housing, and here's a project that makes a lot of sense. We're going to have to start looking at the bigger picture of what Braintree is and how we fit into the region."
A suburban town of around 39,000, Braintree has seen the growth of its population outpace that of its housing supply over the last decade. A recent draft of the town's Master Plan found that while Braintree's population grew by about 3,000 people between 2010 and 2020, the town only added 775 housing units, bringing its total to roughly 15,000. About 60 percent of the housing stock in Braintree is single-family homes, more than in neighboring Quincy and Weymouth, meaning, as Reynolds puts it, there are fewer options for people who want to live there but cannot afford to purchase a home.
Some who oppose the ZOM project say they're not against more housing.
Kelly Moore, president of the North Braintree Civic Association, which has led the opposition, said there are other sites in town that would be better suited for development, like the Ivory Street corridor, which includes the Red Line station. He believes the fact that ZOM Living would have to receive a special zoning bypass, called a "planned unit development," is a sign that the property isn't right for development.
"This thing is a monster,"Moore said. "And it is literally written in our zoning that it doesn't belong at the South Shore Plaza. We don't want the development, we don't want the traffic, we don't want our schools to suffer, we don't want more crime at the plaza. We don't want any of it."
But there's more to the debate than the question of if and where the town should allow for more housing: Braintree's expenses are regularly exceeding tax revenue. Already, the school system went underfunded in the last budget cycle, and the city council has warned that there may be more severe consequences if they can't right the ship.
That should make this project all the more enticing, Reynolds said. Not only would an apartment complex bring in more money on its own, but it could also boost the value of the South Shore Plaza, the town's largest source of commercial tax revenue, by putting residents close by.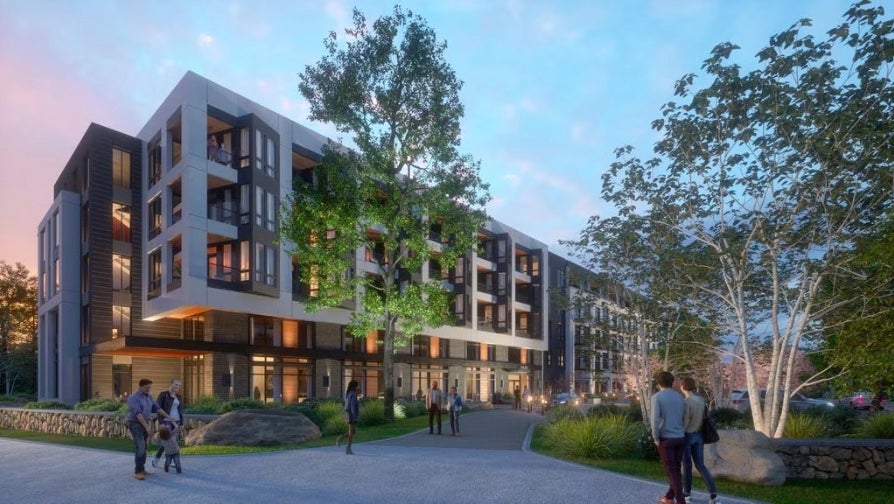 The 315 general-use apartments and 180 senior units would fetch high rents, starting around $2,100 for a studio, though 10 percent of the units would be subsidized and set at affordable rents. Jim Dunlap, a managing director at ZOM Living in Boston, said the market-rate apartments are targeted towards young professionals, a group he said Braintree should try to court if it wants to attract life science companies, which could further boost the tax base. Dunlap said he would be open to working with the town on tweaks to the firm's proposal.
"We want to make clear to folks that this is something that we think is going to be beneficial to the town in the long run," said Dunlap. "In our minds, we're coming to a place that needs housing and could use a boost to its retail center, and making it happen."
Some residents don't buy it. Justine Huang, who had children that went through the town's school system, said at the public meeting last week that she's worried the development wouldn't bring in enough money on its own to help the town into a better financial situation, and that the influx of new residents could leave the schools even further strained. Moore is worried about crime at South Shore Plaza, which has seen a string of violent incidents over the last few years. Adding more residents to the area would be like "throwing gasoline on a fire," he said, a point proponents reject. Mayor Charles Kokoros echoed some of those concerns at another public meeting two weeks ago and has said that he is against the project. Kokoros did not return multiple requests for comment.
Those concerns — about crime and the town's school system — are nothing new, said Peter Forman, president of the South Shore Chamber of Commerce. They pop up in every conversation about development in Braintree, he said, to the point they can feel like a reflex against any new housing.
"Braintree has a particularly vocal group of people who have found a lot of passion in blaming any problem they see with the town on the fact that there has been housing built in the last 10 years and that there are new people moving in," said Forman, whose group has not formally taken a stance on the project. "And they want to stop that."
Forman points out that if housing efforts continue to stall, Braintree may slip beneath the state mandate that requires 10 percent of a town's inventory be set aside as affordable housing. When municipalities fall below that benchmark, developers can use the state's Chapter 40B housing law to circumvent local zoning rules for buildings that are 25 percent affordable.
"Right now, the town has a developer that's willing to talk with the community and make changes," said Forman. "If we continue to reject projects, residents might not have so much say on what gets built in the future. Something has got to give."