Save Big in the Ashley Furniture Labor Day Preview Sale
With Labor Day coming up, it's the perfect time for all the bargain hunters to start scouting out this year's best deals. During Labor Day weekend, many of the biggest brands host some amazing sales for customers to purchase majorly discounted products at the end of the summer season. One of the best products to buy over the holiday weekend is furniture, and what better place to shop than Ashley Furniture! As one of the biggest names in the furniture game, Ashley Furniture is a go-to shop for anything from couches to bedframes to patio pieces, all for unbeatable prices! This year, you can shop the Ashley Furniture Labor Day Preview sale to get even bigger savings on your next furniture purchases. Keep reading for the best deals the Ashley Furniture Labor Day Preview Sale!
Shop the Ashley Furniture Labor Day Preview Sale
Get up to 30% off select items during the Labor Day Preview sale event. Valid until August 22nd.
Now is a great time to shop for furniture, as the Labor Day Preview sale is in full swing! Save on some excellent end of season items for your home, from outdoor furniture to sofas to dining tables. During the Labor Day Preview sale, you can get up to 30% off select items. Use this chance to score a brand new piece for your home, like this Maimz sofa, to spruce up your living room decor!
Save big on Ashley Furniture outdoor seating
Get up to 40% off select outdoor seating. Valid until September 30th.
The past months have allowed us a sense of return to normality; lots of time spent outdoors in the summer sun, enjoying food and drinks in the backyard with people we love. Who could have imagined we'd have such a great summer? Spending so much time in our backyards or on our patios can make us notice the old creaky chairs or beat up outdoor cushions that could definitely use replacing. Patio furniture can be so expensive during the peak of summer, so what better time to buy replacements than Labor Day? With the weather cooling down, you'll get to save big on outdoor furniture. Right now until September 30th you can get up to 40% off outdoor seating during the Ashley Furniture Labor Day Preview sale! Score a great new outdoor piece, like this Crystal Cave outdoor loveseat, and start getting your patio ready for next summer!
Discounts on Ashley Furniture Outlet items
Save up to 60% on outlet items.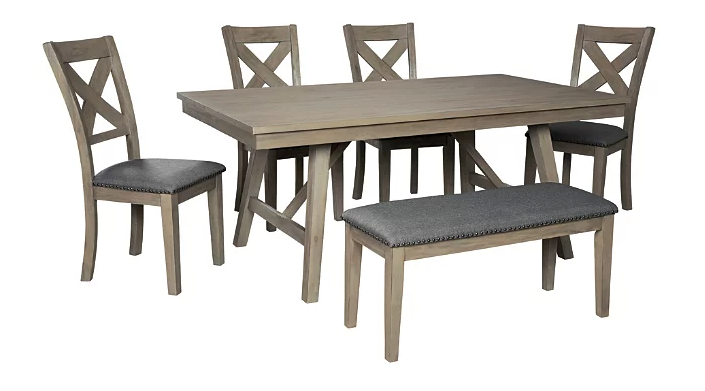 If you're a true bargain hunter, you already know all about the beauty of the Ashley Furniture Outlet! This is a corner of the website where you can find the same high quality, stylish pieces for your home for even better prices! Right now until the end of the year, you can take up to 60% off of outlet items for even bigger savings! If you miss the Ashley Furniture Labor Day Preview sale, this outlet deal is your opportunity to score new furniture for less! Use this deal as a chance to save on great pieces, like this Aldwin dining table! With the added 60% off, you won't find a better deal anywhere else!
Stay up to date and save with the Ashley Furniture newsletter
Get 10% off your next order when you sign up to receive the Ashley Furniture newsletter.
Furniture is pricey, so if you're planning a big revamp of your home or are moving into a new, unfurnished place, it's important to find all the best ways to save! Luckily, Ashley Furniture always has your back. With their great prices year round on all of your furniture needs, you'll surely find something you love at your desired price point. A pro-tip for bargain shoppers: sign up to receive the Ashley Furniture newsletter! Not only will you stay up to date on all the different sales events and deals, you'll even get 10% off just for signing up! An extra 10% can go a long way when you're buying furniture in bulk. You can use this deal to purchase a few functional pieces to spruce up your new home, like a desk, bar stools, or even some wall shelves. Don't miss out on this easy chance to save!
Score discounts on Ashley Furniture top picks
Get up to 60% off top pick items
As you know by now, Ashley Furniture carries perfect pieces to spruce up any home without breaking the bank. While not all of us are interior designers, with all of the great options, it can be challenging to choose the right pieces for your space. Whether you're looking for a new recliner, a bookcase, or a bedframe, Ashley Furniture makes your interior decorating process a little easier with their Top Picks. Top Picks are all rated four or five stars and are popular amongst Ashley Furniture customers. This simplifies the selection process as you shop through the website, during the Labor Day Preview sale, they are offering Top Pick products for up to 60% off! Shop the Top Picks now to get a great price on items like this Shawburn chest of drawers! Yet another great way to save on your new home furnishings!
Still hungry for more Ashley Furniture deals? Check out our coupons page for more Ashley Furniture coupons and promo codes!
This content was created by a Boston.com partner. The editorial department of Boston.com had no role in writing, production, or display. Boston.com may be compensated for publishing this content and/or receive a commission on purchases of products or services described within the post.