Analysis
The Revolution's start to the 2021 season has been everything 2020 was supposed to be
After an inconsistent regular season a year ago, 2021 has shown a glimpse at the team's potential.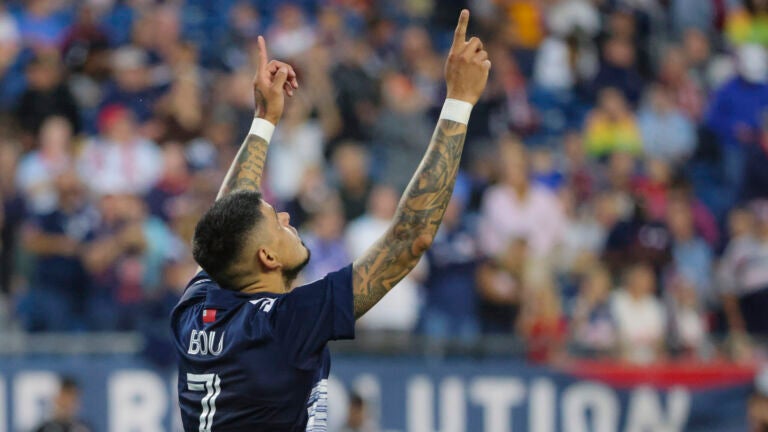 Though it's still early in the 2021 MLS season — with just 10 of the 34 games gone — the Revolution have been giving New England fans a glimpse at what many predicted would be the team's potential in 2020.
Perched atop the Eastern Conference, New England has sprinted to a 7-1-2 record that already includes a 250 percent increase in home wins compared with the entirety of last season.
Yet in the aftermath of a recent 3-2 win over the Red Bulls, there was an undeniable tone of self-criticism in assessing the team's performance.
Head coach Bruce Arena labeled the Revolution's play in the second half "a mess," acknowledging that "we made a few mistakes that got them back in the game."
New England captain Carles Gil, who assisted on all three of the team's goals, echoed his coach's sentiment, admitting that the team "sort of struggled a little bit there in the second half, we don't like that."
There was, to an extent, justification for such comments. After crafting three aesthetically pleasing goals to take a commanding second half lead, New England allowed New York back into the game, conceding twice (in the 53rd and 75th minutes) to create a few stressful moments before the final whistle.
But, as both Arena and Gil were quick to note following their more blunt choice of postgame words, the Revolution managed to walk away with yet another win.
"What's most important is that we got three points and we did that," Gil concluded.
While it's not unusual for a successful team to characterize winning performances in terms of what they could've still improved upon, it feels notable coming from the Revolution. After two straight seasons of barely finishing .500 and appearing as a lower playoff seed, it's clear that expectations have vaulted upward in 2021.
It's also clear that there's a sober self-awareness in the current Revolution team about the differences from a season ago and now. Probably the most honest example of this came from left back DeJuan Jones following Wednesday's win.
"I think in years' past, we tie this game or lose this game," Jones candidly admitted. "So, it's progress, but we still need to close out games better. Second half, after the third goal, I think we just took our foot off the gas and let them take the game to us. We're going to watch film tomorrow and get ready for Sunday. But when we have leads like this, we got to see the game out and try to our best to keep a clean sheet."
The recognition of the team's progression in 2021 only happens in the full context of how challenging much of 2020 was. Though it ended on an unexpectedly high note with an Eastern Conference Finals appearance, the regular season a year ago was punctuated by difficulties, including the months-long pause due to COVID-19.
Entering 2020 with high hopes and sporting a roster with three Designated Players for the first time in club history, New England failed to hit anything close to the team's full potential until the playoffs. Struggles at Gillette Stadium left the team with just two home wins, and — as Jones noted — an inability to close out late leads was also an issue.
And, of course, there was the absence of Gil. New England's playmaker missed all but six regular season games in 2020 with an Achilles injury. Bereft of their best passer, there was a hole in the midfield, and the Revolution struggled to create chances as a result.
But for all the ways in which nothing seemed to go according to plan in 2020, 2021 has so far held much closer to Arena's script. Central to that is the renewed presence of Gil, who has started all 10 games so far and has already notched 10 assists, more than double the tally of any other player in the league.
For his brilliant performance on Wednesday, Gil was voted MLS Player of the Week.
Following Matt Turner's dazzling display in Week 8, it's the second week in a row a New England player has won the distinction after not previously winning the award since 2017.
Beyond having their playmaker back in the lineup each game, the Revolution have shown signs of growth across the board from a season ago. Nine players have already gotten on the scoresheet, one more than was the case through all of 2020.
Added to that has been an increased capacity to see out close games. Of the team's seven wins in 2021, six have been by one-goal margins.
Few people have more experience in MLS than Arena, one of the original coaches from the league's founding in 1996. As a result, he's well aware of the pacing of a league season, and not getting carried away with a positive start.
But even Arena, amid continued reminders that he thinks the team can still improve greatly, ultimately knows things are on a better track than a year ago.
"We're 5-0 at home. I don't know if we could've come close to winning five games at home last year," Arena explained on Wednesday. "So, that's a real positive. There's no question about it. It's a real positive.
"We have one of the better records in the league over the first 10 games," he added. "We're doing fine. We're realistic in understanding that we're about 30 percent into the season. There's a lot of games ahead. We have to get better, but we're pleased with the progress we're making."
Newsletter Signup
Stay up to date on all the latest news from Boston.com