Analysis
League-leading Bruins face a 'reality check'
Boston has now lost three of its last four games.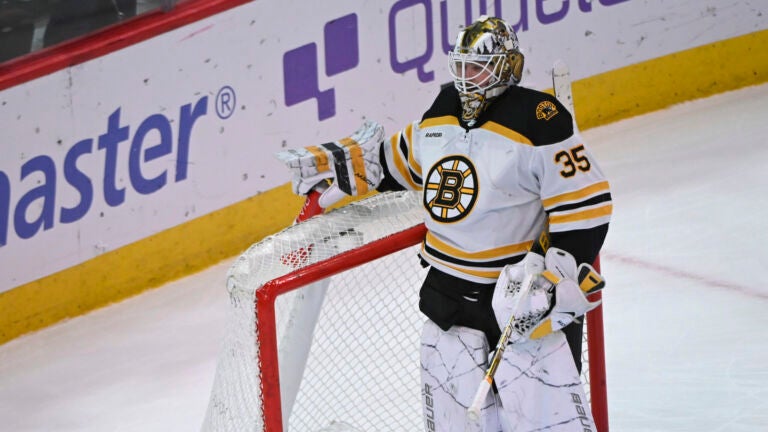 The league-leading Boston Bruins entered Tuesday with a chance to right the ship against one of the league's bottom-feeders in the Chicago Blackhawks.
Well, they exited United Center providing more questions than answers.
Some of the concerns from their shaky weekend against the Detroit Red Wings carried over into Tuesday's tilt in the Windy City.
Boston's power play, while looking a bit better in their puck movement and shot selection, continued to slump. At times, they also struggled to generate quality looks with their puck decisions at even strength.
Yet, the Bruins found themselves within reach after Pavel Zacha scored 3:02 into the third for a 3-2 advantage.
The Blackhawks delivered timely responses all night, including in the second when they reclaimed their one-goal lead just 1:34 after Hampus Lindholm's equalizer. And indeed, they had another answer following Zacha's 17th goal of the season.
Taylor Raddysh evened things up with his first of three tallies a mere 53 ticks later after burying a loose puck on a net-front scrum past Linus Ullmark.
The Bruins encountered significant defensive breakdowns against a Blackhawks squad fully embracing the tank wars for Conor Bedard. Their lowlight of the night came on Boris Katchouk's go-ahead marker with Derek Forbort overcommitting in the neutral zone, prompting an easy entry for the Chicago forward.
From a Connor Clifton gaffe on Mackenzie Etwistle's opening-period tally to a quick strike response by Joey Anderson in the second and a David Pastrnak whiff on a penalty shot in the closing moments, the Bruins hardly looked like a well-oiled squad against the rebuilding Blackhawks.
"We're not working as a team right now," head coach Jim Montgomery told NESN's Jack Edwards and Andy Brickley. "It's the first time all year where I can say that."
Here's what we learned from Boston's ugly 6-3 loss.
Bruins face a 'reality check.'
The Bruins' support system displayed itself throughout their torrid pace. But now, they've encountered cracks within their foundation.
The defensive layers in front of Ullmark and Jeremy Swayman that stymied opposing offenses have unraveled a bit. Boston's D became a little too aggressive in the attacking, leading to a handful of quality chances in transition down the other end of the ice.
Every Bruin, from a giveaway machine in Pastrnak to captain Patrice Bergeron, subjected themselves to turnovers both costly and harmless. Between that, ill-timed line changes, and a stagnant power play, the Bruins now find themselves in 'reality check' territory.
"We're making plays that puts all the guys in a bad position. We're cheating at times, we're turning pucks over at lines when guys need to change and they can't change if they're staying on the ice for a long period of time, the onus becomes on us individually to be accountable for your teammate. [These are] all things that you know and you're aware of," Bergeron told reporters.
"But sometimes you need a reality check, and I think that's what we're getting right now."
The troubling developments to start this road trip led to their first set of consecutive back-to-back regulation losses this season. Even the timely goals from these last two games, including Tuesday's tallies from Lindholm, Trent Frederic and Zacha, weren't enough to overcome deficits against a pair of non-playoff teams in the Red Wings and Blackhawks.
Some of the concerning trends aren't fixable overnight. But an improvement in one development may at least calm some of the recent nerves displayed by Boston's passionate fanbase.
The slow starts are snowballing.
Despite their early 2-0 lead against Connor McDavid and the Oilers, the Bruins weren't satisfied with their first-period performance a week ago Thursday.
Perhaps that was a bit of foreshadowing. Because over the past few games, the Bruins arrived late to work against their Original Six foes.
"Our starts are kind of killing us," forward Charlie Coyle said to the media.
Coyle helped the Bruins overcome Saturday's early deficit against Detroit with an important second-period tally. Instead of building off that come-from-behind win, the Bruins' struggles in the first stanza continued in Motown on Sunday.
The Bruins actually landed more shots on net past the midway point of the first during Tuesday's tilt. But Entwistle's third began a string of nine straight Chicago shots, thus continuing Boston's struggles in the opening 20 minutes.
"We got covered up that first Detroit game so we don't think about it much. And then the next game it's the same thing…bad start, and we're behind the 8-ball," Coyle added. "Today could've been a little better as well."
The Bruins showcased tremendous resiliency whenever they faced a deficit this season. But even with that blip against the Oilers, they're even more formidable whenever they notch that coveted first goal.
Boston nearly pulled off another comeback on Tuesday until they self-inflicted after Zacha's tally. But playing from behind, especially come playoff time, isn't a recipe for success.
"We pride ourselves on being a team that can come back. But we can't keep doing that every night and expect to be playing that way," Coyle added. "There's a lot of things we can look at right now, but our start is definitely one of them."
Boston hits an 'energy and emotion' shortage as grueling slate continues.
Boston's second slump of the season began during its busiest slate of the season.
The Bruins won't have much practice time to address their glaring deficiencies. They'll play the final 16 games over 28 days with only one multi-day layover between now and the regular season finale in Montreal on April 13.
With limited training sessions scheduled during the hectic final month, the battle-tested Bruins will need to dig deep.
"I think for us, like we've done all year, we have to look at ourselves in the mirror," Bergeron said. "We know it's not good enough, and we need to go back to what's successful to us and what's been good to us all year."
The concerns aren't alarming as the Bruins attempt to fine-tune their areas of need. Even then, entering the playoffs with a healthy roster remains their top priority.
Yet, a fatigued Bruins bunch will need to find a spark sooner rather than later.
"I just know the energy and the emotion of our team right now is at levels I haven't seen all year," Montgomery told NESN.
Sign up for Bruins updates🏒
Get breaking news and analysis delivered to your inbox during hockey season.