NFL
Antonio Brown turns himself in to police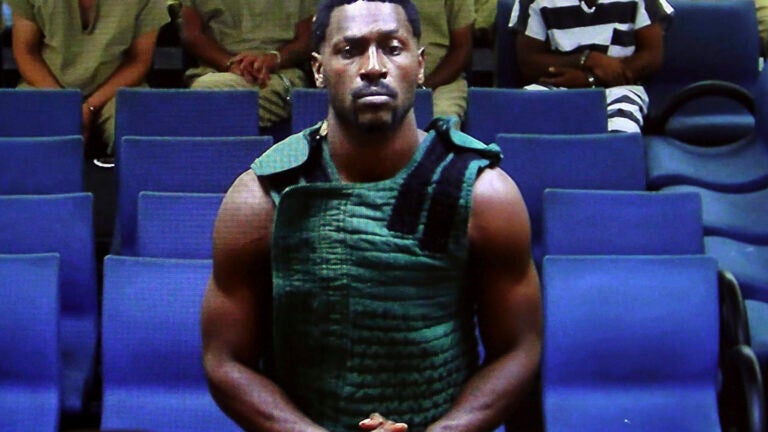 Antonio Brown was granted bail after turning himself into police in Florida on Thursday night.
A Broward County judge set the wide receiver's bond at $110,000 for three charges: felony burglary with battery, burglary of an unoccupied conveyance and criminal mischief, according to ESPN.
Brown will also be monitored by GPS, undergo drug and alcohol testing, get a mental health evaluation and give up his passport and guns as part of the bail agreement.
He is expected to be released Friday night or Saturday, according to ESPN.
Brown spent Thursday night at Broward County Jail after he turned himself into police after they issued an arrest warrant earlier this week.
ESPN reports that prosecutors argued Brown shouldn't receive bail, calling him a "flight risk" because of his status as a wealthy pro athlete. Brown's lawyer, Eric Schwartzreich, disagreed.
"He could have clearly left. He's not going to go anywhere," Schwartzreich said. "He wanted to turn himself in."
The charges stem from an incident in which Brown reportedly refused to pay the driver of a moving truck; Brown allegedly threw a rock at the driver and went into the vehicle and physically struck the driver before being restrained.
In a 911 call obtained Thursday by TMZ Sports, the driver said Brown initially refused to pay a $4,000 drop-off fee for a package (which he later paid). He also said Brown appeared intoxicated.
"The guy is high. He smoked, he threatened me," the man tells Broward County Police on the call. "He's trying to fight. He throws stones at my truck."
A seven-time Pro Bowl wide receiver with the Steelers, Brown was dealt to the Raiders last offseason. He was released at his own request. He had a brief stopover with the Patriots and played one game for them before New England released him in the wake of new allegations that included sexual assault.