Bill Belichick
Morning sports update: Tedy Bruschi praised Bill Belichick's statement declining Medal of Freedom offer
The former Patriots linebacker said he was "proud" of Belichick.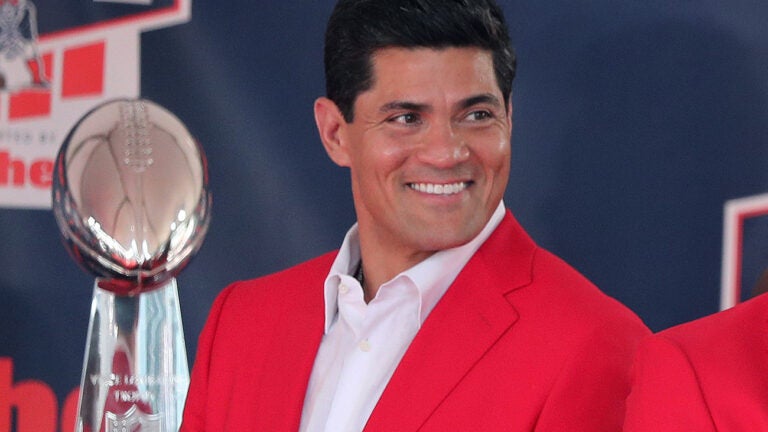 Today's Celtics-Bulls game has been postponed due to Boston being unable to field the required minimum number of players (eight) after multiple positive COVID-19 tests and contact tracing.
It's the second Celtics game to be postponed after Sunday's originally scheduled matchup with the Heat.
Elsewhere, Alabama won the college football national championship, defeating Ohio State 52-24. Heisman Trophy winner Devonta Smith had 12 catches for 215 yards and three touchdowns even though he missed almost all of the second half with a dislocated finger.
OH MY DEVONTA SMITH 🤯

That makes THREE TOUCHDOWNS for the Heisman winner 🔥 pic.twitter.com/u9qpKEKnTC

— ESPN (@espn) January 12, 2021
Also on Monday, Bill Belichick released a statement announcing that he would not accept the offer of the Presidential Medal of Freedom from outgoing President Donald Trump:
Patriots' HC Bill Belichick will not be traveling to Washington nor accepting the Presidential Medal of Freedom, he announced today. pic.twitter.com/uvLLigFlHU

— Adam Schefter (@AdamSchefter) January 12, 2021
Tedy Bruschi responds to Bill Belichick's statement: On Monday, as news filtered out that Belichick had been offered the Medal of Freedom by Trump, New England politicians publicly called for the Patriots' coach to decline, citing Trump's recent incitement of a violent mob storming the Capitol.
It wasn't until Monday evening that Belichick responded publicly. In a statement, Belichick — who visited Trump's White House with the Patriots after winning Super Bowl LI and wrote a letter in support of Trump prior to the 2016 election — declined the invitation.
"Subsequently, the tragic events of last week occurred and the decision has been made not to move forward with the award," said Belichick in the statement.
Following the announcement, Belichick was praised for his decision.
Among those to credit Belichick was one of his former players, Tedy Bruschi. Now an ESPN analyst, Bruschi tweeted support.
"Proud to have played for this man," wrote Bruschi.
Proud to have played for this man…

"Above all, I am an American citizen with great reverence for our nation's values, freedom and democracy." – Bill Belichick

— Tedy Bruschi (@TedyBruschi) January 12, 2021
Trivia: Who is the only Patriots first-round pick out of Alabama during the Bill Belichick era?
(Answer at the bottom).
Hint: The Patriots made two picks in the first round that year.
More from Boston.com:
Martellus Bennett reminded everyone of Super Bowl LI just because he wanted to:
I'm a Super Bowl Champion just in case some of yall forgot. It was that one that's considered the greatest comeback in the history of forever. Yea I was one of those dudes on that team. It was tite.

— Martellus Bennett (@MartysaurusRex) January 11, 2021
Tom Brady was mic'd up during the Buccaneers' playoff win against Washington:
On this day: In 1986, Raymond Berry's Patriots defeated Don Shula's Dolphins, sending New England to its first Super Bowl.
Unfortunately for Berry and his team, it meant the Patriots drew a matchup against the 1985 Chicago Bears, widely regarded as one of the greatest teams of all-time. Chicago destroyed New England in a lopsided Super Bowl XX, 46-10.
Still, the victory over the vaunted Dan Marino — whose Dolphins were the only team to defeat the Bears in the regular season — was an inspirational moment in New England franchise history.
Daily highlight: Feron Hunt of SMU threw down a reverse alley-oop during SMU's 79-68 win over Temple.
Another 👀 @feronhunt11 #SCTop10 worthy dunk ‼️ pic.twitter.com/Qu6C7GwhrW

— SMU Basketball (@SMUBasketball) January 11, 2021
Here's another angle:
👀 ▶️ @150__KD ↗️ @feronhunt11 for the reverse alley-oop in the win vs Temple #SCtop10 #PonyUp pic.twitter.com/lMevfuLFYI

— SMU Basketball (@SMUBasketball) January 12, 2021
Trivia answer: Dont'a Hightower
Get Boston.com's browser alerts:
Enable breaking news notifications straight to your internet browser.