Bruins
Bruins fall to Blackhawks in Game 5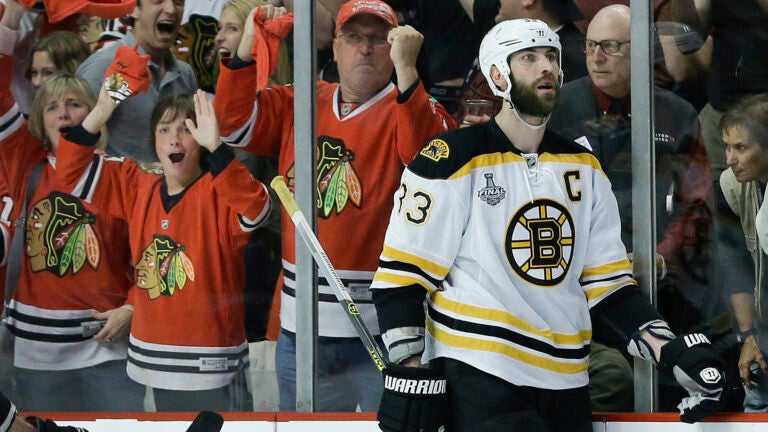 CHICAGO — The Bruins must now win two straight games to claim the Stanley Cup.
The Bruins dropped Game 5 at the United Center on Saturday night, 3-1. The Blackhawks, up 3-2 in the series, will play for the Cup in Game 6 at TD Garden on Monday night.
The Bruins lost Patrice Bergeron to an undisclosed injury. After the second period, Bergeron was transported via ambulance to a local hospital for observation, according to the Bruins. The team did not specify the nature of Bergeron's condition.
Bergeron was hurt early in the second period. He skated only two shifts in the second and did not leave the bench.
The Bruins, down 2-0 after two periods, scored at 3:40 of the third. David Krejci, stickhandling behind the Chicago net, spotted Zdeno Chara at the left circle, who rapped a slap shot over Corey Crawford's glove to make it a 2-1 game. Dave Bolland scored an empty-net goal with 13.6 seconds remaining in regulation.
Chicago, up 1-0 after 20 minutes, doubled its lead at 5:13 of the second period. Johnny Oduya started the play in the defensive zone. An instant before Milan Lucic stapled him to the end boards, Oduya chipped the puck off the wall to Bryan Bickell. The Bruins, slack in the neutral zone, gave up a three-on-two rush.
Tuukka Rask stopped Bickell's first shot. But Bickell wheeled around the net and found Patrick Kane in front. Kane scored a backhander for his second of the night to give the Blackhawks a 2-0 lead.
The Blackhawks grabbed a 1-0 lead in the first period.
Crawford sticked aside a Chara one-timer. Moments later, after Jonathan Toews fought off a Lucic backcheck, the captain got the puck to Oduya at the point. Toews then went straight for the net.
Oduya's slap shot shattered Dennis Seidenberg's stick, then hopped off Toews's blade. Rask, who had gone down to stop Oduya's shot, couldn't readjust after the caroms. Kane found the loose puck and jammed it in at 17:27.