Bruins
Tyler Seguin traded from Boston Bruins to Dallas Stars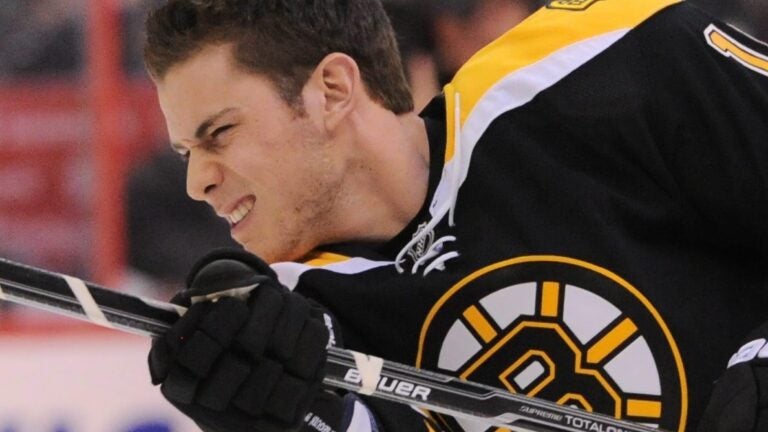 Tyler Seguin is an ex-Bruin. The No. 2 pick of the 2010 draft is going to Dallas in a blockbuster trade, a team source confirmed Thursday.
Also headed to Dallas are Rich Peverley and defensive prospect Ryan Button. The Bruins receive left wing Loui Eriksson, young NHL forwards Reilly Smith and Matt Fraser, and defense prospect Joe Morrow.
The trade rivals the deal that eventually brought Seguin to Boston. On Sept. 18, 2009, the Bruins flipped Phil Kessel to Toronto for a 2010 first-round pick, a 2011 first-round pick, and a 2010 second-rounder. The Bruins used those picks to draft Seguin, Dougie Hamilton, and Jared Knight.
"He came here with much pomp and circumstance,'' Bruins general manager Peter Chiarelli said during a conference call. "He played very well for a young player. This year wasn't his best year. It was a trying year, a weird year to assess players. Tyler's a real good kid. I see in the Twitterverse a lot of reports about extracurricular stuff. I made comments as to his professionalism and acting more like a professional. You have to remember he's 21 years old. He's a good kid. He's a terrific player. He's probably better suited for center. He was very good for us as a winger.''
This season, Seguin had 16 goals and 16 assists in 48 regular-season games. Seguin had one goal and seven assists in 22 playoff games. He concludes his Boston career with 56 goals and 65 assists in 203 regular-season games.
Seguin is coming off his entry-level contract, and will earn $34.5 million over the next six seasons. Seguin's $5.75 million annual cap hit would have been second among team forwards after Milan Lucic ($6 million). The gap between Seguin's pay and projected performance made the right wing expendable. The Bruins must commit big bucks to goalie Tuukka Rask (restricted) and center Patrice Bergeron (unrestricted after 2013-14).
"Signing someone to a big deal and trading him doesn't mean you don't like the player or he's not an important part of the team,'' Chiarelli said. "What you have to understand in this environment right now is the cap goes down $7 million. You have to make some hard choices and hard decisions. The fact that we signed Tyler had nothing to do with us trading him. It was an opportunity to get a very good player – a natural winger – to get some good prospects, and lower your cap.''
The Bruins once projected Seguin to be a Steven Stamkos-like offensive threat. But Seguin's hockey sense and battle level didn't develop to match his speed and shot. Seguin played most of the postseason on the third line.
Seguin played center in junior hockey. But Seguin was not going to displace David Krejci or Patrice Bergeron in the middle. The Bruins tried to play Seguin in the middle this season when Bergeron was unavailable because of a concussion, but he did not fare well at center, displaying neither the smarts nor courage required of the position.
"Tyler is a dynamic player that will be a part of our core group for a long time to come,'' Stars general manager Jim Nill told NHL.com. "A player at his age, position and talent level are extremely difficult to acquire and we're thrilled to bring him into our organization.''
The Bruins are now down four right wings from their playoff roster: Seguin, Peverley, Nathan Horton, and Jaromir Jagr. The Bruins continue to pursue Daniel Alfredsson. The Ottawa captain is free to sign a deal tomorrow.
The 27-year-old Eriksson carries a $4.25 million annual hit through 2015-16, according to www.capgeek.com. The left-shot Eriksson most recently played on Dallas's first line alongside Ray Whitney and Jamie Benn, the position held by Jaromir Jagr prior to his trade to Boston.
Eriksson is a smart, responsible, two-way player who had 12 goals and 17 assists this past season. Eriksson is an ideal fit for Claude Julien's defense-first system.
Morrow is the top prospect in the deal. Morrow, formerly Pittsburgh's first-round pick in 2011, was traded to Dallas for Brenden Morrow.
Peverley will carry a $3.25 million cap hit next season. The Bruins needed to clear Peverley's salary for other moves.
Button was a marginal blue-line prospect.