Bruins
Welcome Back, Shawn: Thornton's Greatest Hits With the Bruins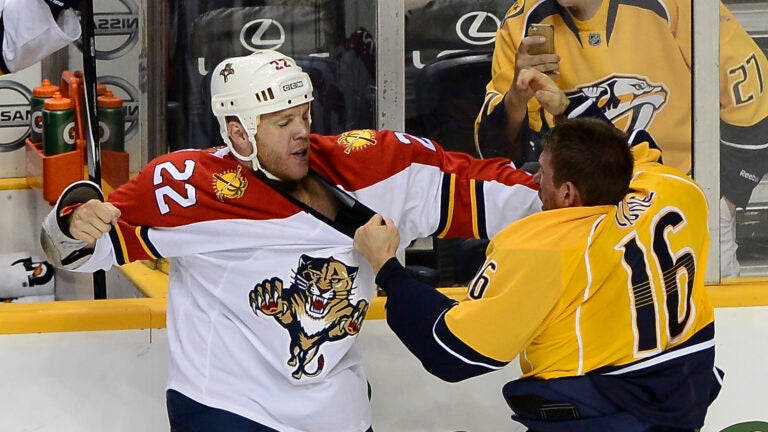 Tonight, the Florida Panthers come to TD Garden to take on the Bruins in a game many might consider a write-off.
But this game means much more to a Florida forward who used to call Boston home. Shawn Thornton makes his return to the city after signing a two-year, $2.4 million contract with the Panthes during the offseason. He was a fan favorite during his seven seasons in Boston, resurrecting the "Big Bad Bruins'' image that helped capture a Stanley Cup championship in 2011. Here are some of his best fights during his time as a Boston Bruin.
[fragment number=0]
March 18, 2010: After Matt Cooke delivered a career-ending hit on Marc Savard, Bruins fans were hoping to ge some revenge against him and the Pittsburgh Penguins. Thornton got his fair share of punches in.
[fragment number=1]
Dec. 23, 2010: Thornton impressed not only in a big fight against Eric Boulton, but by scoring two goals against the Atlanta Thrashers. His parents were in the audience to see it all.
[fragment number=2]
March 9, 2013: This is a perfect example of how an enforcer works in hockey. In a game against the Flyers on March 9th, 2013, Zac Rinaldo delivers a hit on Johnny Boychuk that sends him flying, Thornon steps in to protect his teammate.
[fragment number=3]
May 25, 2013: This was a fight many fans were waiting for between Thornton and touted heavyweight Derek Dorsett in a playoff game against the New York Rangers.
[fragment number=4]
March 15, 2008: Arguably the best fight of Thornton's career came early in his tenure in Boston, where he squared off with Riley Cote in a game against the Philadelphia Flyers .