Bruins
Watch: Bruins' Loui Eriksson denied on OT breakaway by Senators' Craig Anderson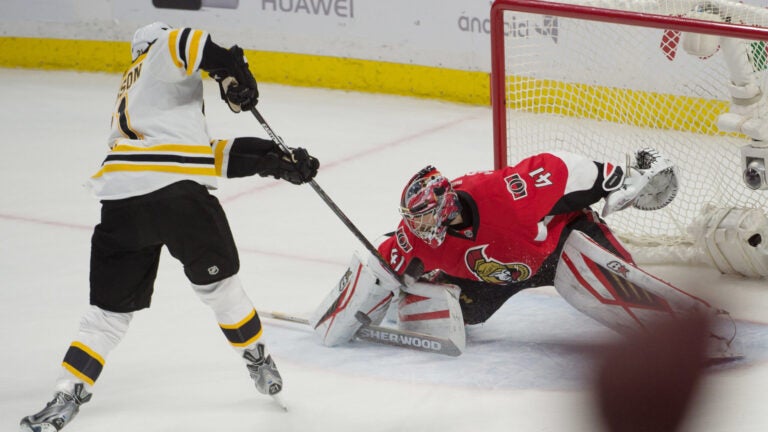 In Claude Julien's 900th NHL game as a head coach, there were no major fireworks in Saturday night's rematch between Boston and Ottawa. Just a playoff-type game not decided until overtime when Senators winger Mark Stone beat Bruins goaltender Tuukka Rask with 37 seconds left.
The Bruins had numerous opportunities to steal the second point in the frenzied five minutes of 3-on-3 hockey. No Bruins' chance was more promising than Loui Eriksson's clean break-in on Senators goaltender Craig Anderson.
[fragment number=0][fragment number=1]
Ottawa struck first, however, 13:28 into the game in a clinic-like 2-on-1 break. Mika Zibanejad put a backhand past Rask after an Erik Karlsson pass. That point gave Karlsson 44, best in the NHL for a defenseman. Forty-one ticks into the second period, David Pastrnak tipped a Zdeno Chara shot past Craig Anderson to even the game at 1-1, with Patrice Bergeron also assisting. That would be it until the dynamic overtime where each team put on an offensive show There were only 10 total penalty minutes in the playoff-type affair, quite the opposite from the two teams' Dec. 29 meeting. Boston won, 7-3, in the 110 penalty-minute clash. Boston retains a one-point lead over Ottawa in the division.
The Bruins' five-game road trip continues Monday against the Rangers.