Bruins
105 former NHL players are plaintiffs in class-action concussion lawsuit against league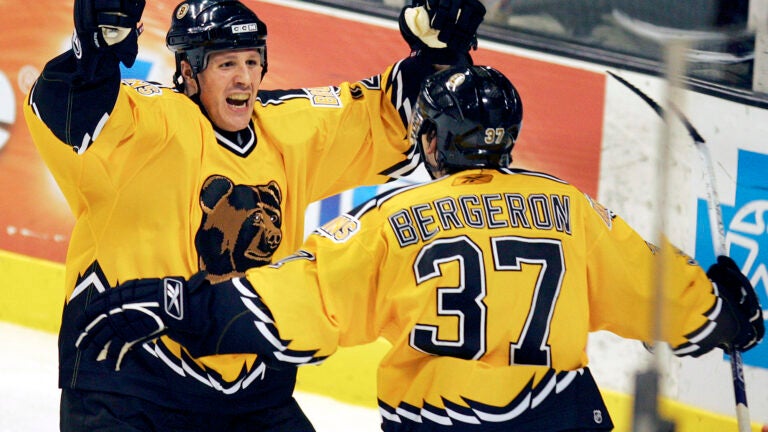 ST. PAUL, Minn. (AP) — Long after the end of his NHL career, Steve Payne is living an empty-nest life with his wife and three dogs in western Wisconsin.
There is one problem: His brain has aged about a decade ahead of his body.
''I've been examined by several experts, and they've come to the same conclusion — that I am starting to show the signs and the symptoms of multiple concussions,'' said Payne, who played for the Minnesota North Stars from 1978-88. ''So it has started to cause some dysfunction for me. I'm 57 years old, and I'm at a level of someone in his late 60s.''
Payne is one of 105 former NHL players who have joined the class-action lawsuit against the league, alleging it had the resources to better prevent head trauma, failed to properly warn players of such risks and promoted violent play that led to their injuries.
The case, which was consolidated from several similar complaints in August 2014, has inched through the federal court system in Minnesota since then with no resolution expected soon. The timeline for arguments on class certification is spelled out through May 19, 2017.
The plaintiffs' primary request is medical monitoring for the roughly 4,800 living former players, plus additional unspecified relief. There is no dollar figure on the lawsuit, but the NFL's pending $1 billion concussion settlement with retired players could provide a benchmark.
Payne and his fellow plaintiffs have heard the assumptions, naturally, that the case is a cash grab to compensate for the lesser salaries they earned during their playing days.
''I personally hope the NHL doesn't have to spend a dime on me,'' Payne told The Associated Press. ''That means that I haven't suffered like a lot of the other guys have and are going to.''
The 133-page complaint is packed with anecdotes of former players suffering from a variety of neurodegenerative conditions. Their attorneys contend the problems can be tied to hits to the head they experienced on the ice. Dan LaCouture, one of seven proposed class representatives, is described as having had close to 20 concussions over 11 years in the NHL plus numerous ''subconcussive'' injuries to the head.
''Mr. LaCouture currently suffers on a daily basis from headaches, irritability, sensitivity to light, change of personality, sleeping problems, and severe depression,'' the complaint reads.
NHL Commissioner Gary Bettman, who was deposed for testimony last July, has said the lawsuit is ''without merit.'' The league's first attempt to dismiss the claims was denied last year by U.S. District Judge Susan Richard Nelson. There is another pending motion for dismissal, based on an argument that the issues should be addressed through collectively bargained arbitration instead of court.
The players seem to have plenty of chilling arguments on their side. The NHL has its share of legal defenses, too. For one, correlating current cognitive problems to specific NHL collisions could be difficult for players who have played hockey their whole lives.
''Both sides clearly want to make the game safer and they'll work toward policies that accomplish that, but assigning liabilities for prior injuries is a much harder call,'' said Michael McCann, a sports law professor at the University of New Hampshire.
Bettman angered many former players last May with comments following the death of former NHL defenseman Steve Montador at age 35. Montador suffered from a degenerative brain disease, chronic traumatic encephelopathy (CTE). His family filed a lawsuit against the league that was recently consolidated with this case.
''From a medical and scientific standpoint,'' Bettman said of the purported link between concussions and CTE, ''there is no evidence yet that one leads to the other.''
Further details in the legal fight could become public soon. The players have complained that more than 300,000 documents and 2.5 million pages were marked protected by the league, and U.S. Magistrate Judge Janie Mayeron agreed that some should be public. NHL senior vice president Colin Campbell argued his ''colorful, crusty and sometimes crude'' language would only be appreciated by ''hockey people'' and embarrass the league if revealed.
''The selective released leaking of documents out of context may cause some people to scratch their heads, a couple of other people maybe to for a brief moment be a little embarrassed about salty language or the like. But I'm very comfortable with our record,'' Bettman said last week at the NHL All-Star game. ''I think in terms of us doing our business on an ongoing basis and the fact that we have the league to run, I'd prefer these things not be public. They'll be a distraction at best, but I don't think they impact the rest of the case.''
There's a lot left for the court to sort out. In the meantime, the former players are taking their post-NHL days one at a time.
''My doctor can pretty much predict how much my knee's going to deteriorate, and I can prep for it. It's not going to be as debilitating as if I get early dementia,'' Payne said. ''That's something you can't really rebound from.''