Bruins
It's time for the Bruins to prove they're a viable playoff threat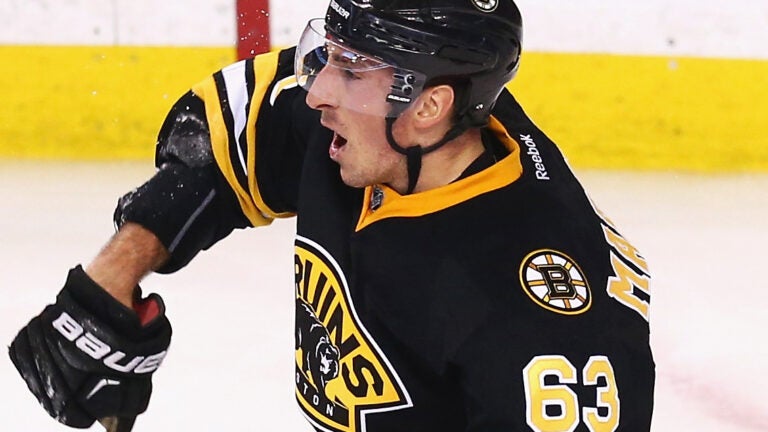 COMMENTARY
Whatever you might think of Don Sweeney's altogether banal approach to the NHL's trading deadline earlier this week — it being the result of a total lack of direction in the front office or, hey, look, playoff tickets! — the long-term vitality of the Boston Bruins is still going to take some time to sort out. They're not winning the Stanley Cup in 2016, and you have to wonder if that's a fool's errand next season as well, with too much youth to groom alongside the core of dependable veteran players.
But whatever, right? Now that Lee Stempniak is in town, Frank Vatrano (nine goals and five assists last month for the Providence Bruins) can keep on doing what he does in Rhode Island, unless he can handle the blue line. Free-agent-to-be Loui Eriksson should walk come July 1, leaving the Bruins with nothing in return for his services. But to some, that's a conclusion that shouldn't be foregone. Because, you know, playoffs.
Whether you believe this is the situation because the owner of the franchise really wants a couple playoff ticket returns, or that the front office believes this team really has a shot at a deep run, well, that's up to the individual.
Well…hang on there.
Oh, for sure, these defensive-liable Bruins still have an inside line to the postseason carved out for them with 18 regular-season games remaining, even in the wake of Sunday's ugly loss to the Tampa Bay Lightning. At 35-23-6 after their 2-1 win over the Calgary Flames on Tuesday night at TD Garden, the Bruins' 76 points are good enough for the third spot in the division. They are only four behind the Florida Panthers for the Atlantic lead.
If they're in a similar position after the next week though, then maybe it's finally, mercifully, time to look at this inconsistent team with a different lens.
Following Tuesday night's bout against the Flames, things start to get a little interesting for the Bruins. The Chicago Blackhawks, No. 1 in the Western Conference with 83 points come to the Garden on Thursday, followed by a Saturday date against the Eastern Conference's top team, the Washington Capitals, with 94 points, then away games at the Panthers (Monday) and Lightning (Tuesday).
Neat.
You've probably noticed, but the Bruins haven't done so well against playoff-worthy squads this season. Before their rousing, 7-3 win over the Dallas Stars on Feb. 20, Claude Julien's team hadn't beaten a team in line for the postseason since before Christmas, the Pittsburgh Penguins, whom they beat again in the days following the win over Dallas.
The Bruins are 3-2 since their generally praised 4-2 road trip finished against the Stars, perhaps inviting a segment of hockey fans to hop on the bandwagon. But Boston's inadequacies are so obvious in a game like against Tampa Bay, the complete inability to hang with a team slotted at a superior level, that it makes a stretch like the one coming up almost seem as if it were a hopeless quest with only a dash of "hey, what the hell…maybe'' optimism.
"I'm incredibly encouraged,'' Bruins general manager Sweeney said about the current state of his team after Monday's deadline deals. "You look at the Dallas game — I think it's a great indication of what we're capable of doing. I do believe we need to tighten up. We've made some mistakes, whether it was earlier in the season and even last night, that we're going to have to limit those going forward. At times, we've been comfortable playing close games, but at other times, especially at home, I think we've struggled to maintain.
"I think that we've got every bit as good a chance as everybody else to get into the playoffs and see where it falls. Clearly, there's probably one team that separated themselves in the East, but the rest of us are sort of in a pretty good hunt, and there are teams behind us that are probably thinking they can reel us in.''
Unfortunately for Boston, this upcoming stretch is exactly where teams like the Ottawa Senators, New Jersey Devils, and Philadelphia Flyers — each within six points of the wild card slots — see a prime opportunity to make up some ground on a team that could be wounded within only a few days.
Yes, in the Eastern Conference, you could probably say the same about each team in the playoff picture outside of Washington, we'll grant you that. But until the Bruins display any sort of consistency — be it against the Blackhawks and Capitals, or even against the Columbus Blue Jackets — they are probably the hunted among those who are currently playoff-deficient.
If the Bruins once again prove they can't beat this level of competition, then what's really the point of making the playoffs anyway? Get to April and hold your breath for a miracle?
"It's really exciting,'' Stempniak said about the news that the Devils had traded him to Boston on Monday. "With New Jersey, we were sort of right in the wild card spot, in and out all year, and the last couple games, we fell out, so you're getting that feel of sort of being in the playoffs with must-win games, which is what you always want as a player, and to be joining the Bruins, it's really exciting.
"It's a team that's positioned itself well through the first 60 games and now it's the final push for the playoffs and hopefully a long playoff run.''
We'll see about that.
Talk to us again in a week. Then we'll see how this same team does in a stretch against the Islanders, Sharks, Ducks, Kings, and Rangers.
Nope, it's not an easy month. Then again, if a last-minute playoff push is needed again this season, the Bruins ends their schedule with a trio of games in Boston where they are only 13-16-3 this season. But we'll just let that whole concern linger until we get closer, no?
Like you need something else to fret about with this team.
Contact Eric Wilbur at: [email protected]. Follow him on Twitter: @GlobeEricWilbur and Facebook www.facebook.com/GlobeEricWilbur
Red Sox players on the 40-man roster
[bdc-gallery id="538824″]