Bruins
Bruins cancel season ticket accounts for high-volume resellers
The team will instead offer the newly opened accounts to fans on the season ticket waiting list.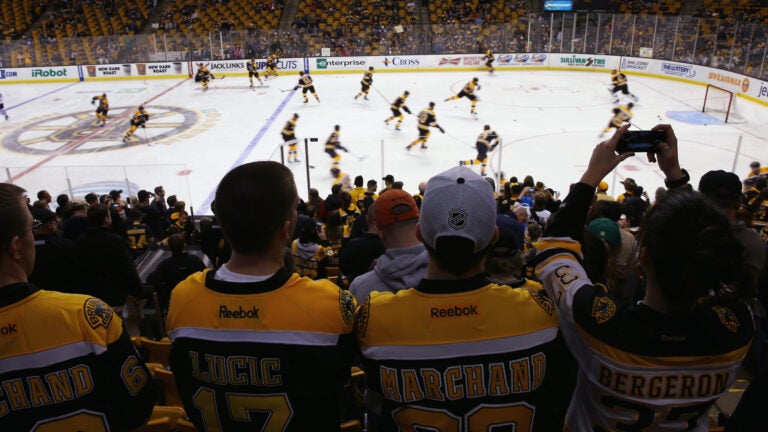 In announcing 2016-17 season ticket renewal information Monday, the Boston Bruins also announced it was canceling the accounts of companies that buy season ticket packages to resell them for profit.
After a "thorough data analysis,'' the team identified and cancelled the accounts of high-quantity season ticket resellers outside of New England and New York state. According to the Bruins, those tickets will become available to the 10,000-plus fans currently on the team's season ticket waiting list.
The number of accounts canceled totals nearly 200, reportedThe Boston Globe.
While high-volume resellers based within New England will be able to keep their accounts, they will have to pay more. According to the Globe, depending on the location of the seats within the TD Garden, the price will be at least 9 percent of the season ticket rate.
Regular season ticket holders will not see an increase in their prices for the 2016-17 season, said Glen Thornborough, senior vice president of sales and marketing for the Bruins and TD Garden, in a statement.
"Through this renewal process we hope to offer many loyal fans from our waiting list the opportunity to become Season Ticket Holders,'' he said.
The team said the strategy was developed to reward the Bruins' "most committed fan base'' with rates 49 percent below single-game box office pricing. For the 2016-17 season, per-game season ticket prices will range from $90 to $155 for loge seats and $48 to $107 for balcony seats.
Thornborough told the Globe in an interview that the team found a higher than projected amount of high-volume reseller accounts and wanted to encourage the number of fans that went to games at the discounted season ticket rate.
However he acknowledged it's possible agencies would try to find a work-around, such as using accounts under different names or hiring local proxy buyers.
"They're a sophisticated group, but we're getting more sophisticated every year,'' he said, referring to the Bruins' data analytics team.
The head of one New England-based reseller, TicketNetwork, defended his company to the Globe and said the new policy will hurt fans.
"TicketNetwork believes that a fair and open marketplace is best for consumers,'' Don Vaccaro, TicketNetwork's chief executive, said. "Any limitation on the distribution of tickets at a lower price to consumers who have the financial means to purchase full season tickets versus those who only have the means to purchase single tickets to a few games will gentrify the loyal blue collar fan base.''