Bruins
Boston Pride dedicates NWHL Championship to teammate Denna Laing: 'All for you Denna'
Laing suffered a spinal chord injury during the Women's Winter Classic.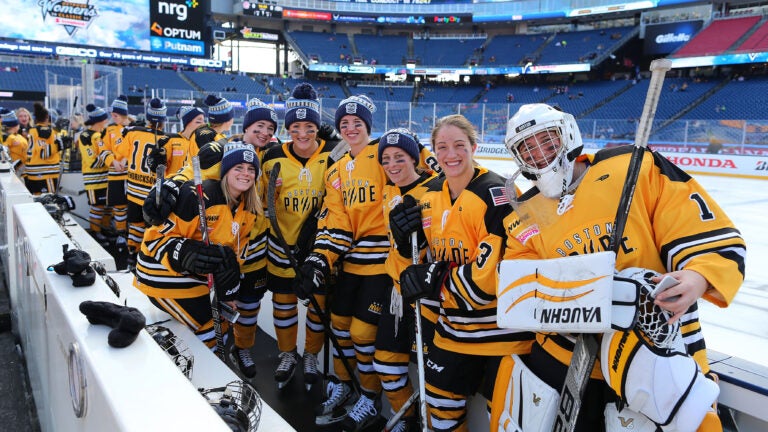 They did it for Denna Laing.
The Boston Pride won the first ever National Women's Hockey League championship, the Isobel Cup, on Saturday, and the team dedicated the win to teammate Denna Laing, who suffered a spinal injury during the Women's Winter Classic on December 31, 2015.
The Pride defeated the Buffalo Beauts, 3-1, to earn a two-game sweep. Boston's Brianna Decker scored two goals in the Game 2 victory, and was named the Isobel Cup MVP. In the Pride's 4-3 win in Game 1 on Friday, Pride forward Hilary Knight scored the game-winning goal on an overtime penalty shot. When the Pride was awarded the trophy, Pride players draped a Denna Laing hat on top of it.
Laing has begun her recovery at Spaulding Rehabilitation Hospital, and is making progress speaking and strengthening her upper body. The Marblehead-native tweeted her congratulations to the Pride for their win.
"Wishing I could be in NJ tonight,'' she said Saturday in her tweet. "Couldn't be more proud of #ThePack. Congrats on the #IsobelCup! Love you guys #TitleTown''
[fragment number=0]
[fragment number=1]
After the final whistle in Game 2, defender Marissa Gedman and Pride general manager Hayley Moore called Laing on FaceTime, so she could join the on-ice celebration.
"We definitely thought about including Denna in our post-game celebrations ahead of time,'' Moore said by email on Sunday. "Knowing that she wouldn't be present this weekend, we brought a shirt with her name and number on it to include in our team photo, and of course FaceTiming with her so she could be a part of it all.
"We told her we love her, that was for her, and we'd be bringing the cup straight to her! Seeing her happiness was an absolute priceless moment I will never forget.''
[fragment number=2]
[fragment number=3]
The Pride finished the year on an 11-game win streak in the NWHL's innagural season.
"I could not be more proud of this team,'' Moore said. "They have shown so much resiliency over the course of our season. Every player, coach, staff member, and volunteer poured their hearts into this season. To capture the first ever championship yesterday was a dream come true for us, and for women's hockey.''
[fragment number=4]