Bruins
This is what happens when you shove Zdeno Chara
Chara slugged the Islanders' Travis Hamonic in the face.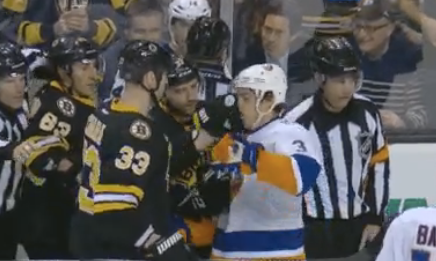 Travis Hamonic should have known better.
The Islanders defenseman shoved the Bruins' Zdeno Chara during the third period of Boston's 3-1 win over New York on Sunday.
Chara responded with a face-flatenning punch.
[fragment number=0]
Following the scrum, Chara was penalized for roughing, and served two minutes. He finished the game with one hit and two blocks in 22 minutes of ice time.
36 images that will remind you how tough the 'Big Bad Bruins' were
[bdc-gallery id="538076″]