Bruins
Bruins' dismal showing in California shouldn't be a surprise…or a concern
West toast.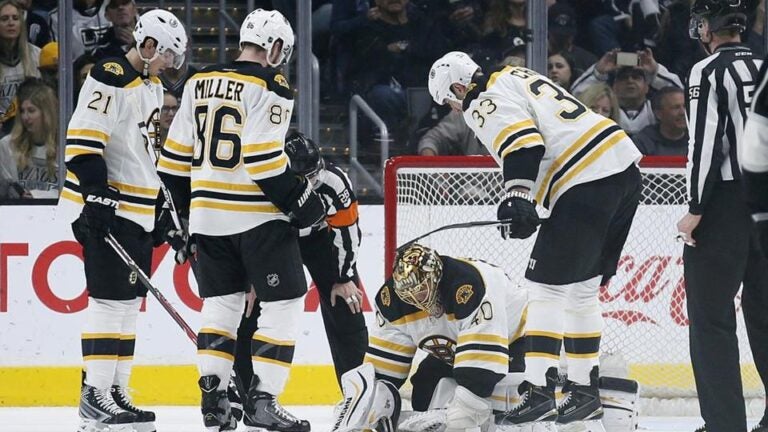 COMMENTARY
Amid all the judgments of the Boston Bruins' dismal trip to the West Coast, perhaps my five-year-old son had the most tempered assessment while reflecting on Saturday night's 2-1 loss to the Kings in Los Angeles, the third-straight loss on the California swing.
"Well, it's better than nine, right?"
If a month of progress speaks for anything, then, yes, Saturday's 2-1 loss to Milan Lucic's Kings speaks far better for the Bruins than the lopsided, 9-2 defeat suffered at TD Garden in February. Those Bruins of a month ago, as much as we care to remember, were a mess. At the time, they seemed destined to unload free-agent-to-be Loui Eriksson and begin the perceived much-needed rebuilding process immediately.
Instead, it's been something entirely different since a trading deadline that was, originally, vociferously mocked as the same old Bruins doing the same old things.
Maybe it was. Maybe it is. And just maybe these Bruins are still a one-and-done playoff team.
But this recent trip shouldn't be the judge of that.
"At the end of the day, we're going home empty-handed," Bruins coach Claude Julien said after his team lost three straight to the San Jose Sharks, Anaheim Ducks, and Kings. "That's not what we came here for. Maybe it was good that we showed we were capable of playing with these guys when we put our minds to it. Hopefully that's a positive thing as far as growing with the team. But at the end of the day, we've got to be ready at the drop of the puck here."
In any conceivable way, attempting to determine just what the Bruins fate could possibly be is a useless proposition. After watching the Pittsburgh Penguins dismantle the Eastern Conference-leading Washington Capitals, 6-2, Sunday afternoon in a game in which Bruins-killer goalie Braden Holtby got the yank, there might be that slight piece of a Bruins fan that says…maybe…
But the reality will ultimately set in. The Bruins are who they are. They can be fun with stalwarts like Patrice Bergeron and Brad Marchand. They can be promising with youngsters like David Pastrnak emerging. Tuukka Rask can be a soothing presence, even in the wake of bubbling criticism. Julien may very well win the Jack Adams Award as NHL coach of the year.
But they're not good enough. This should come as no surprise.
It shouldn't have taken an 0-fer road trip to solidify this thought among Bruins fans and observers anyway, right?
These Bruins can win a playoff round. Maybe two. Maybe.
But does anyone expect this jangled group to put enough together in order to sustain a lengthy playoff drive? Please.
The Bruins showed a strong effort over the weekend against the Kings. It was admirable. Much like the bulk of this season, during which the team wasn't supposed to really compete for a divisional playoff spot.
Yet, here we are, with the Bruins still clinging on to third place in the Atlantic Division, only three points in back of the Florida Panthers. Keep that in mind when we mention the names of the Florida entry as well as the New York Rangers (this week's next opponent), the New York Islanders, Penguins, and, heck after the last classic showdown, the Tampa Bay Lightning. Who scares you beyond the Caps in the East?
With the inconsistent nature the Bruins have displayed this year, they all should. Then, you remember the Capitals game from just a little over two weeks ago. They should have won that one too if not for the NHL's sudden, ridiculous offsides obsession.
So…maybe?
Well, OK. Maybe there's one more week to get your juices flowing about…(can we at least limit things to early May for right now?)
"We have to realize how big our next few games are," Marchand said of a back-to-back set against the Rangers (Wednesday) and Panthers (Thursday). "Losing three games on this road trip is tough, especially when you look at how tight the standings are. We have to go home and make sure we have a big week."
The Bruins are going to the playoffs to be a disappointment. Either that or they're going to disappoint at the finish line much the same way they did last season without a postseason berth.
Expecting much more than that is probably fooling ourselves.
But hell, for whatever reason, it's still better than it was a month ago, right?
Contact Eric Wilbur at: [email protected] Follow him on Twitter: @GlobeEricWilbur and Facebook www.facebook.com/GlobeEricWilbur.