Bruins
It's time for the Bruins to unleash Frank Vatrano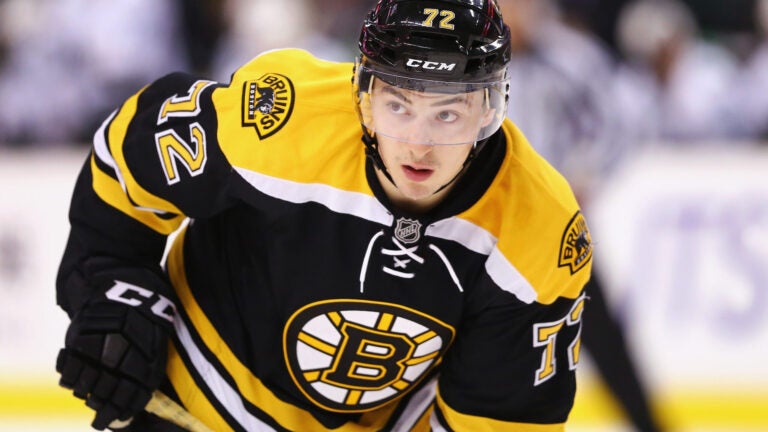 COMMENTARY
Following a hot start in Providence in the first month of the 2015-16 season, Frank Vatrano earned his first professional call up in Boston. His first 30 games in a Boston Bruins uniform were anything but a cup of coffee as he tallied six goals in that span while also helping stabilize a forward core that was hit by injuries to David Krejci, David Pastrnak and Chris Kelly (still on season-ending IR) in that span.
Once Krejci and Pastrnak returned, GM Don Sweeney assigned Vatrano back to Providence so he could continue his development and play on a nightly basis. What that led to was the former UMass-Amherst product continuing his tear in the American Hockey League.
Sustaining a goal per game pace in Providence with 33 goals in 33 games with the Baby B's, Vatrano was recalled by the big club Tuesday in the middle of Boston's final push in hopes of securing a return trip to the Stanley Cup Playoffs. The East Longmeadow born forward joined the B's at Tuesday's practice in Wilmington where he skated alongside Noel Acciari and Landon Ferraro on the fourth line.
With nine games left in 2015-16, the Bruins are hoping for contributions from the third and fourth lines to complement the top two forward trios who have carried the team since the trade deadline. As players like Jimmy Hayes, who has been held without a point for a season-long 11 straight games, and the inconsistent Brett Connolly continue to struggle, head coach Claude Julien hopes that Vatrano can fill a gap with a little over three weeks left in the regular season.
"We know he's scored a lot of goals [in Providence], and he has six here. Our goal is to hopefully get him [to score] like that here," Julien told reporters after Tuesday's practice.
"Our top two lines have been producing on a regular basis, but we need secondary scoring."
After losing three straight in California, the Bruins head to New York for their final meeting of the regular season against the Rangers on Wednesday night. Vatrano was a healthy scratch in the last contest between the two teams — a 2-1 loss back on January 11th at Madison Square Garden. He skated in the next four games where he was held without a single point before making the trip back down I-95 to Providence.
While working on his kinks to his defensive game, Vatrano found his scoring touch again and helped the P-Bruins to a 16-4-4 mark in 24 games upon returning.
"[I have to] just do the things I do good up there [in Boston] down here [in Providence] and not change my game," Vatrano told Bruins Daily's Jake Kerin during his return to Providence. "I have to play my game, put the puck in the net when I can and also be a good teammate, play well defensively."
Certainly, Vatrano has done all he can up in Providence to put the Baby B's within striking distance of another playoff berth. The Bruins are hoping that he can bring the same kind of magic during his second stint in Boston.
The All-Time Greatest Bruins
[bdc-gallery id="317728″]