Bruins
Schedule favors Bruins, but situation still screams desperation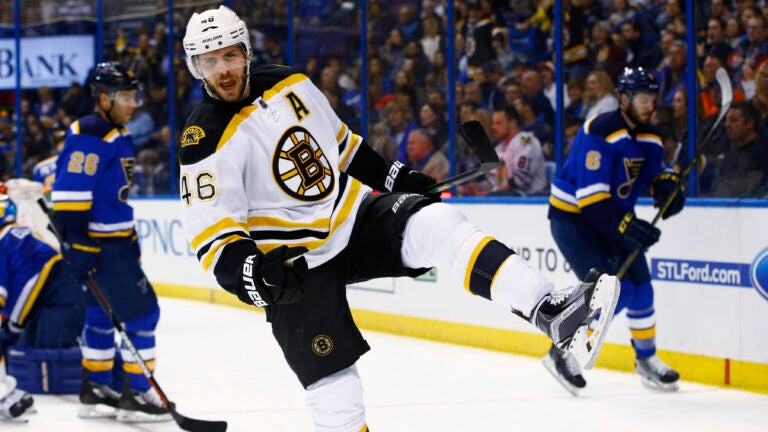 COMMENTARY
It was only March 14 of last season when the 39-23-8 Boston Bruins hung on to 86 points, the second-best total in the NHL's Eastern Conference.
Only the Washington Capitals had more, 103, to that point, while the Tampa Bay Lightning, New York Rangers, and Florida Panthers were all nipping at the Bruins' heels with 85 points apiece.
Yet, stability reigned. The Stanley Cup playoffs seemed a safe bet.
Of course, the 2014-15 Bruins would manage only two more wins (41-27-14) the remainder of the season, finishing outside looking in on the postseason, and ultimately costing former general manager Peter Chiarelli his job.
As far as local collapses are concerned, it wasn't the 2011 Red Sox, but it belongs up there somewhere.
Which brings us to 2016…
If you feel like you've heard this before that's because…well, we just laid it out for you. The 2015-16 Boston Bruins sure seem destined to repeat the same fate as they managed one year ago, managing to go only 2-7-0 since the same dateline of demarkation of last season, back when they managed to hold a 10-point lead on the Philadelphia Flyers; seven points on the Detroit Red Wings.
Today, they're looking up at both during the NHL's final push for the playoffs.
It comes down to this for the Boston Bruins to avoid choking for a second-straight spring: Three home games against the Carolina Hurricanes, Detroit Red Wings, and Ottawa Senators, to be played in a venue that has been more foe than friend (16-17-5) this year. No game looms larger, of course, than Thursday's showdown against the Red Wings, who lead the Bruins by one point for third place in the Atlantic Division heading into play Tuesday night, when the Bruins host Carolina. Detroit waits until Wednesday to face off against the Flyers.
In a vacuum, one could propose that the Bruins, who control their own destiny for a playoff spot, have it all at their disposal, the ability to host a pair of non—playoff teams as well as an offensively-challenged Red Wings squad. But for a team that hasn't won three straight since January, a team that has been incapable of displaying any semblance of consistent character since training camp began last September, there is no secret lair free of the criticism and doubt that populates most Bruins fans.
"When a team wants to get itself back on track, which we have to do this week, you've got to trust whatever word you want to use — game plan, system," said head coach Claude Julien, likely fighting for his job in this last week of the regular season. "You've got to trust it."
Do you?
Can you?
Take it even from someone who still thinks that firing Julien would be a mistake for the Bruins — the understanding as to why that would be the team's first move is basic.
With two late-season collapses in two years, the coach is most responsible, even if the team president and general manager gave him the equivalent of a B-team defensive corps to work with.
But if Julien does indeed go, then Cam Neely should go with him, with a stern warning breathed in Don Sweeney's direction to fix the bleeding. Or else.
But it was Julien whom Neely and Sweeney left dangling in the summertime breeze last year, undecided if he'd still be behind the bench come fall.
It's not to difficult to surmise that if his teams falters this week, Julien will be off the masthead by Monday.
It's impossible to predict what to expect over the final three games of the season, particularly taking the Bruins' last two games into account. Boston marched into St. Louis on Friday night and looked like a team that still salivated over a postseason opportunity with a 6-5 win, during which they staved off a wild Blues comeback, setting up the potential for more dynamics Sunday in Chicago against the Blackhawks.
Six goals later…
But in finding themselves in a 6-0 rout thanks to its horrid and short-manned defense as well as, (yes, it's OK to say it…really) subpar play from goalie Tuukka Rask, the Bruins chipped away against one of the NHL's best teams, turning a laugher into a two-goal game, and creating maybe — maybe — some hope for their overall resolve.
That's 11 goals in two games with Kevan Miller and Dennis Seidenberg nursing injuries. Raise your hand if at any point this season you thought the season might come down to the importance of those two.
So, like we said…maybe.
"That's the focus we have to have this week," Julien said. "Let's trust our game plan and our system here. Let's execute it the best we can. The rest will take care of itself."
That's probably what they should be afraid of.
The Seaport District through the years
[bdc-gallery id="546352″]