Bruins
In 'hindsight,' it's probably time for Claude Julien to go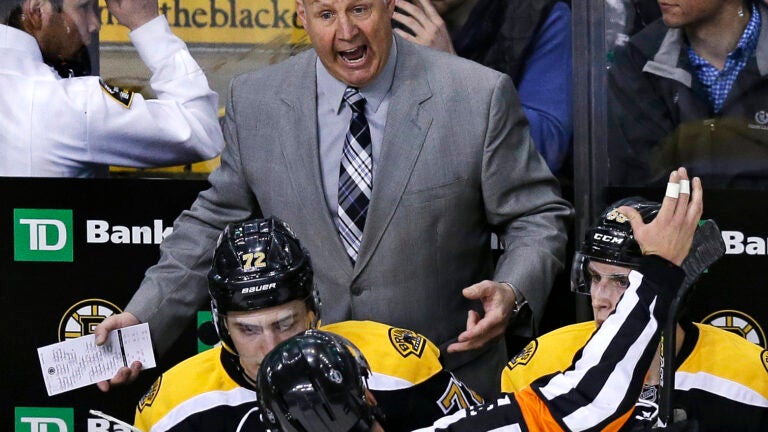 COMMENTARY
Hindsight, Claude?
Hindsight?
That ends up being a pretty loaded word when you think about how this potentially-disastrous season has unfolded for the Boston Bruins.
In hindsight, maybe a tick — just a tick, Claude — of urgency would have been beneficial during this final week of the NHL season, which finds the Bruins in a desperate plea for a playoff spot.
In hindsight, maybe that talk of the Jack Adams award coming to Boston this summer was foolhardy from the start.
In hindsight, maybe it, ultimately, wasn't the best decision for Cam Neely and Don Sweeney to hang onto Claude Julien as their head coach last summer.
But that's just hindsight, you know.
These are, indeed, hard times for the Boston Bruins, on the cusp of a late-season collapse for the second-straight year. Boston's 2-1 shootout loss to the Carolina Hurricanes Tuesday night gave the team a point, heading into Wednesday night's pivotal showdown between the Detroit Red Wings and Philadelphia Flyers, both of whom possess the same 91 points fighting for the final two postseason berths. It will be back-to-back nights for the Wings, who travel to Boston Thursday night for a game that could, potentially, clinch calamity for the Bruins.
In hindsight, is there any hope that it won't end this way?
The Bruins had a simple yet tall agenda in winning their final three games — all at home — to outrightly earn a playoff spot. They kicked off that stretch with a lifeless effort against the Hurricanes, a team already eliminated from postseason contention, making goalie Cam Ward look reminiscent of the Conn Smythe Trophy winner that he was a decade ago. Boston led Carolina in shots on net, 36-28, and went 0-for-3 on the power play. It was Loui Eriksson's third-period goal that forced the shootout, which eventually prompted Julien to trot out Ryan Spooner, Patrice Bergeron, David Pastrnak, Eriksson and Torey Krug before the team's leading scorer Brad Marchand, who rode the bench for the entirety.
Why?
"Hindsight," Julien said.
Oh.
"I can answer 20 questions here or I can give you one thing, it's an inability to finish and that's the main thing here for tonight," Julien said. "Nothing more."
Nothing more for the Bruins as well. They're done.
"I think the guys that went have scored in the shootout and done a great job before but because they didn't score tonight, we can second guess all we want," Julien said.
Marchand is 0-for-3 in the shootout this season, so point for the coach there. Spooner is 3-for4. Pastrnak 0-for-1. Torey Krug hasn't scored since December.
Marchand also leads the team with 36 goals. One would think with the season — and his job — on the line, Julien might lean toward inserting him into the situation.
Nope.
"I'm going to do whatever the team asks me to do, regardless of what that is," Marchand said after spending only 2:20 of power play time on the ice, fewer minutes than Spooner, David Krejci, Bergeron, and Lee Stempniak. "So, I'm just going to try and play my role."
Julien can consider the hovering criticism as a second-guess this week, but the fact of the matter is he's led this team into the depths for a second-straight year, and for that, he will be accountable. The 2015-16 Bruins have been a conundrum, a unit with less consistency than the glue that they are clearly lacking. The team that followed up a big win at the St. Louis Blues by drooling down their jerseys two days later in Chicago, was supposed to come home and win three straight? Did anyone feel the least bit confident in this, particularly in a building where they are now 16-17-6? Only the Toronto Maple Leafs and Vancouver Canucks have fewer wins in their barn.
Boston is 2-7-1 in its last 10 games, the worst record over that stretch in the entire NHL. Two games remain; three for the Red Wings, four for the Flyers, which is why Boston fans will want to root for Philadelphia Wednesday night. There's a better chance the Bruins can knock off the Wings than there is the Flyers, particularly with the head-to-head matchup looming Thursday.
"Yeah it is definitely frustrating right now," Krejci said. "But you know, what are you going to do? Like I said earlier, we got one point. Kind of stay positive, watch the game [Wednesday] and get ready for Thursday."
The Bruins can still be a playoff team, but in hindsight, we know we're this is headed.
It was less than two weeks ago when the Bruins held that whole pregame gala to honor Julien as the franchise's winningest head coach, bestowing the man with a trip to Walt Disney World and congratulations from some of his fellow Boston professional coaches and athletes. It will most likely wind up being his parting gift.
He'll be taking the plunge on Splash Mountain later this month, which is fitting for the way his team is collapsing.
It never should have come to this.
But maybe that's just hindsight talking.
Photos: The Big, Bad Bruins
[bdc-gallery id="538076″]