Bruins
Patrice Bergeron defends Claude Julien following Bruins' late-season collapse
Who's to blame?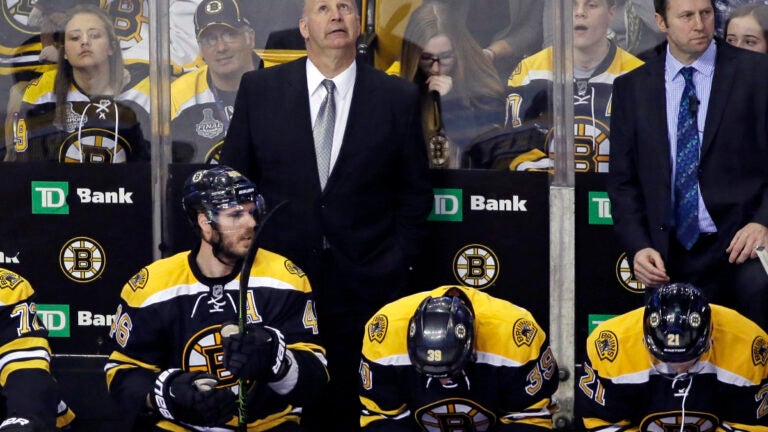 For the second straight year, the Bruins have missed the playoffs. And for the second straight year, the job security of Bruins head coach Claude Julien is a hot topic in Boston.
Following the Bruins' season-ending 6-1 loss to the Senators on Saturday, veteran Patrice Bergeron defended Julien against those wanting to blame the coach.
"I've said a million times that Claude has been the best coach I've had," Bergeron said, via WEEI.com. "It's definitely not on him. It should be on us. His system is there, the game plan is there. It's about us executing, and we didn't do that. So it should fall back on the players."
The Bruins finished their season with just three wins in their final 12 games, allowing 38 goals during that span. After taking a 1-0 lead against the Senators on Saturday, the Bruins' allowed six goals in the final two periods. The performance did little to quiet criticism of the Bruins' defense, which allowed 2.78 goals against per game during the 2015-16 season.
"Our A Game, that we needed, just wasn't there in a lot of areas," said Julien following Saturday's loss, via the Boston Herald. "We all have to accept responsibility here. Our goal was certainly to duplicate our effort that we had against Detroit (Thursday)."
The Bruins could have clinched a playoff spot with a win as the Detroit Red Wings were defeated by the New York Rangers in another game played on Saturday afternoon.
"When you look at what's happened (Saturday) afternoon (Detroit losing in New York), it's even more disappointing, because we could have controlled our own fate again," Julien said. "We weren't able to do that. At times this year we weren't able to do that in some of those big games."
Julien was asked if the Bruins planned to make roster changes during the 2016 offseason.
"I'm going to stay away from answering that," Julien said. "I'm going to deal with that kind of stuff with upper management. This is not something I'm going to discuss publicly."
Upper management must decide if they are going to keep Julien around to make those decisions.