Bruins
Bruins head into another uncertain offseason after missing playoffs again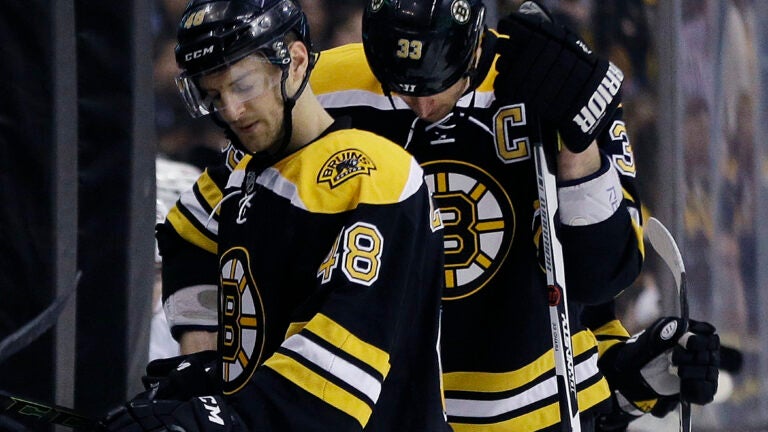 BOSTON (AP) — For the second straight season, the Boston Bruins missed qualifying for the Stanley Cup playoffs by the slimmest of margins and face an uncertain offseason.
After making the playoffs seven straight years under coach Claude Julien, the Bruins came up two points short in 2014-15. They finished tied with the Detroit Red Wings for third place in the Atlantic Division but missed out on the playoffs because of the regulation/overtime-win tiebreaker.
General manager Don Sweeney will need to make changes and Julien's job status is unclear. Neither Sweeney nor Julien addressed reporters during the Bruins' breakup day at TD Garden on Monday. The players did not have their typical exit meetings with the coach and management either.
Players were left to answer for their failings and assess what the Bruins need to do going forward.
"Well I think that we are close, but close is not close enough," Bruins captain Zdeno Chara said. "Obviously the commitment has got to be on a higher level. The execution has to be on a higher level."
The Bruins went on a 5-0-2 run in mid-March capped by a 3-1 win against the New York Islanders that put Boston in first place in the division by one point with the second-place Florida Panthers holding two games in hand. But the Bruins then went 0-3-0 on a road trip to California and the losing streak extended to five games, all in regulation. The Bruins went 3-8-1 in their final 12 games.
"We were in a really good spot. I think we were really comfortable, maybe a little too comfortable when we looked at the standings and realized we were in first there for a bit," said forward Brad Marchand, who set a career high with 37 goals. "So it's tough right now knowing that we were sitting in a pretty good spot and let it slip."
The Bruins have a large crop of unrestricted free agents, led by forwards Loui Eriksson (30 goals this season), Chris Kelly and Lee Stempniak, and defensemen Kevan Miller and John-Michael Liles. Defenseman Torey Krug and forward Brett Connolly are restricted free agents. Marchand is entering the last year of his four-year contract, which carries a $4.5 million hit against the NHL salary cap, and is due for an extension.
Defense is one area the Bruins will have to address. After trading Dougie Hamilton at the draft last June and attempting to integrate three first-year NHL defensemen into the lineup over the course of the year, the Bruins finished 20th (2.78) in goals allowed per game – their worst ranking by far in nine seasons under Julien.
"I mean that's for sure one of those things I was talking about," Chara said. "We were on stretches where we were finding the net really well scoring-wise, and then other stretches we couldn't score, and then the same was on the other end. We were good defensively at certain games, and then there came a few games where we allowed too many. So everything was kind of up and down, scoring-wise and defending-wise as well."
Sweeney is entering his second year as GM and the he has a large challenge to get the Bruins back into the playoffs. Center Patrice Bergeron is among the veteran players who believe in Sweeney.
"I think Donnie is a very smart manager … and he's going to figure it out, and we'll see what happens," Bergeron said. "It's really out of my hands, but I believe we can be competitive next year for sure."