Bruins
Do the Bruins have faith in Claude Julien, or fear of him succeeding elsewhere?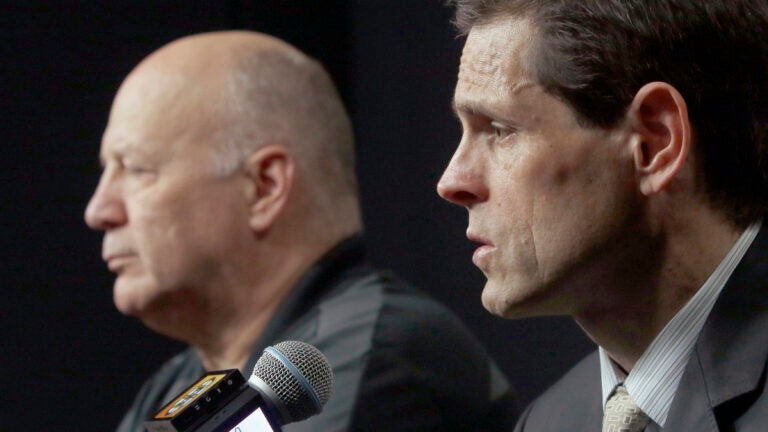 COMMENTARY
Well, now it's the Ottawa Senators who need to decide whether diving into the pool of Adam Oates was worth axing Dave Cameron, while the Montreal Canadiens seem to be stuck with Michel Therrien, whether they say they like him or not.
Claude Julien isn't going anywhere.
It was as if the last month-plus of free-fall hockey never happened to the Boston Bruins, who pledged allegiance to their head coach Thursday morning during a press conference with Julien and general manager Don Sweeney both admitting to culpability in the way the team surrendered their playoff positioning with a disastrous stretch. But the sweeping change that most fans expected was coming after two straight years of missing the postseason with a March to nowhere?
Meh.
If you're one of the many who figured that overhaul to begin by firing Julien, who has been the Bruins' head coach for nine seasons, winning a Stanley Cup and amassing the most wins in franchise history in the process, perhaps Thursday's news came as a bit of an upset.
"Absolutely," Sweeney said when asked if Julien would be his team's head coach for the 2016-17 season. "Claude is the coach who can take us through what I would describe as a bumpy transition period this year. We have work to do. I have work to do."
You can pretty much split the local party lines on Julien's return right down the middle. For some, it's the extension of the best head coach this team has ever had, particularly with little choice to pick from on the coaching market. Others wonder, if not Julien, then where exactly will heads roll for missing the playoffs in back-to-back seasons?
Um, Doug Houda? That work?
Sweeney said that he doesn't believe the team needs a major overhaul, which does come as a surprise to those who figured this was the chance the Bruins would take to build in a completely new direction. The coach's departure would have been only the first step in that process, but it figured to be the logical one, despite how beloved the man may be among his media colleagues.
So far, the biggest change being made is that assistant coach Houda will not return next season. Drastic measure it is not.
"I believe in Claude as a coach," Sweeney said.
Noted.
Let's reconvene here in a year if the same fate befalls the team and see how he feels then.
While it's encouraging to hear Sweeney speak of the drastic transitions and challenges that the team faced this season, basically taking the fault out of Julien's lap and placing it on upper management, there has to be the thought that Julien is still in Boston for more reason than the Bruins' dedication to him. If, indeed, Thursday's press conference had been to inform that Julien and the Bruins were parting ways, the first call to Claude's cell phone would have an Ottawa area code, with the Senators thirsting to hire him immediately as their new head coach.
They weren't going to be the only ones.
"If Julien is available, there's a belief some teams may make a move with their head coach to see if they can get a shot at him," wrote Bruce Garrioch in the Ottawa Sun, mentioning the St. Louis Blues as a possibility should they fall to the Chicago Blackhawks in the first round of the Stanley Cup playoffs and fire Ken Hitchcock. Elsewhere, the Canadiens say they're sticking with Therrien, but if Julien is out there…
"They'd better get to him first," a league executive told Garrioch.
Now, how would the Bruins look if Julien took over a Stanley Cup-worthy team and won another one while the Bruins were rebuilding? How would the team be treated if he took Ottawa or — gulp — Montreal deep into the playoffs next season?
The easy thing to do here wasn't to fire Julien and start anew. It was to stand pat and just hope it gets a little better next season.
What conviction.
The Bruins started the season 0-3, then finished it garnering a mere seven out of a possible 24 points down the stretch run. Gag. Choke. Collapse. However you want to term it.
But the middle, that was great.
"You take out the first three and certainly the past three games, and it's a significant round of points that we accumulated along the way," Sweeney said.
Only Dan Duquette could appreciate that sort of layering. "More days in first place."
"That's where we failed," Julien said. "Somehow the consistency wasn't there. We thought we had a decent amount of consistency at one point but then it slipped."
Garrioch suggests that Julien might have been able to find $4-$5 million on the coaching open market, a significant jump from the $2.75 million he's due each of the next two seasons. Team owner Jeremy Jacobs has long-loved a bargain, so imagine the glee he may have summoned when there was realization that he had someone that everybody else might want, at a bargain. You don't just give those assets away, now do you?
Whatever the case may be, Julien has gotten a show of faith from the Bruins like few…hell, no head coach in team history ever has. His success here speaks volumes. But so, too, do the last two stretches of spring.
"I remember coming here nine years ago and this team being in the same situation, and I told people that I wanted to be the guy that was going to help them get to the top," Julien said. "I don't see any reason why I can't do that again."
Sweeney basically took the bullet for Julien this time around. (No word yet on whether he deflected it toward  Cam Neely though. The team president has his own end-of-season press conference slated for next week with Jacobs.)
He'll also let the Senators filter through the haphazard resumes of guys like Marc Crawford and Guy Boucher.
The Bruins have made it clear that they still have their man in Julien.
To be continued…
Photos: The Boston Marathon through the years
[bdc-gallery id="138482″]