Bruins
Don Sweeney didn't rule out the possibility of trading Tuukka Rask
The Bruins GM said he was disappointed with some aspects of Rask's performance.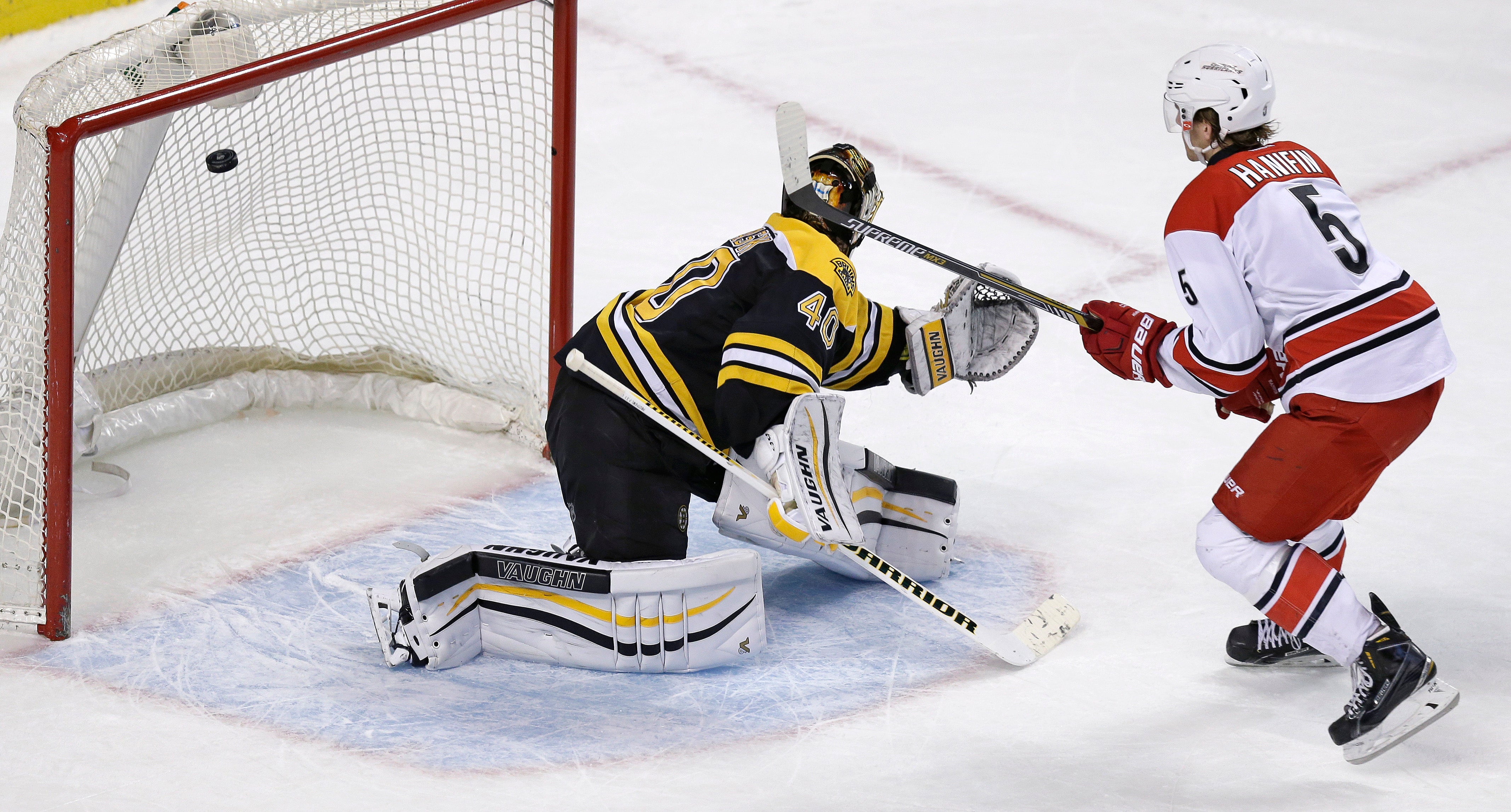 As the fingers continue to point and blame is passed around for the Bruins second straight late regular season collapse, management is left digesting what happened and figuring out what changes have to be made to prevent it from happening next season.
Meeting the media for the first time since Saturday's loss to the Senators, general manager Don Sweeney faced the music Thursday and addressed some of the biggest issues. With head coach Claude Julien sitting to his right, Sweeney announced Julien would be back behind the Bruins bench next season. With that now set in stone, it seems like the biggest changes will come on the ice for the Bruins.
Reporters asked who is and is not untouchable, but outside of one obvious choice, Sweeney did not go into much detail.
"Yeah, there are players that are untouchable on our roster," said Sweeney. "You get calls, but Patrice Bergeron is not going anywhere. It's about, it's a business and I think players understand that."
The next untouchable question came in regards to goalie Tuukka Rask, who is tied with countryman Pekka Rinne for the third highest paid goalie in the league.
Despite being a big fan of Rask's, Sweeney did not rule out the idea of trading the 2014 Vezina Trophy winner.
"It would absolutely depend. Tuukka Rask is an excellent goaltender. Do I think he come out of the gate a little slower than we would have liked? Yeah," added Sweeney. "Do I think he finished up being sick at two times that were inopportune? Yeah. That's not necessarily Tuukka's fault. Do I think we had areas in where we broke down a little bit defensively with what I said, newer players? Yup."
One could say that Sweeney threw his goaltender under the bus a bit with the comments about his slow start and his illness, but the first year Bruins GM went on to praise Rask's character and desire to win.
"But he would be the first to sit up here and tell you that he would have liked to make a couple of those saves at key opportune times," Sweeney added about Rask. "You know, in the [New] Jersey game where we have three two-on-ones in the first period and a breakaway, and they get 15 shots in the course of a game. He would have liked to have made that second power play shot you know going across the slot. He'd be the first to tell you that and I like that about Tuukka, he's driven to win and he has been a part of winning organizations. His Olympic experience. We believe he is a damn good goaltender and I'm not inclined to giving that away."
Nothing there tells you that Sweeney is blowing up other general managers' phones to find a trade partner, but it also doesn't tell you that he is ignoring anyone who is asking about Rask's availability.
Rask finished the season 31-22-8 with four shutouts, a 2.56 goals-against average and a .915 save percentage. His save percentage and goals-against average were the worst of his career since taking over for Tim Thomas as the Bruins starting goalie.
On Monday the Bruins cleaned out their lockers and met with the media for the final time before their early summer vacation. With a rebuild seemingly in the cards despite what Sweeney, team President Cam Neely and others may tell you, Rask wants to be here for the long haul.
"Yeah, absolutely. I mean, I've loved every minute being here, and I plan to be here many years to come," Rask told the media Monday morning. "So I'm in for the long run, and I want to be part of the solution here, and bring this team back to the playoffs and bring the Cup back. So that's where my head's at."
With goalie contracts on the rise, moving Rask and his $7 million cap hit may be not be as difficult to do as it sounds, but would the Bruins be wise to move their starting goaltender?
There's no secret the Bruins are high on prospect Malcolm Subban, but it's clear that the 2012 first round pick is not ready for prime time just yet. Of course the Bruins could go and find another goalie if Rask were to be traded, but it seems like Sweeney would have to be blown away with an offer in order to move Rask.
As long as he's wanted by the Bruins, Rask wants to be here.
"Well if you're not wanted, then you really don't have any options, but I doubt that's going to happen," said Rask. "As I said, I'm here for the long run, and I want to help this team to get back on track, and that's where my head's at. But if you wouldn't be wanted, then what can you do?"
If trading Rask was something the Bruins really were to consider, they may have held onto to Martin Jones, who was acquired last June in exchange for Milan Lucic only to be shipped to San Jose days later for a 2016 first-round pick and a prospect. Just because Jones was traded doesn't mean a trade of Rask is not going to happen. A lot may have and probably did change during what was another disappointing season on Causeway Street.
Whether it's Rask, captain Zdeno Chara, forward David Krejci or someone else, a change has to come to this Bruins team. A shakeup on the ice is needed after two straight seasons of playoff-less hockey.
Who the Bruins starting goalie is when the 2016-17 season kicks off remains to be seen, but it seems as if there's a chance it may not be Rask.
New England College Mascots
[bdc-gallery id="655041″]