Bruins
Cam Neely says blame for disappointing Bruins season falls on 'all of us'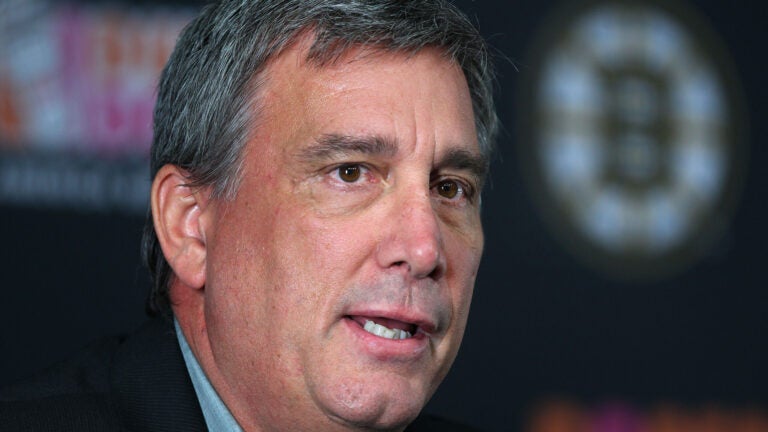 The Boston Bruins's senior leadership expressed their disappointment in missing the playoffs for a second straight season during a press conference at TD Garden on Wednesday.
Bruins president Cam Neely and owners Charlie and Jeremy Jacobs met with the media, and Neely was asked who should be held accountable for the Bruins' 2015-16 season.
"It's all of us really," said Neely. "I mean from me, myself, Don, the coaching staff – all of us. But like I said, the plan that Don put in place wasn't a one-offseason fix, you know. It's not easy during the course of the season to make deals to try and improve your club, but a lot of things happen in the offseason. So we're going to get to work this offseason."
Neely emphasized how frustrated he was with the Bruins' fourth-place finish in the Atlantic Division.
"I'm not sitting up here saying we're a Stanley Cup contending team, but I'm saying we should've been in the playoffs," he said.
The Bruins lost nine of their last 12 games to finish the season, and fell out of the playoff standings. Sweeney announced on April 14 that Claude Julien will remain Boston's coach.
"I thought he did a great job coaching this year," Neely said. "It was a big transition year for him, different player personnel than he's accustomed to. He tried to integrate a lot of younger players, and I think he did a good job with the roster. There's areas where we can all still evolve, and I think Claude is looking at that."
"When Don said he wanted to keep Claude, I had no problem at all," Neely said.
And youth development appears to be a part of the Bruins' plan going forward.
"The expectation is that we can integrate this youth and still be a playoff team." Charlie Jacobs said. "That's the expectation from where I personally sit."
Neely said he hoped the 2016 offseason would be "fruitful." Jeremy Jacobs said the Bruins' offseason decisions would be up to both Sweeney and Neely. However, Charlie Jacobs said the product on the ice was "without question" a reflection of Cam Neely, who makes personnel decisions like Bill Belichick does for the Patriots and Danny Ainge does for the Celtics.
When asked whether he was "the guy" making decisions for the Bruins, Neely was non-committal.
"You have to allow your GM to do his job," he said. "If I don't necessarily agree with what he's doing I will let him know. But you have to allow your GM to be able to do his job and what he thinks fits. When we interviewed Don and he laid out a plan that he thought would get us to where we want to be I certainly agreed, both Mr. Jacobs and Charlie agreed with it. If I didn't, he wouldn't be the GM."
The plan for the offseason, Neely told The Boston Globe, is to improve defense, right wing, and backup goalie. Neely said defense is "probably at the top of the list," and Sweeney will be pivotal in reshaping the roster.
"I don't have any concerns about his work ethic to try and improve the club over the offseason," Neely said. "So we know what our back end is all about so we need to find, if we can, we need to really improve that area of our team. We've got a lot of good young forward prospects up and coming. Whether they make an impact this year or not remains to be seen, but our back end is something that I know he's going to be very focused on."